TikTok and Instagram are two of the most important social media platforms for creators and businesses.
But both platforms are only good for spreading awareness and engaging potential customers.
A lot of "convincing," "conversions," and "transactions" still happen on the landing pages and websites. So you need to direct all followers there.
The problem is that you can only add one link in your bio (and, of course, no links in your posts). And often, you have more than one thing to promote. For example, a musician would want to promote their new album, but they'd also want to promote tour tickets, merch, other social profiles, etc.
So what's the solution? A 'link in bio' website maker.
Toggle Section
What Is a 'Link in Bio' Website Maker?
"Link in bio" is the URL you add in your profile/bio section anywhere (primarily on social media platforms like Instagram & TikTok). A 'link in bio' website maker (or, commonly called, "link in bio tool") helps make a website/landing page whose URL you add to your bio.
These are snappy micro landing pages that have only the most important details. And in most cases, each element on a 'link in bio' lander is a CTA.
Here's an example of a typical "link in bio" website:
The Tigress band has this 'link in bio' page. It has links to their latest album, tour tickets, social media profiles, merch, and the official website.
It's built with Bio Sites, one of the many 'link in bio' tools listed below.
I tested over twenty 'link in bio' tool providers…
Though there's not much to a 'link in bio' page, there are differences in the tools you make it with:
Some have more features,
Some provide better templates and aesthetics,
Some links look better,
Some are easier to use,
Some are niche-specific (ex: 1980 GG for gamers),
Some are very affordable and even give solid features for free, while some are expensive and require you to pay for even the tiniest feature.
I navigated through them all to find the most well-rounded "link in bio" tools for common use cases.
…These are the best I found:
Toggle Section
First, The Two Better Alternatives To a "Link in Bio Tool"
It's a bit less convenient, but an actual website builder can do a far better job of creating a "link in bio website" than most 'link in bio' website makers.
You can customize however you like, i.e., make a perfect, on-brand landing page. A few 'link in bio' tools don't even let you change colors or fonts, and most bio link landing pages look the same — just a list of links!
The page remains on your domain (ex: yourdomain.com/learn-more). More than half the tools mentioned below don't allow you to use a custom domain; you have to use their domain (ex: linktr.ee/username).
You have more overall control over your website. In contrast, a bio link tool can ban you, or a social media platform can ban the bio link tool.
You don't have to pay extra. If you already have a website, you can simply add a new page and make your landing page.
Here are two website builders we recommend in general but would especially recommend for this use case:
1. Squarespace
Squarespace has its own 'link in bio' tool, Bio Sites. As a matter of fact, it's among the top 5 in the below "best 'link in bio' tools" list. Yet, I'd recommend Squarespace, the website builder, over it to most people, especially if they already have a Squarespace website.
Things I like:
Templates: Most Squarespace websites look fantastic, thanks to their beautiful templates. You can adapt one of the templates for your bio site.
Blocks: You can add different blocks to a Squarespace website. For example, headlines, lists, galleries, images, quotes, videos, products, newsletter forms, calendars, Instagram, YouTube, Twitter, RSS, etc.
For Squarespace website owners, it's free: You just have to make a new page.
Things I don't like:
Overkill: Squarespace is overkill and not worth the money IF you just need a bio link landing page. However, it's absolutely worth it if you don't have a website and want one. [Side Note: Pretty much everyone needs a website. Examples: accountants, photographers, podcasters, politicians, artists, etc.]
Pricing:
For annual plans:
Personal: $16/month
Business: $23/month
Basic Commerce: $27/month
Advanced Commerce: $49/month
Note: If you want to remove the header and footer of your Squarespace website and create a distraction-free landing page, you need to be on the Business plan or above.
2. Carrd
If you want the benefits of a full-fledged website builder and only want one landing page, Carrd is the perfect choice for you.
Things I like:
Affordability: Carrd is more affordable than most "link in bio tools." Its Pro plan costs a mere $19/year. And if you don't mind using a .carrd.co subdomain, you can use most of the Carrd features for free!
Blocks: You can add text, list, image, buttons, video, links, audio, gallery, icons, table, timer, form, slideshow, and custom embeds.
Templates: Carrd has awesome templates for most one-page websites, including for profile and landing pages:
Things I don't like:
Learning curve: There's an initial learning curve with Carrd. However, if you start with a template, it won't be much hard to create the perfect website.
Pricing
For annual plans:
Pro Lite: $9/year
Pro Standard: $19/year
Pro Plus: $49/year
Toggle Section
The Top 10 'Link in Bio' Tools
Typical 'link in bio' tools are convenient, affordable, and get the job done. These are the best of them:
1. Feedlink
EmbedSocial's Feedlink is not the most powerful/feature-rich 'link in bio' tool, but it's likely the best tool for TikTok and Instagram creators. It helps you create optimized landing pages for web and mobile devices. In addition, its free plan offers more features and better aesthetics than many links in bio tools' paid plans.
Feedlink solves the main problem for which 'link in bio' landing pages became necessary: It helps you (indirectly) add links to your Instagram and TikTok posts!
You can embed your Instagram and TikTok feed on Feedlink landing pages and add clickable links to each post.
I made a dummy Instagram page and embedded it on Feedlink. Assume it's our live page for a minute. Now, let's say someone sees the Squarespace website examples article-promoting post and wants to read the article. They can simply head to the Feedlink landing page, see our Instagram feed, and click on the photo: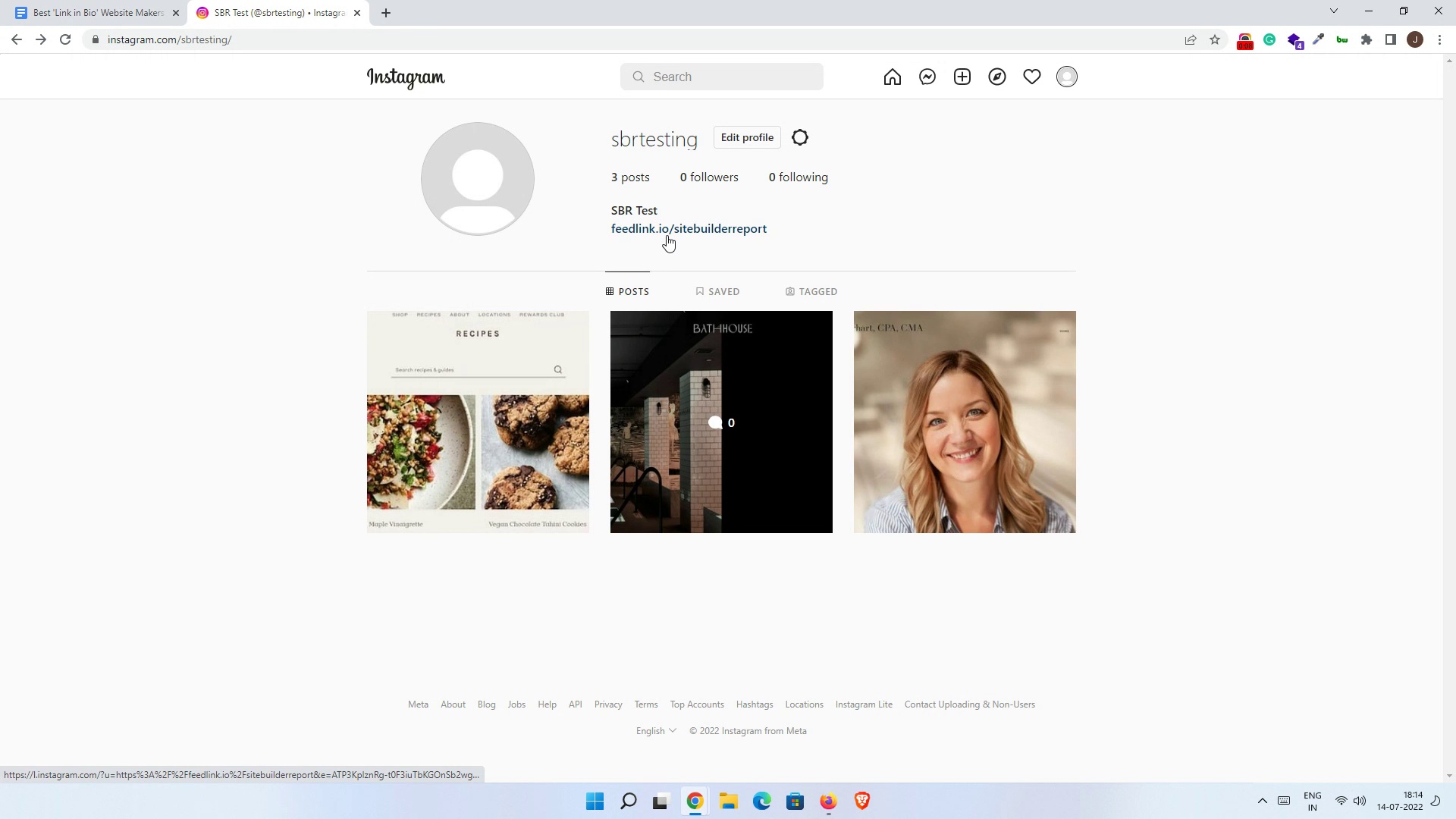 Besides the "embedding social media feed" feature, which only some 'link in bio' website builders offer, you also have other common features…
Things I like:
Header layouts: You have multiple header options (with banner & without banner).
Templates: Feedlink has limited (10) but good microsite templates.
Beautiful link blocks: You can showcase your link with a title, a cover image, and a description in different, gorgeous ways. See our Feedlink page screenshot — each link is showcased uniquely.
EmbedSocial block: EmbedSocial has a range of products - EmbedReviews for review management, EmbedForms to create forms, EmbedStories to embed Instagram stories, etc. You can insert those products' output in your Feedlink page. For example, you can add an EmbedForms-generated form to collect email addresses.
Custom colors: You can customize the background color, link block color, and text color. You can also add custom CSS.
It's a separate product: Though Feedlink is a part of EmbedSocial, it's a separate product with separate plans. Many other social media management platforms also have a 'link in bio' tool, but you need to buy their whole package (with other features you might not need) to access the 'link in bio' tool.
AMP version: Feedlink pages load fast on mobile devices.
Affordability: Feedlink plans are cheaper than most on-par 'link in bio' tools' packages. In fact, all the features discussed till now are included in their free plan!
Things I don't like:
Overall customization limitations: You can't use a different font or add different texts to your Feedlink page.
Poor analytics: Feedlink doesn't give any insights past the 'number of visits.' So skip it if analytics are essential to you.
Only video block: You can add a video to your Feedlink page, but you can't embed anything else. For example, if you are a musician, you can't embed your Spotify music on the page — you can just link to it.
Integrations limited to EmbedSocial: Feedlink doesn't integrate with anything other than EmbedSocial products.
Overall, Feedlink is an excellent option for most creators, especially for those looking for a free 'link in bio' too.
Pricing:
For annual plans:
Free: Includes all Feedlink features…just there's Feedlink branding at the bottom of the page, and you can only create one page and have one feed source (either Instagram or TikTok).
Pro ($3/month): Remove Feedlink branding.
Business ($8/month): You can have 3 sources and create 3 landing pages.
Agency ($16/month): You can have 9 sources and create 9 landing pages.
2. Bio Sites
Note: Bio Sites is only accessible through the Unfold mobile app (available for iOS and Android).
If you primarily operate from your smartphone and don't need all the customization in the world, Bio Sites may be the ideal 'link in bio' tool for you.
You can easily create gorgeous mobile-optimized 'link in bio' pages with Bio Sites. Thanks to its four distinct yet beautiful templates, you don't have to do much interface work — just choose the template and background color, and you're good to go.
Bio Sites has sections for adding anything on the site. For example, you can add a links section and add links with text + cover image. Similarly, you can have a section to embed content from YouTube, Spotify, Soundcloud, Apple Music, Vimeo, Twitch, Instagram, TikTok, Twitter, Facebook, Telegram, or Pinterest. There's also a pre-made "Support Me" section for links to GoFundMe, Patreon, Paypal, etc.
Things I like:
Design: Bio Sites templates are fantastic — everything from font choice for the template to how they load (i.e., loading animation) is perfect. Overall, the templates and design choices are as expected from an app by Squarespace.
Bio Sites templates
Ease of use: Adding sections & shuffling them is intuitive. The Unfold app, in general, is very easy to use — it has a 4.9-star rating from over 150k+ App Store users!
The bio.site URL: I find "bio.site/username" URL is the cleanest of all.
Plans: The Unfold Plus and Pro plans are affordable for what they offer: a toolkit to create beautiful Instagram stories, a photo and video editor, and a 'link in bio' tool. A typical creator can make use of all three features. However, it may not be the best value for money if you want to use it just for the Bio Sites.
Things I don't like:
A limited free plan: Of course, they are there to run a business. But compared to Feedlink, Bio Sites' free plan is limited: You can only add five sections for free, and you can't add a custom background color. In other words, you can't make a complex on-brand 'link in bio' page on the free plan.
Transaction fees: Bio Sites allows creators to embed multiple "Support Me" platforms, but they take a cut from every transaction (8% if you are on a free plan, 5% on the Plus plan, and 0% on Pro).
Mobile-only: Though Unfold is a well-optimized and planned mobile app, it's only a mobile app. You can't edit your 'link in bio' page from your PC or browser, which can be a bummer for some.
Pricing
For annual plans:
Unfold+: $19.99/year
Pro: $99.99/year
3. LinkPop
Shopify is the best overall ecommerce website builder. It has a large user base, and a lot of Shopify store owners are active on Instagram and TikTok.
To help those users get a higher 'link in bio' website visitor to sales conversion rate, Shopify launched Linkpop.
Linkpop has a deep integration with the Shopify platform. According to Shopify, "Shoppers are 2x more likely to buy through a Linkpop shoppable link compared to other link in bio tools thanks to our fast, secure checkout." Though I haven't tested the claim, it makes sense — just look at the seamless integration: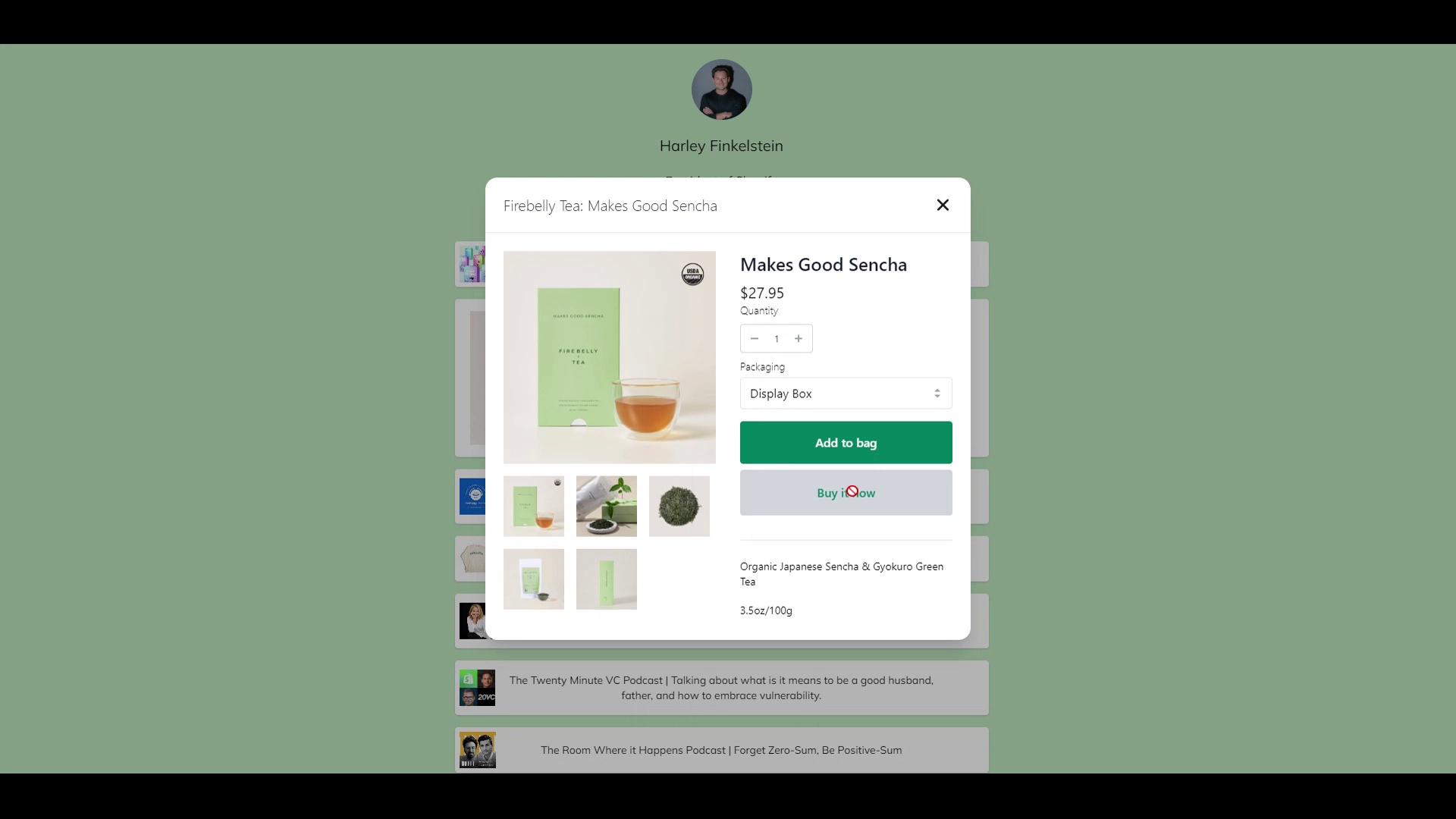 Visitors can checkout in three clicks!
Besides adding products from your Shopify store, you can make your typical 'link in bio' website with LinkPop: Add links with title & thumbnail, embed YouTube, embed Spotify, add social media links, etc.
Things I like:
Of course, the Shopify integration.
Customizability: You can customize colors, link styles, card shapes, and font.
It's free: There's no paid plan. However, the tool only makes sense for Shopify users.
Things I don't like:
No templates: You have to make the whole landing page from scratch.
You can only embed YouTube and Shopify.
UI: It's not as easy to use as other bio link tools. For example, you have to scroll all the way to the top to add links or products.
Pricing
4. Linktree
Linktree is the most popular 'link in bio' website maker. Over 25 million people use it!
It has the most features of all tools on this list and a very reasonable price point. The only reason it's not the first recommendation on this list is that Linktree-made landing pages all look the same and meh.
Linktree pages have a list view and no visual elements except the small cover images you attach with the link. You can embed YouTube, TikTok, Spotify, and many other visual platforms with Linktree, but they are shown only as a list item and needs the user to click on the dropdown to see them.
It also has an integration with Shopify, but it's not deeply integrated like LinkPop. It just grabs the Shopify products and shows them in a grid where each product element works as a link to the corresponding product page — see here: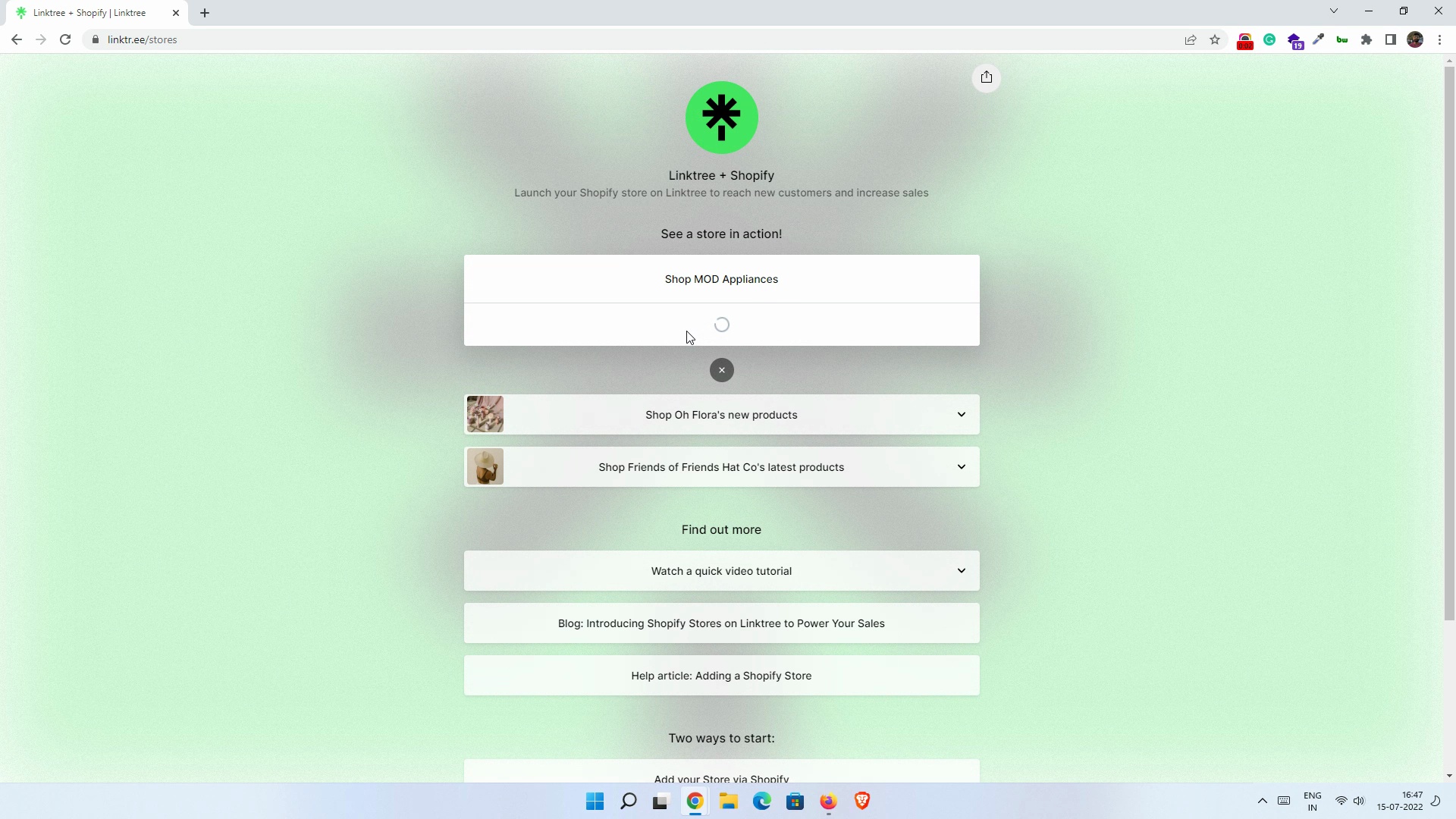 Things I like:
Integrations: Linktree has a range of integrations for showcasing your content (YouTube, Spotify, Twitch, Twitter, TikTok, etc.), collecting money (Shopify, Spring, TipJar, Square, Paypal, GoFundMe, etc.), and growing your following (Cameo, Gleam, Reddit, Contact Forms, MailChimp, etc.).
Analytics: Linktree tracks KPIs like views, clicks, CTR, revenue, fees, no. of transactions, top locations, etc. On top of that, you can integrate it with Google Analytics and Facebook Analytics.
Pricing: For the features you get access to, Linktree pricing is fantastic.
Things I don't like:
Aesthetics: You have a lot of customization options with Linktree, but it's pretty much impossible to make a fabulous 'link in bio' page with it.
Ambiguous transaction fees: On their pricing page, Linktree mentions "0% transaction fees for a limited time only". And on their Terms and Conditions page, it's mentioned, "We may charge a percentage of all transactions made on your profile (e.g., through our "Commerce" or "Support Me" features). These transaction fees will differ depending on your plan and will be set out on our pricing page." Very ambiguous!
Pricing
For annual plans:
Free: $0/month
Starter: $4/month
Pro: $7.5/month
Premium: $19.5/month
5. Shorby
Shorby stands on the opposite side of Linktree for three major factors:
Aesthetics: Shorby-made 'link in bio' websites look gorgeous — though beauty is subjective, I find Shorby websites the cleanest.
Features: You can only add buttons/links, messengers, and feed (YouTube feed, WordPress blog feed, Shopify feed, etc.) to a Shorby site.
Pricing: Shorby is one of the most expensive 'link in bio' website makers. It costs on par with a true, full-fledged website builder like Squarespace. And there's no free plan!
Overall, Shorby is overpriced for most people except for bloggers or YouTubers who want to showcase their best and latest work on a beautiful page on their custom domain. Even they'd have to choose the $24/month Pro plan for needed features.
Things I like:
Multiple pages: You can create multiple pages with a Shorby account.
Custom domain: With most 'link in bio' website makers, you have to stick with their domain (ex: linktr.ee/username, bio.site/username). Shorby gives an option to host your site on a custom domain (ex: yoursite.com/bio-link).
Pixel list: If you want to retarget people who visit your Shorby-made website, you can. Shorby allows you to add different pixels - Instagram pixel, Google Adwords pixel, Twitter pixel, etc.
Different design options: You can show your work in the best possible light with Shorby. For example, you can show your YouTube feed in 4 different, beautiful ways: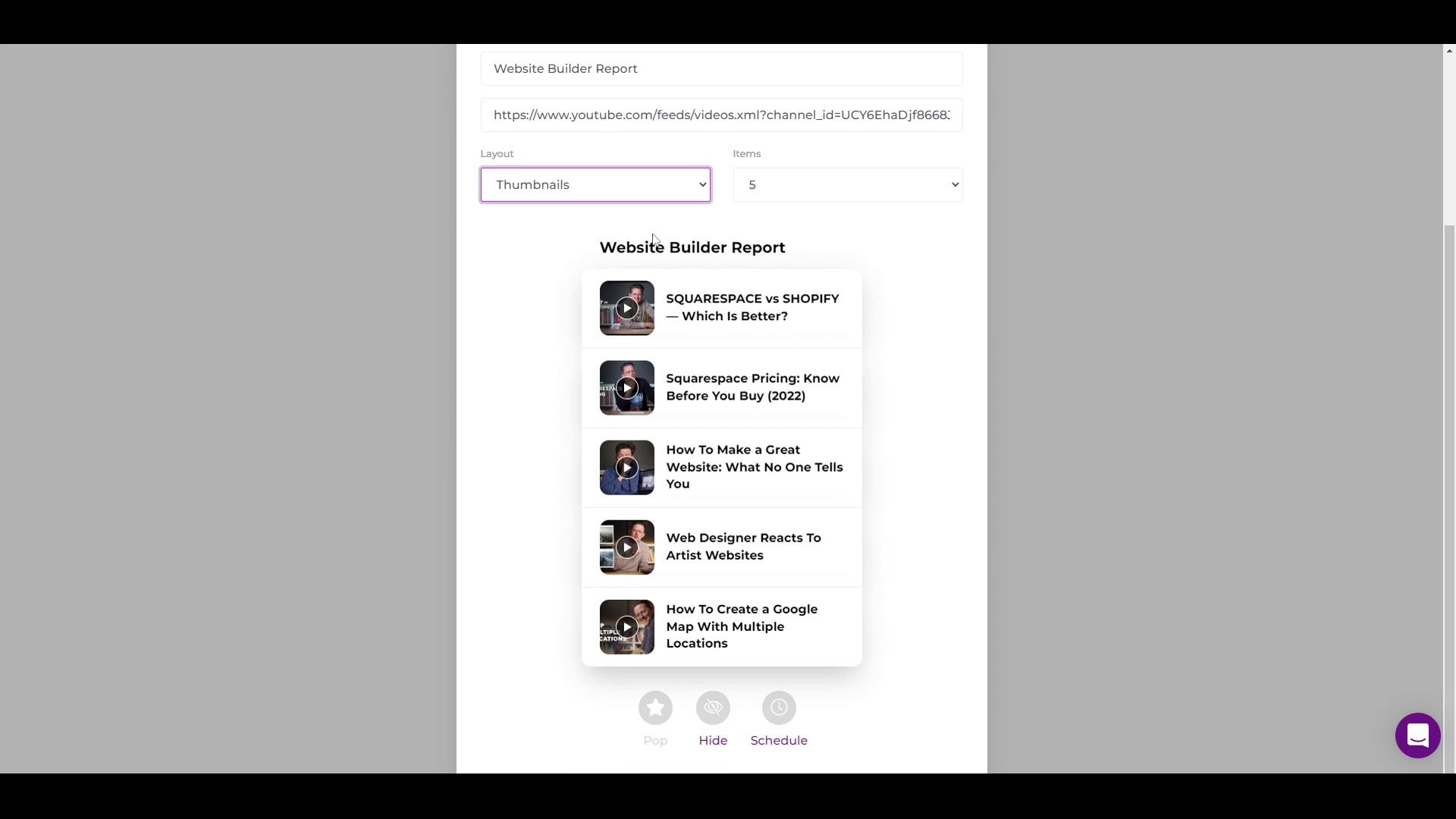 Things I don't like :
Overpriced: Having looked at so many different 'link in bio' tools that cost a fraction of Shorby, I find Shorby overpriced.
No integrations: It doesn't integrate with a newsletter service, Instagram, TikTok, or anything that its target audience (bloggers and YouTubers) might find useful.
Pricing
For annual plans:
Rocket: $12/month
Pro: $24/month
Agency: $82/month
6. Beacons
Beacons is an excellent, well-rounded bio link tool if you can take care of the design aspect.
The thing is, Beacon's pre-made templates are pretty much trash. You have to design most of the things from scratch. You can customize almost everything about your Beacon's page - block style, background, gradient, page colors, fonts, etc. The customization is to the point where it gets confusing and very difficult if you don't know design and color principles.
Things I like:
Customization: You can customize the whole page as per your liking.
Variety of blocks/features: You can add links; embed content from YouTube, Twitter, and different music blocks; add design blocks like a spacer, image block, text block, etc.; use monetization blocks to collect donations/tips, sell digital products, embed shoppable TikTok videos, etc.; and add blocks like Email & SMS for audience building.
Intuitive: Although it has many features, using Beacons doesn't feel overwhelming.
Analytics: Beacons provides audience insights well.
Pricing: Beacons' free plan is sufficient for most people. However, if you want more features like extra pages, custom domain, no Beacons branding, 0% commission fee, etc., the paid plan at $10/month is pretty reasonable.
Things I don't like:
Templates: Beacons' templates don't look good. And it's easy to mess up your landing page if you customize without knowing what you're doing.
9% commissions: Beacons takes 9% of any transaction on the free plan.
Pricing:
For annual plans:
Free
Entrepreneur: $10/month
7. Campsite
Campsite's free plan is limiting: You can't add thumbnails to links, you can't see analytics, etc.
However, the $7/month Campsite Pro has probably all the features you need, including:
Unlimited links
Different types of blocks - carousel; forms; embed YouTube, Twitch, Vimeo, Facebook videos, and Spotify; Feeds from Blogger, Medium, Shopify Blogs, Squarespace, Tumblr, Youtube, Wix, and WordPress; etc.
Monetization options - TipJar & Fan requests.
Full design customization
Custom domain URL
In-depth analytics
Link scheduling
Opt-in forms & forms in general.
Pixel tracking
Integrations - ActiveCampaign, Convertkit, Google Sheets, Klaaviyo, Mailchimp, Canva, and more.
Things I like:
Versatility: Campsite has features for all types of bio link users except maybe for ecommerce store owners.
Custom domain: You can publish a Campsite-built website on your own domain.
Reasonable pricing: $7/month for the Pro plan is pretty reasonable compared to some expensive options.
Things I don't like:
Themes: Campsite has a few, similar-looking, list-view themes.
I faced errors multiple times while trying to upload carousel images:
Pricing:
Annual plans:
Free
Pro: $70/year
Pro+: $240/year
8. Lnk.Bio
Lnk.Bio has the cheapest paid plans of all 'link in bio' website makers. But there's a reason for it.
The UI of Lnk.Bio dashboard is mediocre at best. There's no learning curve as such, but Lnk.Bio is tedious to use. For instance, you can't just drag and drop a block to change its position; you have to click "Move blocks" and click the up/down arrows to move blocks. Moreover, it's not WYSIWYG (what you see is what you get) — you have to visit the site to check updated changes.
Things I like:
Affordability: Very, very affordable. The most expensive plan costs $24.99 one-time only.
Features: Especially for the price, Lnk.Bio's features are excellent - unlimited links, embed music & videos, embed Instagram feed, different layouts, newsletter, contact form, external analytics, an online store to sell digital products, and an Instagram post scheduler!
Things I don't like:
Unintuitive: The UX of the Lnk.Bio creator side is not good.
Very limited free plan: You can't do anything except add links or embed videos/music with the Lnk.Bio free version — not even basic style changes. Yes, Lnk.Bio's paid plan is a no-brainer, but for a significant percentage of people who want a free tool (especially those who want to use it for non-professional purposes), it's not a good option.
Pricing:
Free
Mini: $0.99 monthly or $9.99 lifetime
Unique: $24.99 for lifetime
9. Start Page by Buffer
Buffer is one of the most popular social media planning & publishing tools. It also has Start Page, a landing page builder for making bio link pages.
Start Page is very minimal in its offering. You can only add button links, social links, image links, headers, and texts. On the embedding side, you only have the option to embed YouTube and Spotify. And that's about all its features.
Things I like:
Value for money: The paid plans start at $5/month and include not only Start Page but also Buffer's powerful planning & publishing tools, engagement tools, and analytics tools.
Things I don't like:
Only basic features: Start Page is very basic.
Limited customizability: Start Page only has 12 basic themes. And you can't use a custom color or a background image.
Pricing
Buffer's annual plans are:
Free
Essentials: $5/month/channel
Team: $10/month/channel
Agency: $100/month for 10 channels
10. Taplink/ContactInBio
You can't ignore Taplink when discussing "link in bio tools." After they acquired ContactInBio, Taplink is likely the second most-used bio link website maker. And just like the most popular tool, Linktree, it has a wide range of features.
Things I like:
Different blocks: Text, link, spacer, avatar, FAQ, media, messaging app, video, image carousel, social media, HTML, map, banner, price list, music, form, and more.
Add-ons: Facebook pixel, TikTok pixel, Mailchimp, Moosend, Convertkit, GetResponse, Google Analytics, and more.
Customization capabilities: You can customize everything from font to colors and from section padding to the background.
Value for money: The yearly Pro plan costs a mere $2/month!
Things I don't like:
Design: I am not a fan of Taplink's pre-made template designs. Also, you can't customize the design on the free plan.
Poor customer reviews: In my limited experience, Taplink worked well. However, I found users complaining about slow support and Taplink links getting redirected to illegal websites:
Pricing:
Annual plans are:
Free
Pro: $2/month
Business: $4.50/month
Toggle Section
'Link in Bio' Tools You May Want To Avoid
These tools won't appeal to a broader audience, or I just didn't find them on par with other options:
Hypage
Hypage is primarily for creators who want to sell exclusive content, create memberships, accept donations, or take fan requests. And it does an excellent job at providing convenient features for the target audience.
However, a typical bio link user will find using Hypage difficult:
Its navigation is confusing.
You can use custom colors for background, text, links…everything. But you need to know the Hex code of the color you want to use — you can't just visually test different colors and see if they fit.
eLink
From how it's branded — with CTAs like "Get started for free" and "Create Post" and them allowing you to create the landing page — you will feel it has a free version. Only when you'll try to publish your landing page you'll realize you can't do it without a paid plan:
Also, eLink pages look more like blog landing pages and less like your typical bio link page. See:
Pallyy
Pallyy is a social media scheduling platform that also offers an "Instagram Bio Link" tool.
The bio link tool offers very basic features, and it's not free. Unlike eLink, you'll immediately know it's not free, though, which is good:
And you might want to stay away from its comparatively expensive Premium plan if you don't want to use its scheduling tool:
Linkin.bio (Now part of Later)
Linkin.bio has some solid features - clickable Instagram and TikTok feed, design customization, Shopify integration, etc.
But it also has two big issues that make it a less-than-ideal solution for most people:
You can't move blocks: It has 5 blocks (top to bottom): Profile, Social Links, Buttons, Featured Media, and Linked Social Posts. All of them remain in the same position.
Cost: Linkin.bio is a part of Later, a social media management tool. If you want to use Linkin.bio without Later branding and all features, you'll have to purchase the Later Growth plan, which costs $33.33/month if you buy the yearly plan!
Milkshake
Milkshake is a superb option for creating a multi-page website on your smartphone.
You can have a beautiful About page, Links page, Top Picks page, Promotion page, and YouTube page. And therein lies the problem…you can have all these pages, but separately. It defeats the purpose of a bio link page: having all your important links on one page.
For example, you can't add a YouTube video to this links page:
Another tiny problem is this annoying, full-page ad (but it can be easily removed by purchasing the Milkshake paid plan, which is very cheap):
Link in Profile
If you just want to make your Instagram posts clickable and do nothing else, Link in Profile will get the job done. But $9.99/month for that is absurd pricing, especially when a tool like Feedlink offers this feature and more for free.
Though, Link in Profile has one thing going for itself: You can simply paste a URL into your Instagram post's caption, and Link in Profile will grab it. If that automation is worth it for you, only then consider it.
Willow
You can't add any visual element to a Willow website. It's just text and more text in the form of a description.
Also, I found this weird glitch on the platform: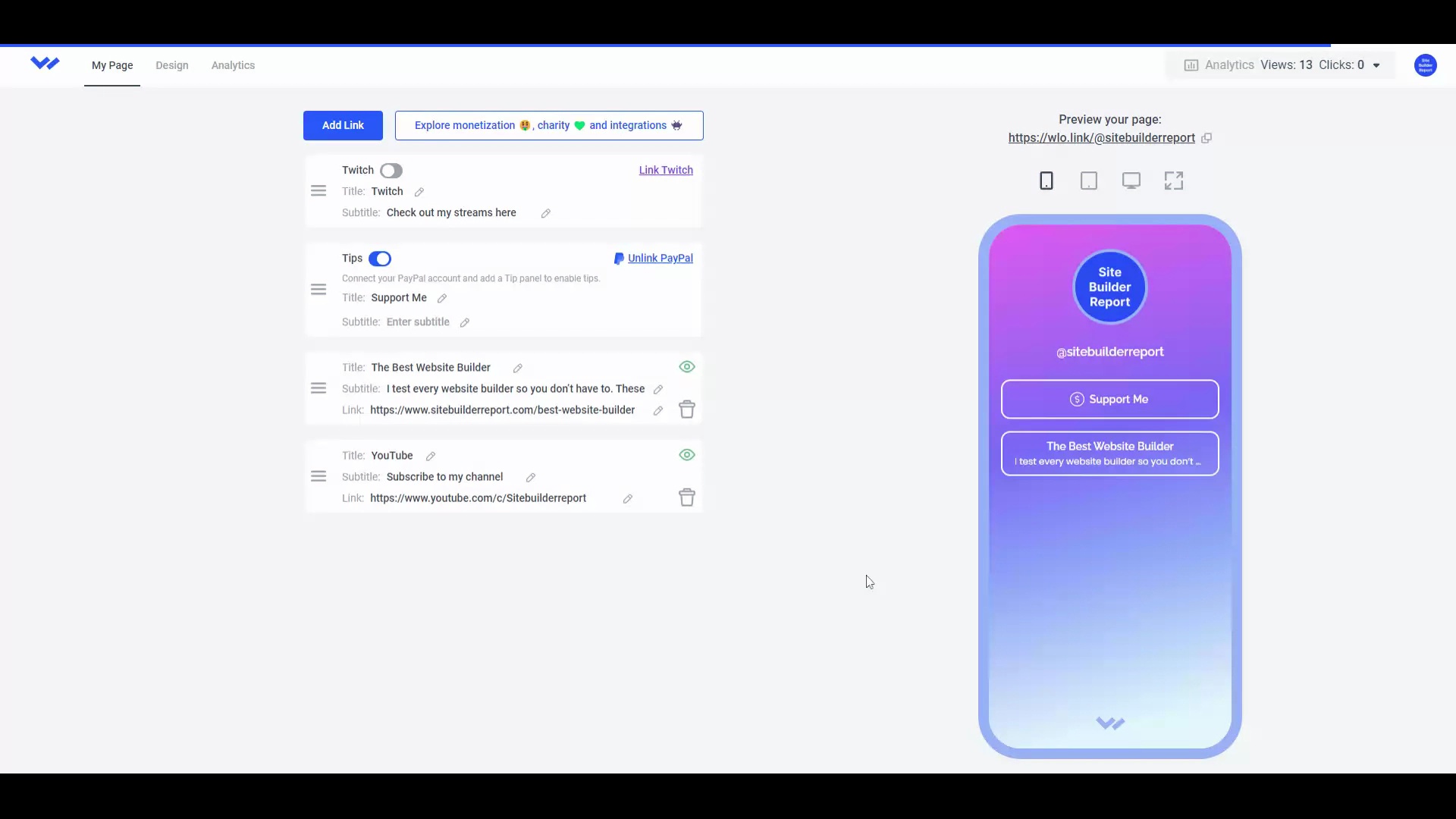 Sked Link
The same old, same old problem.
Sked Social is a well-known tool for Instagram management, and the Link in bio tool is just one of its features. And they don't sell the tool/feature separately. In other words, you'll have to pay for the whole Sked Social plan if you just want the 'link in bio' tool.
Tap Bio
You can apparently make a great 'link in bio' page with Tap Bio — see this: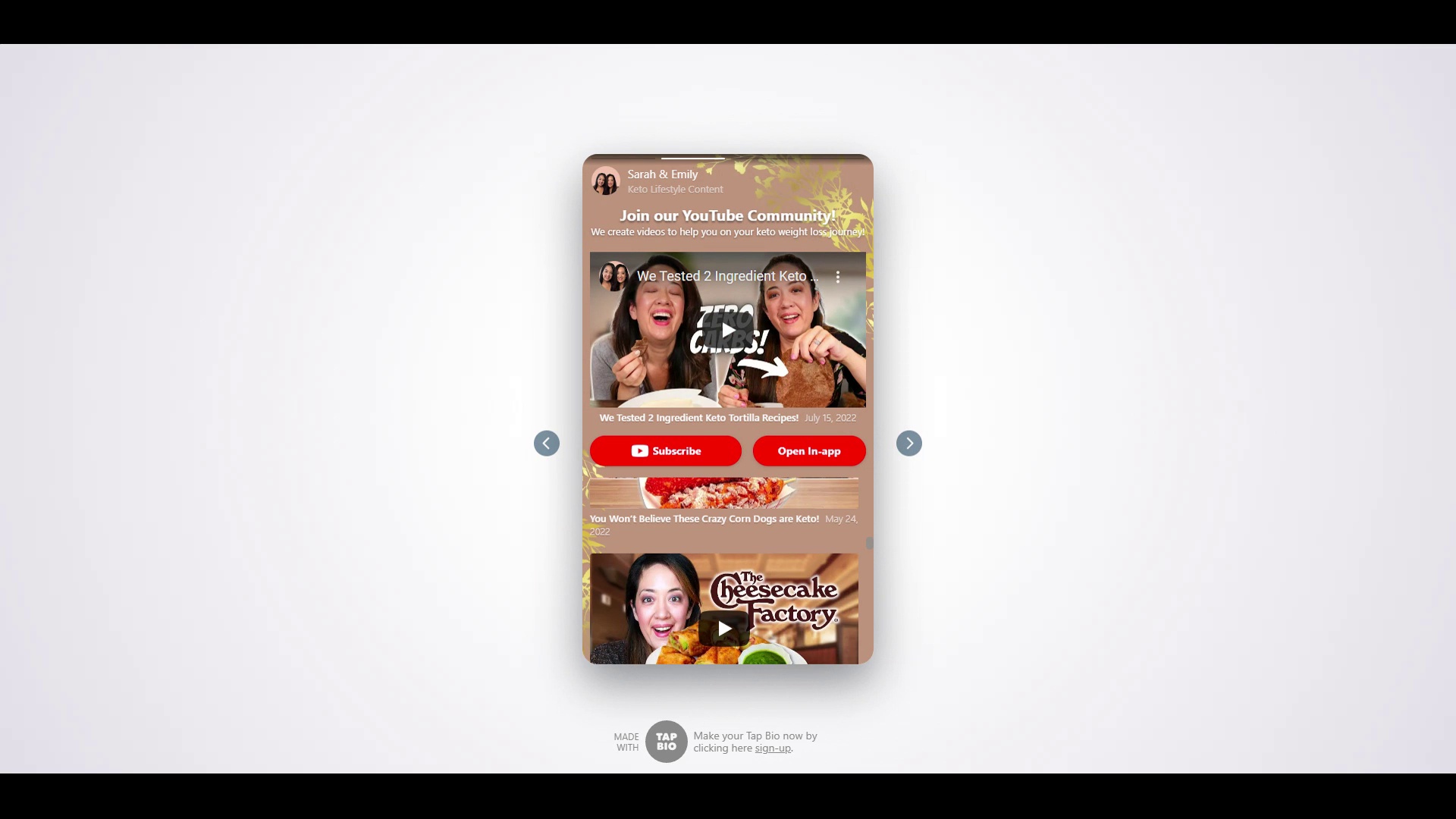 But I couldn't try it as I couldn't sign up with them. And I don't trust any website to make me a website when their own website's simplest page (login) is broken.
SproutLink
Unless you're a business or an agency looking for a social media management solution alongside the bio link tool, SproutLink is an immediate no.
SproutLink is part of Sprout Social, a SaaS company that offers social media management solutions. The cheapest SproutSocial plan is priced at $89/month!
C8KE
You can create an all-in-one shoppable gallery with C8KE. Plus, of course, you can add your typical links and stuff.
I saw a few C8KE websites, and they looked fantastic. And C8KE is completely free to use. In fact, there's no mention of pricing on the main pages.
Sounds too good to be true? It is! I went through their t&cs and found they make their money by charging a 25% transaction fee — that's shady!
I even asked them about it:
No reply even after 5 days — that's also proof of their customer service.