Squarespace is a drag and drop, visual website builder— and it's excellent. It's the Apple of website builders: intuitive, curated and thoughtfully designed. I highly recommend it.
Squarespace is known for beautiful templates but it also has outstanding features. Among website builders, they have the best blogging, podcasting, scheduling, audio players and photo galleries.
Note: My work is supported by affiliate commissions. Read more »
Squarespace At A Glance
Outstanding Templates

No other website builder matches Squarespace's clean, modern templates.

Best In Class Features

Some website builders promote features that they only "sort of" provide. Not Squarespace. They have best in class blogging, ecommerce, donation, podcasting and more.

The Apple Of Website Builders

Squarespace is intuitive, curated and thoughtfully designed. It's a reasonable analogy to think of Wix as Google's Android and Squarespace as Apple's iPhone.
The Editor
Squarespace pages are made up of sections and content blocks.
Sections are a quick way to layout a page without designing it from scratch. They stack vertically on a page and are pre-designed containers of content blocks.
Content blocks are the building blocks of sections— they are text, buttons, images, maps and more.
It's worth noting that Squarespace is a little late to launching sections— other website builders have had sections for years. But you don't always have to be first, you just have to be best.
There's a wide selection of sections to choose from and all are customizable so you can add additional content blocks as you need them:
Each section can have a custom background, padding and colors. This is a welcome change— previously in Squarespace you could only add a background at the top of a page.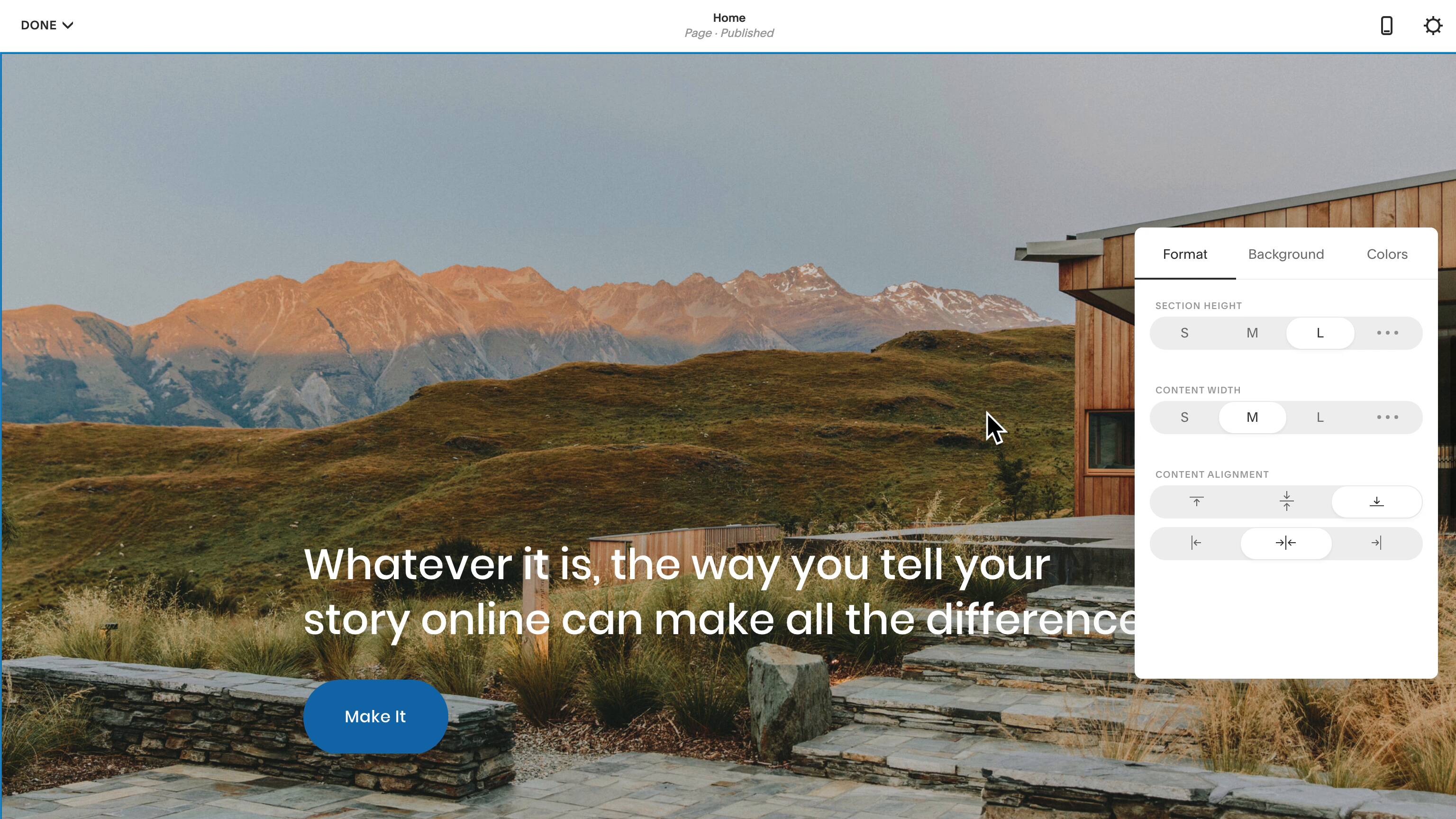 Squarespace is easy to use— but among website builders it's not the easiest (Weebly is the easiest to use). In fact, Squarespace is the only website builder that does not mention "ease of use" anywhere on their homepage.
So instead of easy to use, I describe Squarespace as intuitive. Everything is just thoughtful. If you were to think of Wix (one of Squarespace's competitors) as Microsoft, Squarespace would definitely be Apple.
One of my favourite examples of thoughtfulness is image cropping. In order to display thumbnails as a square in a photo gallery, images will need to be cropped. Most website builders just automatically crop around the center and leave it at that. Not Squarespace. Squarespace includes a handy focal point editor to adjust the crop.
Another example of thoughtfulness is a content block called Menu— which is for restaurant menus. Restaurant menus are typically a challenging format for web design— it's why many restaurants just link to a PDF menu. Squarespace solved the formatting problem by inventing a simple markup language for users to compose their restaurant menu in. The menu is automatically formatted and the colors, fonts and borders can be customized. It's just a thoughtful touch.
In addition to sections and content blocks there are four collection page types: blog, store, portfolio and events.
Collection page types means that there are actually three options for creating content:
Section
Content block
Collection
… And if I have a complaint about Squarespace it's that it's not always clear which of these three I should choose.
For example, you could create a photo gallery with a section but not a content block. That's not self-evident. A blog is a collection but not a section. Also not self-evident.
So why does Squarespace have three different options for creating content? My best guess is that they are laying a foundation. It seems possible that Squarespace could launch more sophisticated collection types in the future— and who knows, maybe even a custom collection for CMS functionality (a la Webflow).
Squarespace 7.1
In early 2020 Squarespace officially launched 7.1. The .1 feels almost misleading because the update was substantial— and I'm happy to report that after using 7.1, 7.0 starts to feel outdated quickly.
The biggest feature changes in 7.1 are the addition of sections and a huge overhaul of the template system (I explain this further in the templates section).
In addition to feature changes, Squarespace has also made changes to the interface— making it more explicit, which is nice. At times, Squarespace 7.0 could be minimal to a fault. Elements occasionally felt hidden and could only be uncovered by minesweeping with your mouse. For example, in order to preview a website in mobile, users had to discover this button:
Now in Squarespace 7.1 the mobile preview button is no longer hidden– it's obvious:
Squarespace can still occasionally be on the wrong side of minimalism— for example in styles, you have to click the gear icon to change font sizes. The gear icon feels ambiguous. I had to stumble on it rather than just intuitively understand it:
But I personally like that Squarespace is occasionally too minimal. Because on balance, Squarespace feels more calm than other website builders which are more often overwhelming.
Templates
First impressions tell a story.
This (below) is the first screen you see after creating a Squarespace website. I want to point out a subtle detail: the website is elevated above the user interface. This is unusual.
Think about most user interface's you've used. Most (for example Microsoft Word) position the user interface above the document. Not Squarespace. Squarespace elevates the document (the website).
It's a subtle promise: this is a place for beautiful websites.
And Squarespace lives up to it. They have the best templates of any website builder. Beauty is of course somewhat in the eye of the beholder but there's honestly no other website builder that matches Squarespace's clean, modern templates.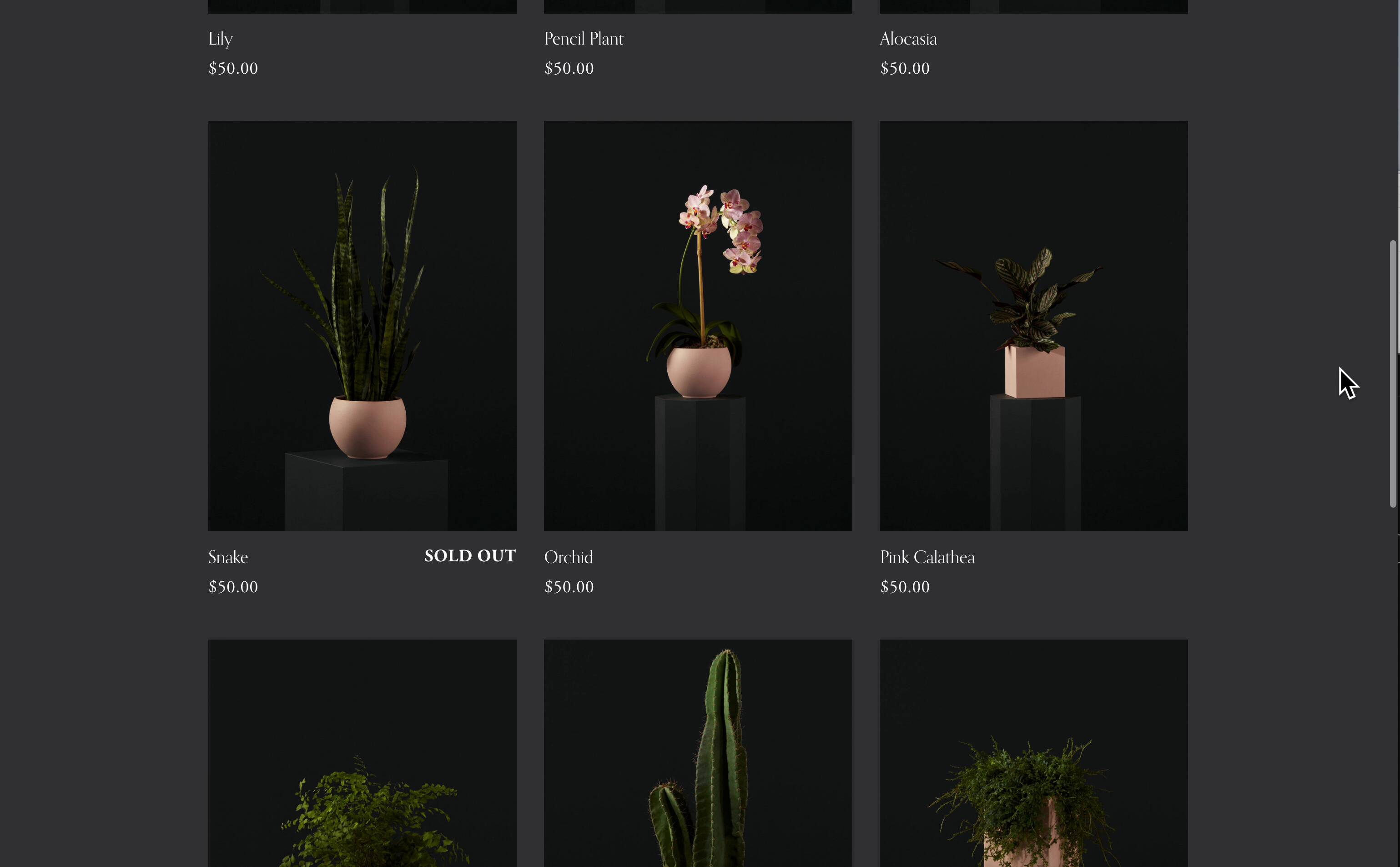 Templates often have a recognizable look and feel: bold typography, white space and plenty of room to showcase photography— making Squarespace especially popular with photographers and online stores.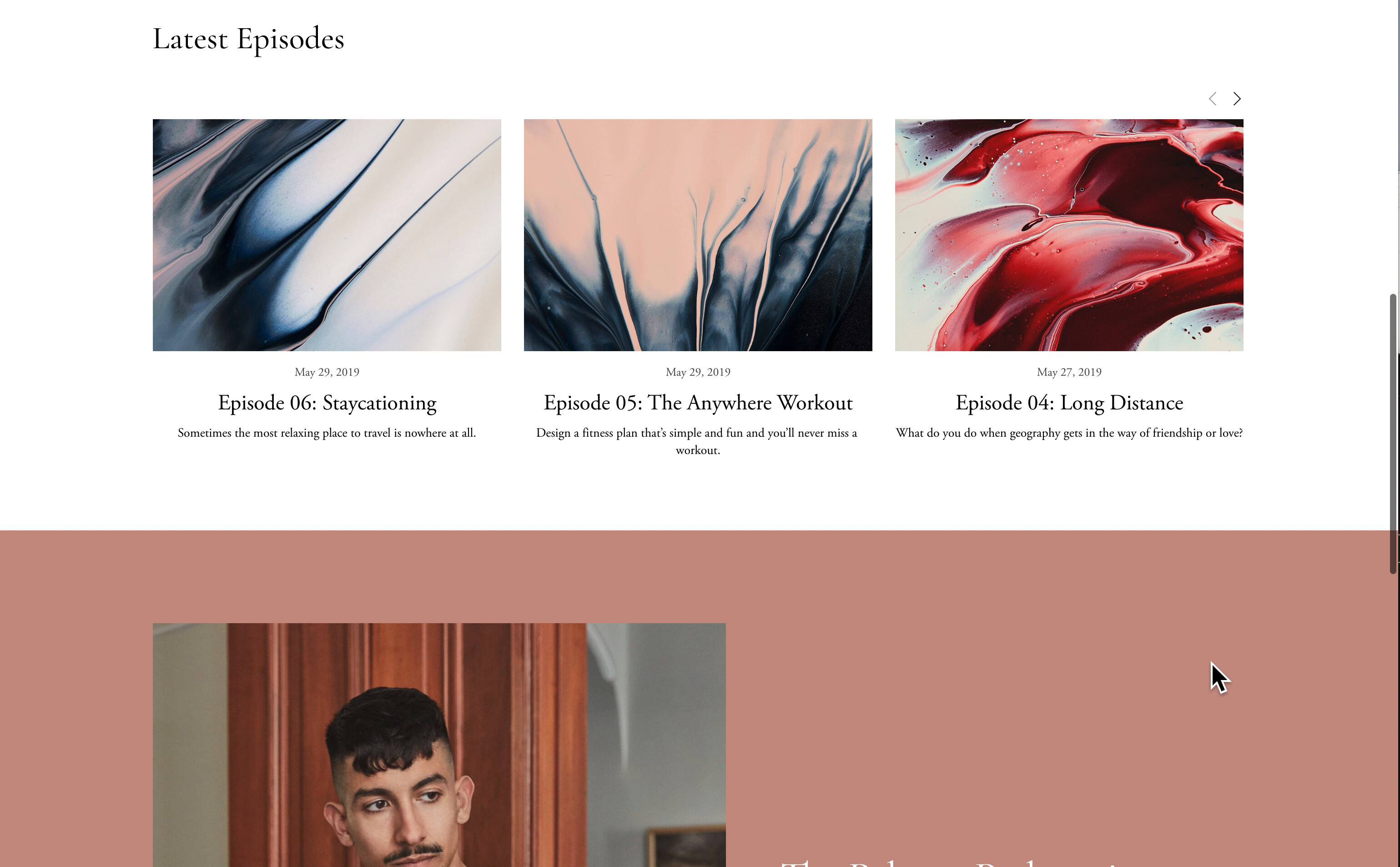 In Squarespace 7.1, templates have changed. Previously, some Squarespace templates had features that other templates did not have. That's no longer. Now all templates have access to the same features and design options. One downside to this is that you can no longer swap between templates once you've chosen one.
Options for customizing the template are throughout the editor.
For example, to edit the website header, you open it in the page editor and click the header. From there you can choose different header layouts, colors, styles and toggle different elements (such as social icons).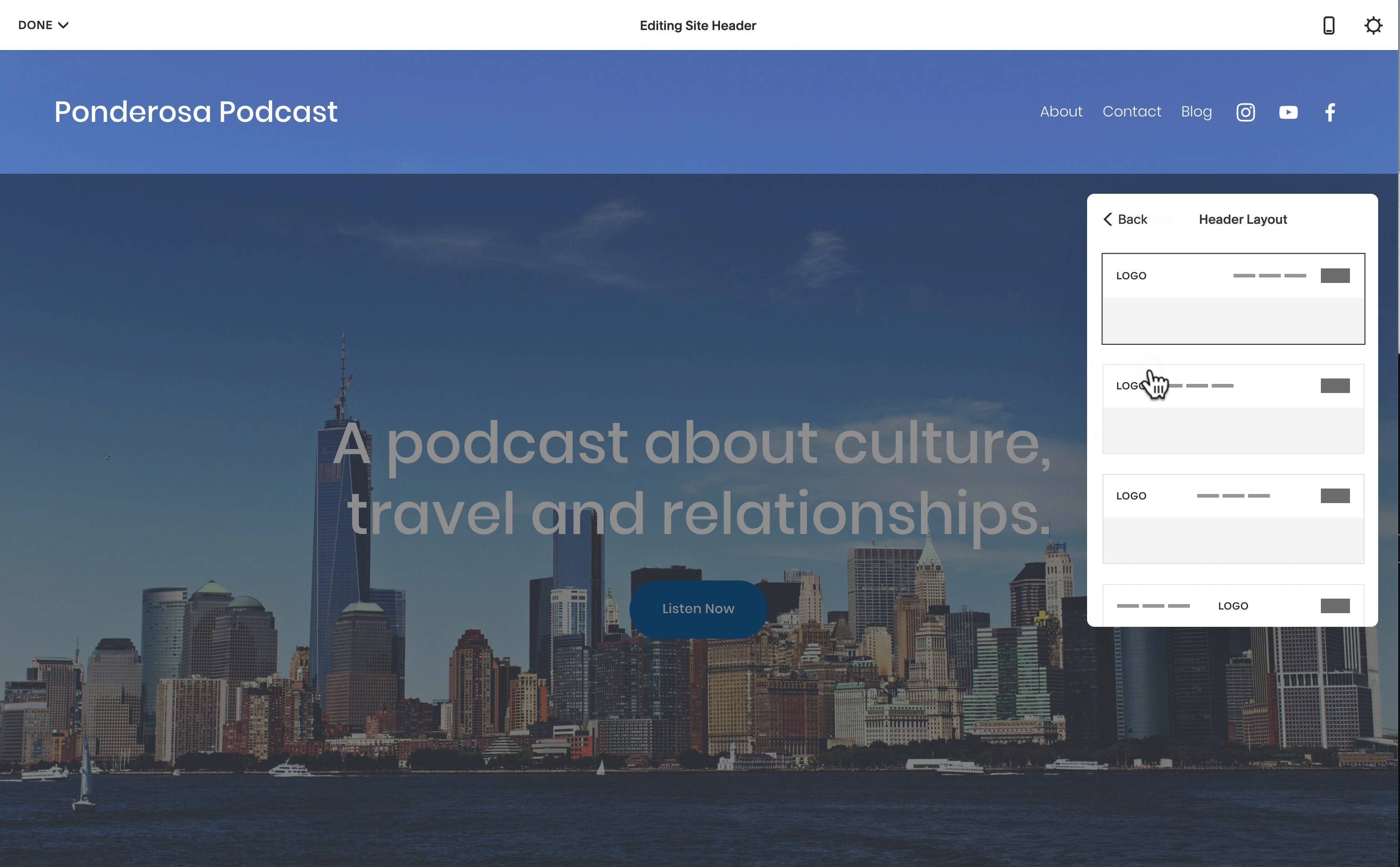 It's the same thing with sections. You can adjust height, padding, background and colors all within the page editor: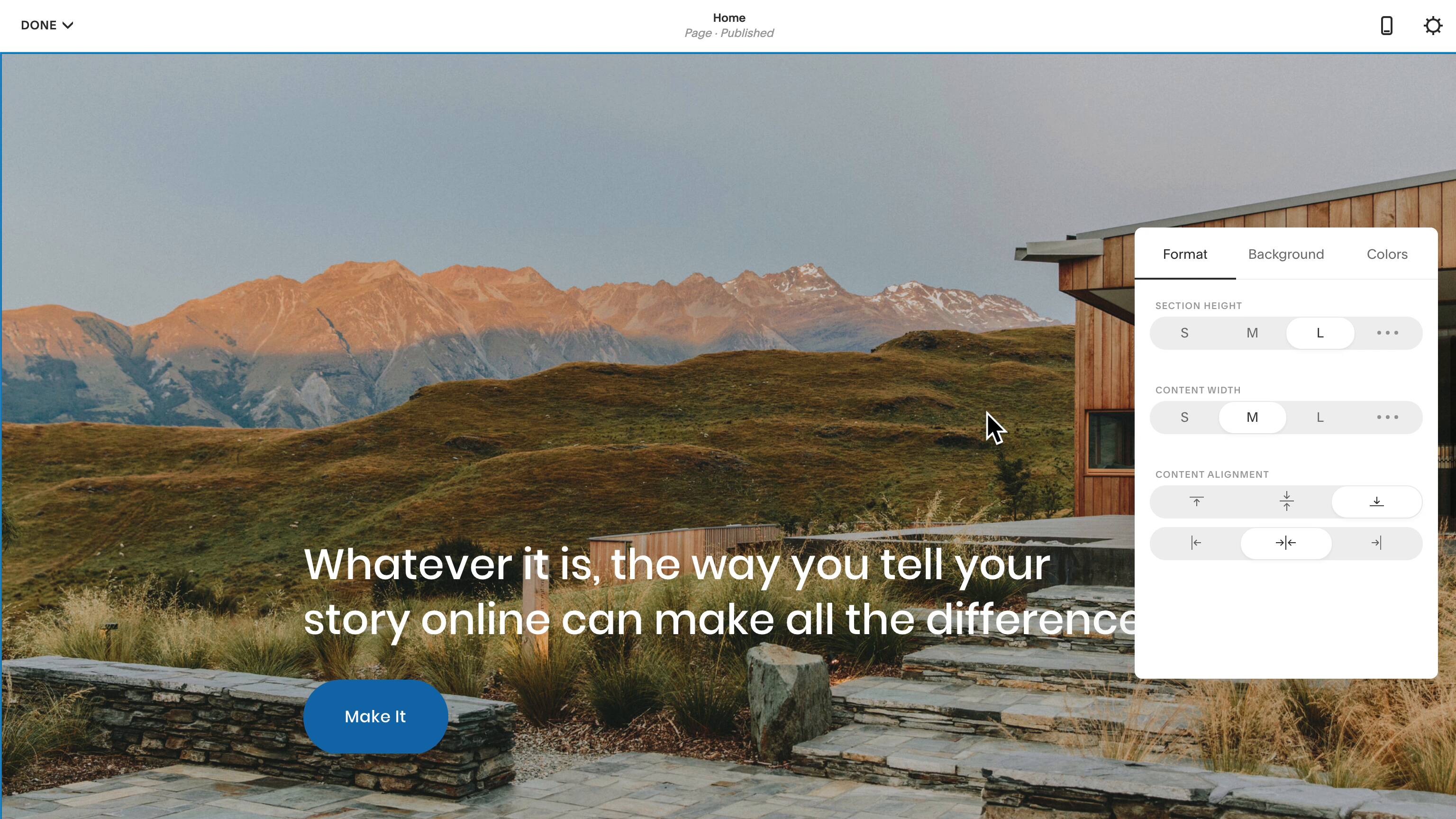 Most content blocks are not styled within the page though. If you want to increase the font size of a heading, you need to open Design options in the sidebar.
I understand why Squarespace does this but it can lead to confusion— since it's not always obvious where to find a specific design option. And even if you do find a design option, it isn't always clear what the design option is for. Below are design options for Image Blocks— but what is an image block? It's not self-evident.
Fonts and colors are both majorly improved in Squarespace 7.1 are. They both offer simple to use defaults— with the option of deeper customization.
In order to change font previously you would have change all text elements individually. It was tedious and could lead to a website with many different fonts— which is bad for performance.
But 7.1 cleans this up. Now you choose a base font and font size. This is simple and easy— a solution for users who don't feel comfortable adjusting the details of individual fonts.
But for users who want to get into the weeds of a design, you can get incredibly granular and customize fonts:
Squarespace takes the same approach with colors. There's a simple interface for swapping between a color palette and theme. It's a color solution for people who don't want to get into the weeds. But you can also go deeper and create custom palettes and themes.
Features
Squarespace has best-in-class features. Everything is thoughtful, nothing is half-baked and they consistently go beyond their competitors.
Their blogging is excellent. It's the best of any website builder— they're the only website builder that can offer competition to Wordpress. There's a long list of features: markdown, RSS, tags, categories, drafts, comments, moderation, customizable urls and more. Plus excellent support for multiple contributors.
The form builder is excellent: there are Google Docs and Mailchimp integrations, 19 different form field options, custom post-submit HTML and lightbox mode— a way to create a button that loads your form in a lightbox. One note: Squarespace doesn't store your submissions by default— it'd be great if they did as a fail-safe!
If you'd like to manage your website on mobile, Squarespace has 3 mobile apps: Commerce is for your online store, Analytics is for analytics and Squarespace let's correct text, add images and manage your blog. You can't create your website using just these apps but you can manage it.
Some website builders promote features that they don't really provide. Not Squarespace. Here are two examples:
Squarespace is the only website builder that lets you syndicate a podcast. Syndicating is required to submit your podcast to Spotify and Apple Podcasts which is…. critical for a podcast. Other website builders say they can host podcasts but all they mean is you can embed your podcast in an audio player. They don't let you syndicate.
Squarespace also has the best donation system of any website builder– and it's not even close. Other website builders just provide a crappy Paypal button. Or they suggest creating a donation product with their online store— which never works right. Squarespace doesn't do that. Instead they have a complete donation system that covers the fundamentals: custom email receipts, suggested contributions and custom checkout.
Of course, most websites don't need podcasting and donations— this is why other website builders just offer half-baked features for them. My point is if Squarespace takes care of those minor features, you can imagine how they treat major features.
Extra Tools
Over the last few years Squarespace has extra tools around online presence.
They acquired Aquity Scheduling in 2019 which adds scheduling to websites. It's fully featured: there are automatic client reminders (to reduce no-shows) and clients can create, cancel and reschedule appointments. It also has intake forms and online payments. It costs an additional $15 / month.
Squarespace also let's you create email marketing campaigns. You can do email blasts or automated emails (examples of automated emails: welcome new email subscribers, reward customers who spend a lot etc). Email design templates are fresh and modern:
Recently Squarespace also acquired Unfold, an app for creating beautiful Instagram stories.
Expect to see them continue to launch more products that extend them from websites to online presence.
Ecommerce
Squarespace has the best ecommerce of any website builder— though I would emphasize the website builder part of that sentence. That's because there's a class of website builders such as Shopify that are designed purely for ecommerce. These are ecommerce website builders.
Among ecommerce website builders, Squarespace is good option. In fact, I surveyed 944 ecommerce website owners in 2018 and Squarespace was in the top 3 ecommerce website builders for customer satisfaction. The top was Shopify.
So when is the right time to use Squarespace over Shopify?
Well Squarespace is often easier to use. For example, Shopify's page editor is a WYSIWYG editor that can feel clumsy:
Plus customizing themes in Shopify can often require editing code. Customizing themes in Squarespace is much easier.
That being said, Squarespace will never match the features of Shopify. This intuitively makes sense: Squarespace powers many different types of websites and Shopify only powers ecommerce websites— of course they've managed to build more features. One way Shopify has done this is with their App Store which has 3,000+ apps from developers.
This isn't to suggest that Squarespace is basic. In fact, Squarespace covers a long list of ecommerce features that no other website builder has matched. I won't cover every feature, but here are just a few of my highlights:
Subscriptions — You can sell subscription products that charge on a recurring basis. Ecommerce website builders are able to do this but I don't know of a single website builder that does.
Customizable Email Receipts — This is a feature way too most website builders ignore. Squarespace lets you customize the email receipts sent to customers following a purchase. Email receipts are a great opportunity to thank or upsell customers.
Excellent Product Variations — You can create multiple product variations with unique pricing.
Digital Products and Services — You don't have to use Squarespace for just physical products. You can also sell digital products or let customers pay you for services.
Apple Pay Integration — Squarespace lets you use Stripe as a payment provider— which allows customers to pay you with Apple Pay. Apple Pay has been shown to increase successful checkouts on mobile (it lets customer authorize payments with only Touch ID).
Point of Sale — In November 2019, Squarespace launched a Point of Sale system that integrates with Square's credit card reader and Squarespace's Commerce app.
SEO
Here's some advice: website builders are all roughly equal when it comes to SEO. There are definitely some technical SEO features that you need in a website builder— it's just that most website builders support them.
Unlike other website builders, Squarespace doesn't try to upsell customers on crappy, nonsense SEO upgrades. (Don't use any SEO tool that's bundled with your website builder— instead just go straight to the industry standard tools: SEMRush or Whitespark.)
Squarespace provides tools to execute most of what's necessary for SEO:
AMP Support — AMP (Accelerated Mobile Pages) is a Google initiative that creates lightweight versions of websites that load quickly on mobile devices. Using AMP doesn't directly influence your rankings— but it certainly can indirectly help. Squarespace is one of the only website builders to support AMP pages— you just have to enable it.
Meta Titles And Descriptions — Squarespace let's you customize meta titles and descriptions for pages and blog posts. These are what are displayed in the search engine results. Having your target keyword in the title tag is important for ranking while meta descriptions don't effect your ranking (so you don't need to customize it).
Custom URLs — Squarespace let's you customize URLs. This is important— simple urls with target keywords are good for SEO (notice the URL for this page? It's simply /squarespace-review).
Mobile Friendly — In 2018 Google announced that their index was going 'Mobile First'— making a mobile friendly website critical for SEO. All of Squarespace's themes are responsive— which means they are mobile-friendly.
SSL — All Squarespace domains have SSL— which Google has said is a ranking signal.
Sitemap — All Squarespace websites have a /sitemap.xml that can be submitted to Google Webmaster Tools.
Alt Tags — Squarespace lets you set alt tags on images.
More advanced SEO techniques such as hiding pages from Google is possible with Squarespace— though they require you to add code snippets.
Pricing
Squarespace offers four plans— two for general websites and two for ecommerce:
Squarespace is priced equally to many of it's competitors. For example I checked the price for one year on the cheapest no-ad plan of the top 7 website builders and Squarespace, Webflow, Weebly and Format all come to $144. Wix and Shopify are more expensive:
Plus Squarespace is honest and transparent with pricing. I bought and cancelled it with my own credit card and it was very easy to do.
I've written a more in-depth look at Squarespace pricing here.
Integrations
Squarespace tends towards being opinionated. They don't aim to give you unlimited options— instead they often aim to give you the right option. This is very evidenced in their integrations: Squarespace is about the quality of integrations, not the quantity.
Squarespace still has a wide amount of integrations but both Weebly and Wix (it's closest competitors) offer more integrations with 3rd parties.
The upside is that the integrations that Squarespace does offer, tend to integrate nicely with Squarespace (while integrations with Weebly or Wix can feel hacked-together and lack design cohesion). Here are some of my highlights of the integrations Squarespace provides:
Amazon — Affiliate tracking.
Mailchimp — Newsletter software.
Acuity Scheduling — Online booking.
Typekit — Webfonts.
Google Fonts — Webfonts.
G Suite — Email for your custom domain.
Disqus — Blog comments.
Bandsintown — Tour dates listing.
500px — Photo galleries.
Instagram — Feed or your photos.
Zola — Wedding registries.
Chow Now — Order food for pickup or delivery.
OpenTable — Restaurant booking.
Apple Pay — Pay with Touch ID.
Xero Accounting — Accounting software.
ShipStation — Print shipping labels.
… And more.
If Squarespace doesn't officially support an integration with a 3rd party, you can probably still integrate with it using a Code Block or Code Injection. These solutions tend to require a little technical understanding though.
Domains and Email
Like most website builders, Squarespace provides a free custom domain name on annual plans for one year. Following that, it costs $20 / year.
At $20 / year, Squarespace domains are on the expensive side— you could always find a cheaper domain name at Namecheap ($14.27) and set it to point to your Squarespace website.
Squarespace does include free whois privacy with your domain name. This basically anonymizes the personal information of whoever is registering the domain name. I appreciate this, as website builders such as Weebly charge you for whois privacy.
You can setup email addresses for your domain names (example: yourname@yourwebsite.com) using Google's G Suite integration on all the plans except for Personal. I highly recommend G Suite, it basically provides the Gmail interface for your custom domain name email address.
Squarespace offers the standard G Suite pricing, which is based on the number of email addresses:
| TERM | PRICE PER EMAIL ADDRESS |
| --- | --- |
| Annual Billing | $50 / €40 / £40 / A$66 |
| Monthly Billing | $5 / €4 / £4 / A$7 |
Conclusion
I highly recommend Squarespace. It's the best all-around website builder.
They've somehow managed to combine beautiful themes, best-in-class features and an intutive website builder— all with honest, competitive pricing.