Squarespace and Shopify are both popular, excellent tools for building a website— but they actually have big differences.
Squarespace has an intuitive, powerful page editor that lets you design and style beautiful pages. It's an excellent all-purpose website builder that can power a variety of websites.
Shopify just powers ecommerce websites— but that focus means Shopify has innovative features that have made creating an online store more accessible than ever.
Note: My work is supported by affiliate commissions. Read more »
Squarespace vs shopify Pricing At A Glance
Two Different Philosophies

Squarespace is all about building beautiful websites— while Shopify is purely focussed on powering ecommerce.

Page Editors

Squarespace has a visual drag-and-drop page editor. Shopify has a WYSIWYG editor similar to Microsoft Word and can occasionally require coding for style tweaks.

Ecommerce

Squarespace has good ecommerce for small stores but Shopify can power both small and large ecommerce stores and is far more flexible.
Different Philosophies
The first scene sets the stage of any movie— they're an opportunity for directors to tip off the audience on what you can expect.
It's why the first scene of The Dark Knight is so amazing. It's a fast-paced bank heist that introduces the joker as a chaotic character.
In software, you could say the first "scene" is the first screen a user is shown after logging in. The first screen sets the stage and tells the user something important about the software. So what does the first screens of Squarespace and Shopify tell us?
Squarespace's first screen is pretty and austere. It showcases the website by elevating it above the interface— a subtle signal that Squarespace websites are meant to be beautiful.
Shopify doesn't even show your website in the first screen. Shopify's first screen is a newsfeed of what's happening in your store:
For Shopify, the website is important but Shopify also has a bigger vision: it wants to be the back office for stores— a place where inventory, sales channels, analytics and orders can all be managed in one place.
So Squarespace is about building beautiful websites and Shopify is about providing a back office for stores. It's important to begin with this high-level difference because it will explain many of the specific feature differences— which the rest of this article will go into.
Page Editors
Squarespace has a visual drag-and-drop page editor. It lets you drag content blocks and drop them into columns and rows. Spacers are used for margins. There are also pre-designed sections that let you get up and running quickly.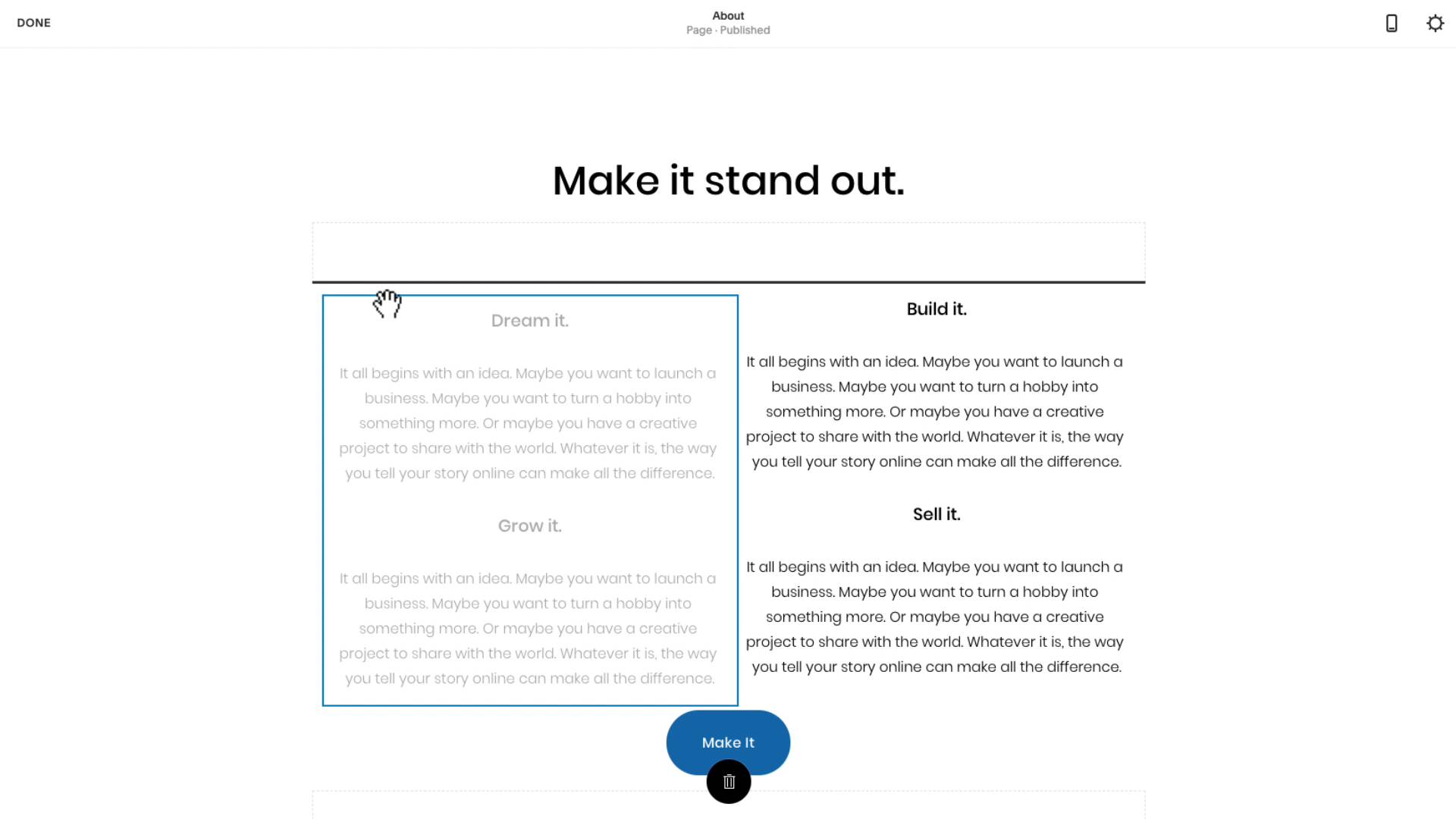 Squarespace has a wide selection of content blocks to add to pages— you can create forms, maps, restaurant menus, buttons, audio players, photo galleries, charts and a bunch more: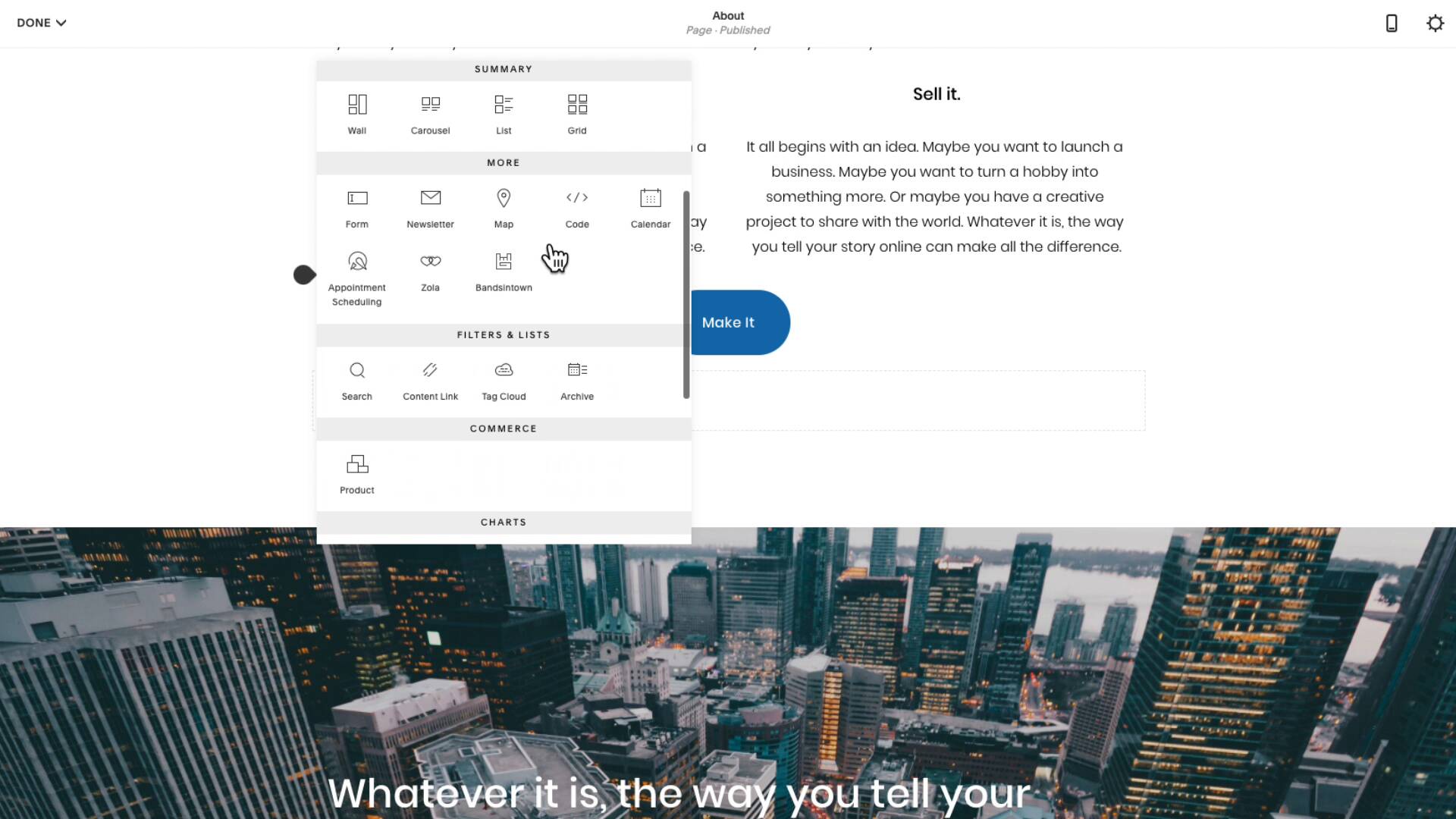 Shopify has a WYSIWYG editor. WYSIWYG editors are similar to Microsoft Word— it's a text editor that let's you place images and videos inline with the text (there aren't options for Content Blocks like Squarespace). Creating layouts within a WYSIWYG editor can be painful. Moving elements can have unexpected results and adjusting spacing or adding columns is not possible. It's difficult to build impressive pages with it.
Squarespace's better page editor is a reflection of priorities— the most important pages in ecommerce websites are often dynamic pages (such as product or collection pages) rather than static pages (like an about or contact us page). Shopify's page editor isn't as powerful because it's not as high of a priority for ecommerce websites.
So if designing beautiful static pages is important to you, you might want to choose Squarespace. In fact, I recently started a new ecommerce store and ended up using Squarespace for it instead of Shopify— why? Because I was only selling one product and I wanted to design a long, unique product page. It was just much easier to get this design up and running with Squarespace.
Which Has Better Ecommerce?
Squarespace has strong ecommerce. It's a good choice for small stores. I've used Squarespace for stores in the past and have always been pleased with how simple and intuitive it is— all while still including all the features you need (custom notifications, taxes, shipping integrations etc.).
But Shopify is just in a different class from Squarespace when it comes to ecommerce. Shopify powers many large, unique ecommerce stores— for example All Birds, Kylie's Cosmetics and MVMT.
Shopify's competitors are more like heavyweight ecommerce builders like BigCommerce, Volusion, Magento and WooCommerce. And as you can see from Google Trends, Shopify has risen to the top of this market over the last ten years:
Shopify won this market by relentlessly launching innovative features that reduce the barriers to starting and scaling an online store. Let me give two examples:
1. Shopify Payments — Online stores require a payment processor to accept credit cards. Most store builders like Squarespace integrate with a 3rd party processor like Stripe or Paypal. Shopify can integrate with 3rd party processors but in 2013 they launched Shopify Payments— their own payment processor. This means new Shopify users can start taking payments immediately— no need to figure out how to integrate with a 3rd party payment processor. Everything just works.
2. App Store — Shopify was also the first store builder to launch an app store. You see, most ecommerce websites have unique needs— think of all the unusual edge cases in ecommerce: gift wrapping, inventory integrations, product reviews and up-sell recommendations. For some stores these features will be important but for most stores they will not be. These are the types of features available in Shopify's app store.
It's hard to fully explain just how handy the app store is because it usually solves a problem you don't anticipate. For example, my friend and I started a Shopify store selling toilet paper with a local politicians face on it (don't worry— he deserved it). We discovered many customers lived near us— so we could deliver the toilet paper ourselves and save on shipping. We were able find several apps in Shopify's app store that showed our orders on a map so we could pick and choose which orders we would deliver ourselves. I can't imagine many stores needing this feature— but ours did!
Shopify's app store is the type of competitive advantage that just grows with time— because they launched their app store first, they have far more apps than their competitors (see below).
None of this is a knock on Squarespace. In fact, I rank Squarespace #2 behind Shopify in my ecommerce builders roundup. Squarespace is great for simple ecommerce websites and especially great if you need content alongside commerce. Instead it's just that Shopify is really, really powerful for online stores.
If you'd like to learn more, check out my full Shopify review.
Templates
Squarespace's focus is on building a beautiful website and they offer 70ish beautiful, modern website templates.
I think they have the best templates of any website builder— which is subjective, but not as subjective as some people think. Here's an example theme: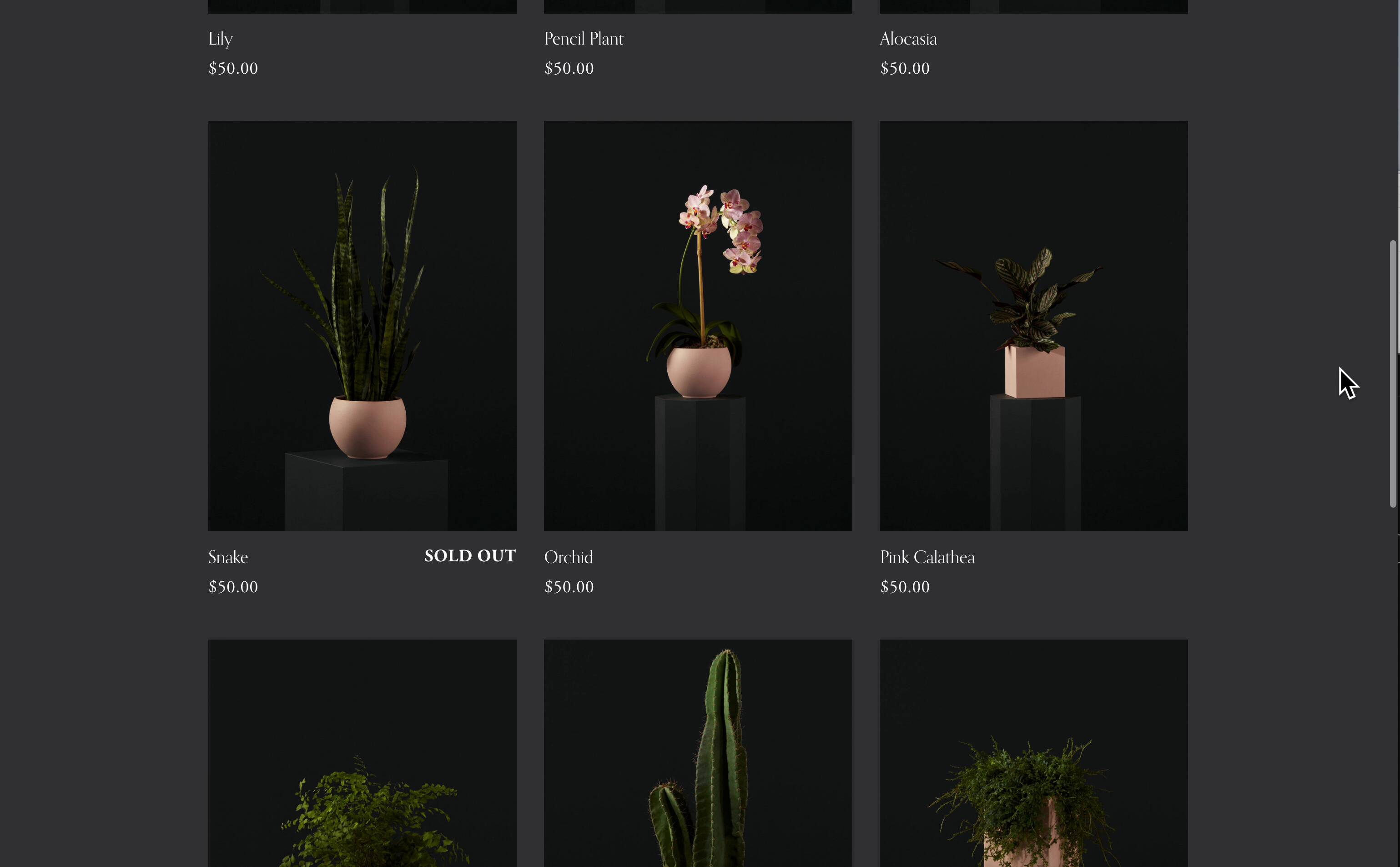 Templates often have a recognizable look and feel: bold typography, white space and plenty of room to showcase photography— making Squarespace especially popular with photographers and online stores.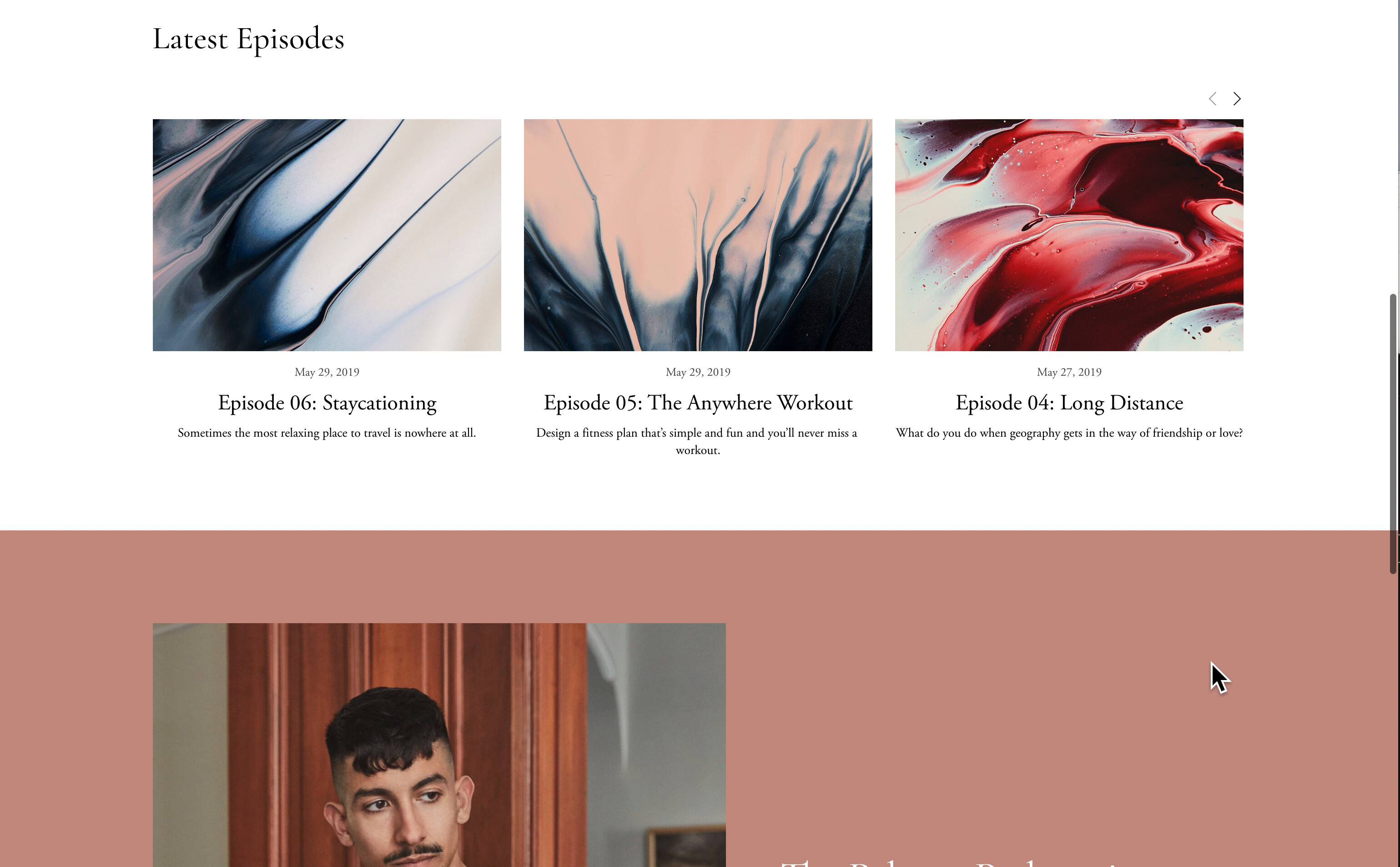 All Squarespace templates are created in-house so they also provide customer support for them:
One thing I especially love about Squarespace is that the templates continue to look good long after users have customized them. One of the problems with other other website builders is they launch pretty templates that are almost impossible to modify without wrecking. Finished Squarespace websites almost always look better than competitors— just compare live examples of Squarespace websites vs Weebly websites vs Wix websites— you'll see the difference.
Shopify does themes a little bit differently from Squarespace. There are ten themes included by Shopify that you can use. Each is fresh, modern and sophisticated:
There are hundreds of additional Shopify themes created by 3rd party developers. These cost additional money and rely on the 3rd party developer to provide support but there are lots of examples of live Shopify stores that look beautiful.
When it comes to 3rd party Shopify themes, there's two classes: verified providers and unverified.
Verified providers can sell their themes in the Shopify theme store. There's around 70 themes available. Verified providers are vetted to ensure they provide proper support— there's nothing more frustrating than a theme that's out of date in a year.
Unverified themes are for sale on other marketplaces like Theme Forest, which has over 900 Shopify themes.
Shopify's difference in themes represents its most users are power users— and will likely be more comfortable jumping into code. Squarespace has many power users and is definitely customizable by code but their theme customization tools are built to be used by anybody.
Template Customization
Squarespace's has the best theme customization tool of any website builder.
Basically you can easily apply your own brand colors and fonts— while also being able to get into the details of how it's applied. Let me give you an example.
For fonts you can choose a base font and font size. This is simple and easy— a solution for users who don't feel comfortable adjusting the details of individual fonts:
But for users who want to get into the weeds of a design, you can get incredibly granular and customize specific fonts:
They take the same approach with colors. There's a simple interface for swapping between a color palette and theme. It's a color solution for people who don't want to get into the weeds. But you can also go deeper and create custom palettes and themes.
Squarespace has put a lot of thought into their template customization— which makes sense, Squarespace is all about beautiful websites.
On the surface, Shopify's Customizer looks similar but it's not as powerful:
For example, let's say you want to change the font color and size in the navigation. With Shopify the only way to do that is to edit CSS code— there's no other way. Squarespace's Style Editor lets you adjust the font color, size and more.
Shopify's Customizer lets you adjust a few wide-reaching colors and fonts but other than it tends to mostly about enabling or disabling theme options than it is about serious theme customization. In the end if you really want a custom Shopify theme you're not going to be able to do it without jumping into code or hiring a Shopify theme expert.
Squarespace on the other hand has a powerful and intuitive theme editor. I highly recommend it for that.
Choosing The Right Plan
A few things to note about navigating the pricing plans of Squarespace and Shopify:
At $16 / month, Squarespace's Personal plan is the cheapest between Squarespace and Shopify— but it's not an ecommerce plan. Squarespace's Business plan includes ecommerce— but it has a 3% transaction fee (on top of credit card processing fees), so it's not really meant for serious ecommerce.
Squarespace's Basic Commerce plan is the first plan for serious ecommerce and it costs $30 / month— which is a hair more expensive than Shopify's $29 Basic plan.
Additional costs with Shopify can add up. Purchasing a custom theme typically costs around $150 and many apps in the app store have additional monthly fees.
To get 0% transaction fees with Shopify you need to be using Shopify Payments (their in-house payments provider)— otherwise you will pay a transaction fee.
Shopify has a Shopify Lite $9 plan that lets you add products to social media or another website.
Both Shopify and Squarespace include a 14-day free trial with no credit-card required— which is awesome. Other website builders require a credit card which means if you forget to cancel you get charged… Frustrating!
Shopify also has Shopify Plus (more details) which is for online stores with large scale. There's no set price with Shopify Plus, instead prices are set by a quote and run from $2,000 / month - $40,000 / month.