Limitations are pretty consistent across free website builders.
Most include an ad along the footer of your website— though some ads are definitely more intrusive than others.
All include a free subdomain— though some are too long to be usable.
Only two website builders on this list (Ucraft and Google Sites) let you connect a custom domain name on their free plan.
A few notes:
I am rating website builder free plans— not paid plans. For example, I give Wix's paid plans 4 stars and their free plan 2 stars because it's quite limited.
This doesn't cover ecommerce. My roundup of the best free ecommerce builders does that.
You'll never find a free domain name. Sorry. There's no way around this. Website builders often include a free domain name if you buy an annual plan but that's as close as you can get.
Your SEO reputation is tied to your domain name. So if you start with a free subdomain (example: yoursite.jimdosite.com) but plan to upgrade to a domain name later (example: yoursite.com), just know that you will lose any SEO reputation you've built up when you change your domain. (You could theoretically fix this with 301 redirects except most free website builders don't allow 301s.)
Alright— let's get into it!
Note: My work is supported by affiliate commissions. Read more »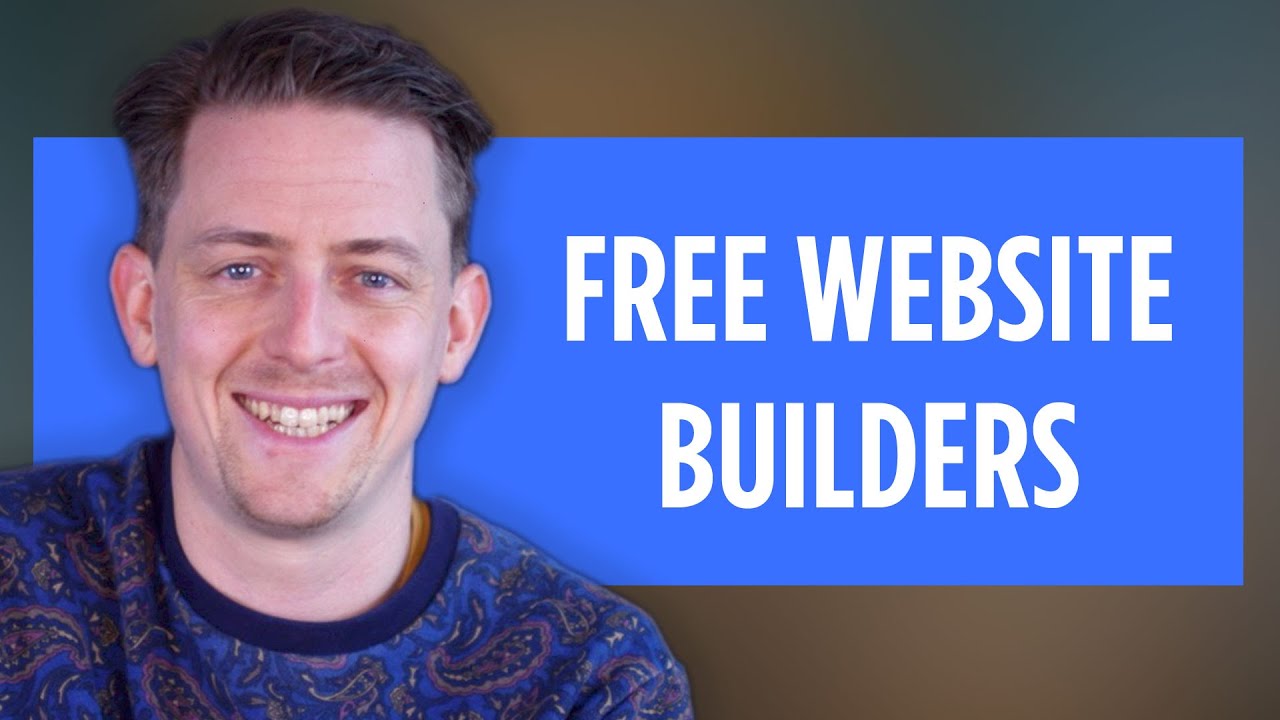 Free Website Builders
Most website builders don't want to give you something for free— but with a little research you can make it... youtube.com
1. Ucraft

Try Ucraft →

The number one reason to use Ucraft's free plan is that it allows you to connect your own domain name (ex: yourname.com).

Of course, you'll still need to purchase a domain name— this is unavoidable and will cost approximately $15 annually— but the only other free website builder to let you connect to a custom domain name is Google Sites (and Google Sites isn't going to be right for most people).

Otherwise Ucraft is a pretty solid free package: unlimited pages, Google Analytics, SSL and a decent free subdomain (yoursite.ucraft.net) if you don't want to connect a domain name.

The biggest downside is the ad. Ucraft used to have a small ad— but they've enlarged it to a full-width ad that scrolls alongside visitors. So if you do choose Ucraft, you'll need to live with this:

2. Carrd

Try Carrd →

Carrd is for building one-page websites. That's it. Because of that focus, it's also the best website builder for one page websites.

For example, all Carrd themes are designed specifically for one-page websites:

And while you can make one-page websites in Weebly or Wix, they're just not as intuitive as Carrd. Weebly and Wix are tools for building websites with multiple pages— Carrd was designed around a single purpose: creating one-page websites.

Carrd also has a very small, hardly noticeable ad on free websites:

Finally if you do decide to upgrade, you'll find that Carrd is extremely affordable. Plans start a $9 / year. This is WAY, WAY cheaper than website builders with multiple pages such as Squarespace or Wix.

3. Webflow

Try Webflow →

Webflow is really powerful but has a learning curve. It's not what I suggest if you're looking for an easy to use website builder but it is what I suggest if you want flexibility.

The Webflow Designer gives you the flexibility of front-end coding without actually requiring you to code. You will need to understand the fundamentals of web design but it allows for far, far more design flexibility than any other free website builder.

Webflow also includes a CMS in the free plan. The CMS lets you create Collections, which are custom content types. Think of them like a customizable database— you could define an article collection, add articles and you'll automatically get new pages for every new article.

Beyond that, Webflow includes a super small ad. It's not very intrusive.

Navigating Webflow's pricing plans can be confusing. You'll want to sign up for their free Account plan and then choose the Staging plan for your free website.

I asked Webflow to confirm that the Staging plan could be used for publishing a website and here's what they had to say:

I would think of it like this: Webflow is free until you want to have more than 2 projects, if you want to host a website on a custom domain, or if you want to export code from a project.

I take this as approval that the Staging plan is essentially a free plan.

4. Weebly

Try Weebly →

Weebly is one my top-rated paid website builders. It's really easy to use— so if ease of use is important to you, you'll want to use this.

Many website builders limit features on free plans but Weebly actually includes lots of features: ecommerce, forms and unlimited pages. Even the Weebly app store is open to free users.

Weebly also provides a good free subdomain: yoursite.weebly.com.

The downside of Weebly is the ad that scrolls alongside the page. It's bright blue and quite intrusive. You'll only want to use Weebly if you can live this:

I've also had a few readers complain that Weebly's free plan isn't offered in their country. I asked Weebly about this and they said: "Our free plan is widely available, but our offerings and prices do vary in some countries."

5. Google Sites

Try Google Sites →

Google Sites is the only website builder that is completely free— they don't even offer paid plans.

The thing is, Google Sites is not really a website builder for small businesses. It's more of a way to connect Google Services for a collaborative tool.

The elements you use to build your website are mostly Google products— Google Docs, Google Calendars, Google Forms etc. There's also an option to restrict your website to users in your Google Apps organization (further evidence that this is a collaborative tool for Google Suites— not a website builder meant for small businesses.)

Google Sites doesn't offer a selection of templates. Instead there is only one single template with 6 styles. It's very, very minimal— but remember, Google Sites isn't meant for building small business websites.

So why use Google Sites? Well there's two very intriguing upside: you can add a custom domain and there are no ads on your website. So if you can make things work, Google Sites is pretty awesome.

Just heads up: it requires a bit of technical know-how to setup the custom domain names and of course you'll still have to pay the annual domain name fee (around $15).

So in conclusion: if you love the one template Google Sites offers, and the idea of a lifetime free website intrigues you— you might want to give it a shot!

6. Jimdo

Try Jimdo →

In 2019 Jimdo launched a totally new editor that reminds me a lot of GoDaddy's website builder. You build your website by stacking sections. Sections are cookie-cutter. For example, you can't add new elements to a section— you can only hide the elements.

Jimdo's cookie-cutter editor is too simple— which is too bad because the ad on free Jimdo websites is really quite small:

Other than that, Jimdo has a very average free plan: SSL, 500 mb of storage, a 5 page limit and a decent subdomain (yourdomain.jimdosite.com).

I'm actually quite happy with the Jimdo subdomain— previously the subdomain was yourdomain.jimdofree.com and having the word free felt spammy. Glad to see they've fixed that.

7. XPRS

Try XPRS →

XPRS doesn't put advertisements on free websites— which is awesome. That alone makes it very worth considering.

Unfortunately the subdomain they provide free websites is pretty unusable and there is no way to edit it: im-creator.com/free/yourusername/yourwebsitename.

As a website builder, XPRS has a slick interface but can be a bit overwhelming. It's not as easy to use as Weebly— it takes time to learn. The upside to XPRS is that they offer some really nice themes.

8. Strikingly

Try Strikingly →

At one time, Strikingly was the best tool for one-page websites. That's changed. Strikingly has grown stale over the last few years and Carrd has now overtaken it as the best one-page website builder.

Strikingly's free plan doesn't include SSL. SSL is what secures your website— Google has said SSL is a ranking signal. When websites don't have SSL browsers will show a Not Secure message in the browser window. Not ideal.

Strikingly also includes an ad that appears on free websites once a visitor starts scrolling. It's a bit intrusive:

Strikingly's free plan does include ecommerce (limited to one product) but because it doesn't include SSL, I'm not sure why you'd want to try to use it for ecommerce.

9. Wix

Try Wix →

Wix is a blank canvas, drag-anywhere editor that's pretty good for paid plans but not worth using for their free plans.

For starters, Wix's includes an intrusive ad that scrolls alongside free websites:

The free subdomain that Wix provides is not as friendly as other website builders. Your free URL is: username.wixsite.com/mysite.

A better URL would be mysite.wix.com.

You also can't add your own favicon— the favicon is a Wix logo (favicons are the icons in a browser's tab).

Finally Wix has a 500 MB bandwidth limit on free websites. You'll run into that limit quickly if you're getting much traffic— since the average Wix homepage is 1.4 MB. Other free website builders are more generous with bandwidth.

10. Wordpress.com

Try Wordpress.com →

First things first— Wordpress.com is not Wordpress.org. Wordpress.org is what most people mean when they talk about Wordpress— it's the free, open-source CMS. Wordpress.com on the other hand, is actually more like a website builder.

The major downside is that Wordpress.com randomly insert ads into your content. There's no way to control where the ads show— it's random. This is a big problem. With other free website builders you can at least anticipate and design around the ads.

For more information, read their support doc.

11. Constant Contact

Try Constant Contact →

I don't recommend Constant Contact's free plan because they include a big and bright blue banner ad. It's super obnoxious compared to other free plans:

It's also worth mentioning that Constant Contact was acquired by EIG– a conglomerate with a history of buying companies and ruining them.

For example: Constant Contact is not the only website builder that EIG owns. They also own WebsiteBuilder.com, SiteBuilder.com and Sitey. I've found they've often use shady billing practices on these companies— such as adding items into customer shopping carts without telling them.

I've asked them many times to confirm this and they refuse to acknowledge this. I don't recommend using their products.
Tip: Custom Domain Name
This is a hack to add a custom domain name to your free website builder— even if it doesn't allow them. It doesn't work perfectly but it gets you some of the way there.
Let's say you built a free website on Weebly at yourgiftologist.weebly.com.
You can actually register yourgiftologist.com with a domain name provider such as Namecheap and set it to redirect to yourgiftologist.weebly.com:
Now when visitors type in yourgiftologist.com they are automatically forwarded to yourgiftologist.weebly.com.
This isn't a perfect solution— observant visitors will definitely notice the URL change in their browser— but it would let you put a domain name on your business card.
Tip: Ecommerce
Most website builders don't let free plans use ecommerce— other than Weebly and Strikingly which offer limited free ecommerce.
So how can you include ecommerce on those website builders? Use Ecwid.
Ecwid lets you embed an online store onto any website. All you have to do is build the store on Ecwid and then you use their embed code to put it on your website. It's as simple as embedding a Youtube video.