WordPress and Squarespace are both tools for building websites— but they have important differences.
This article will explain those differences so that you'll understand when to use Squarespace and when to use Wordpress.
Let's go!
What Is Squarespace?
Squarespace is a complete, all-in-one package.
It includes everything you need right out of the box: drag and drop editor, hosting, themes, plugins and more. Plus it's intuitive and user friendly.
Everything just works and you don't have to think about technical details like setting up a web host— it's all taken care of behind the scenes.
Squarespace is a website builder not a CMS.
What Is Wordpress?
Important: Wordpress is Wordpress.org— not Wordpress.com which is a separate, different product.
Unlike Squarespace, Wordpress is not a complete, all-in-one package— or at least it doesn't start that way. Instead Wordpress is a flexible, open-source CMS that you can customize however you'd like.
Installing Wordpress on a host can be intimidating but it means that Wordpress can be installed on many different web hosts— unlike Squarespace (which can only be hosted on Squarespace servers).
Difference #1: Page Editor
One important difference between WordPress and Squarespace is the page editor.
Squarespace has a visual page editor which lets you drag-and-drop elements (called Content Blocks) up and down the page and into columns.
It's simple and intuitive.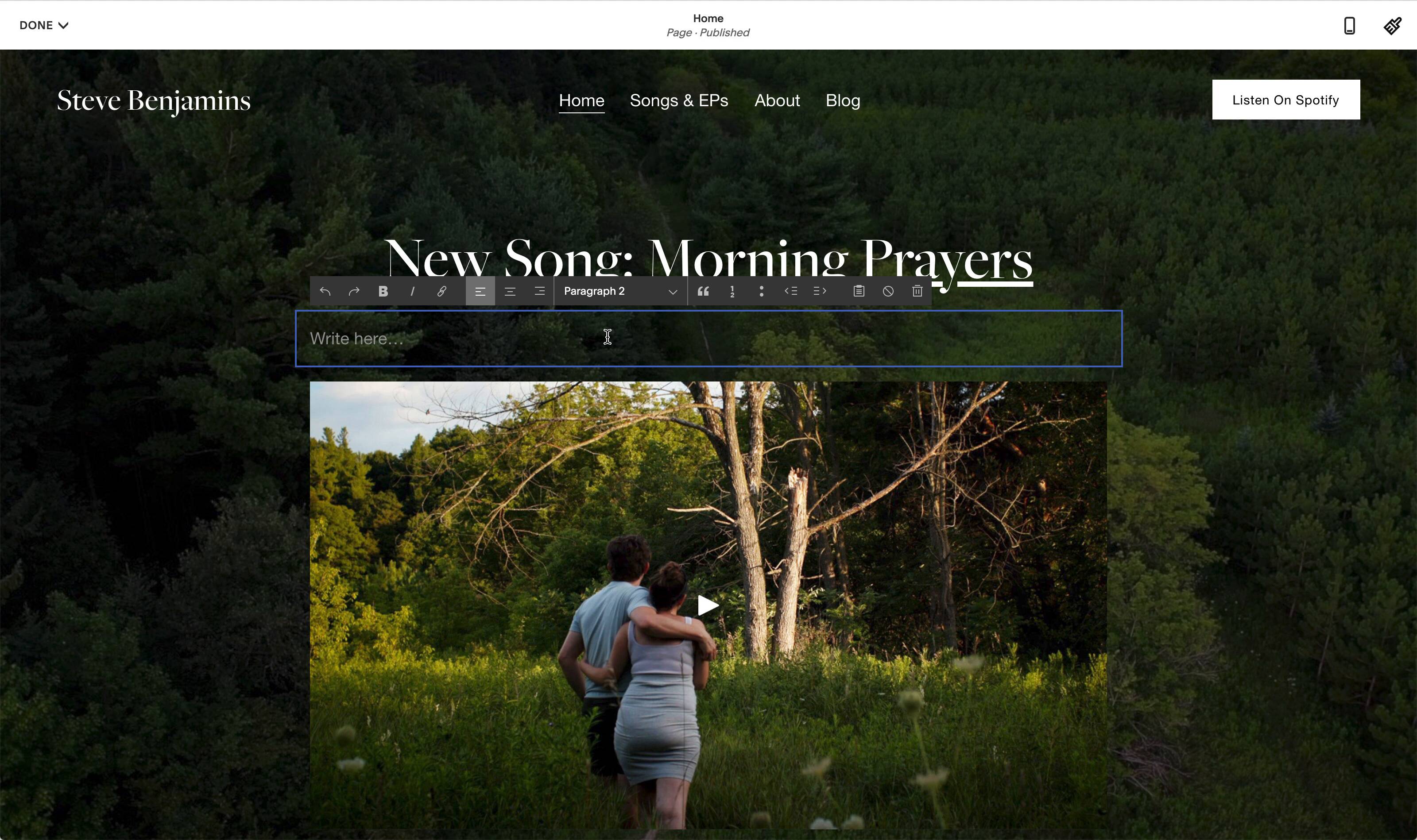 The Wordpress editor (called Gutenberg) also allows you to drag and drop elements up and down the page (but not into columns).
Unlike Squarespace, Wordpress isn't visual. The editor is abstracted away from your website— so it doesn't show you how the page looks within context of your website. Instead the page will look completely different from the editor to the website.
This means you'll often find yourself flipping between the preview and the page editor to see how things are looking: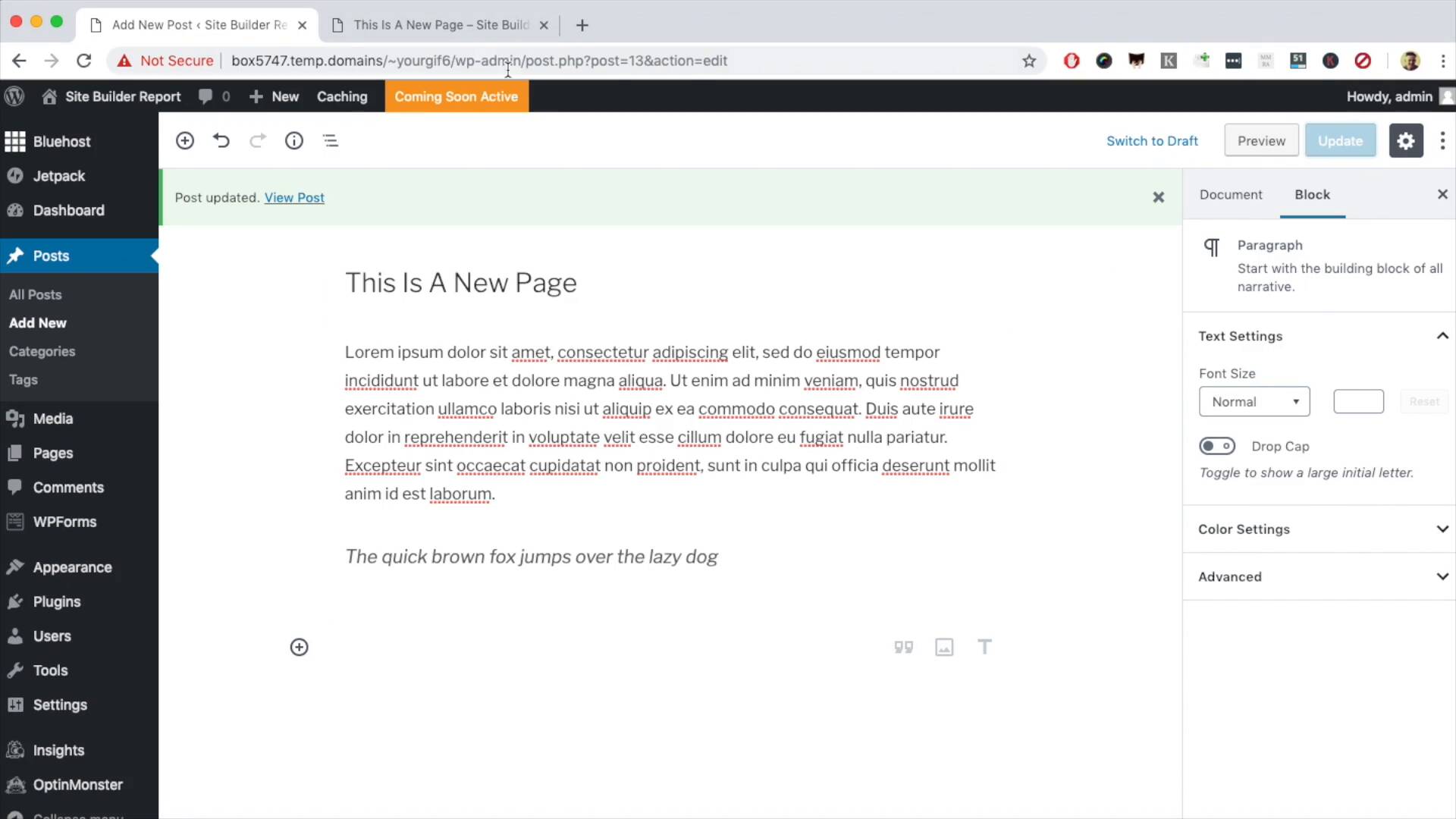 Is Squarespace Or Wordpress Easier To Use?
Squarespace is easier to use than Wordpress. It has a more polished and thoughtful user interface— and as a result feels calmer.
Wordpress on the other hand is often more overwhelming. The editor feels cluttered and occasionally chaotic.
It's not that Wordpress doesn't care about ease of use— instead it's actually more fundamental: Wordpress is designed to be flexible so the interface needs to be more abstract.
Note: There are Wordpress plugins that you can install that make Wordpress into more of a drag and drop, visual page builder.
Difference #2: Open Source
Wordpress is open-source— which means anyone can contribute to it. This is both a strength and a weakness.
Strength — Thousands Of Themes & Plugins
One strength of being open source is that there is a huge amount of themes and plugins created by the WordPress community:
That is a staggering amount of options.
Weakness — Things Don't Always Work As You Want
Here's the thing with all those themes and plugins: they don't always work perfectly out of the box.
It's common to find incompatibilities between themes, plugins and certain versions of Wordpress— and getting the fix can require you to tweak code. All you have to do is browse plugin reviews to see people getting frustrated by this:
But if you can live with the occasional incompatibility error, you'll love that you can find a Wordpress plugin for just about anything.
For example: WooCommerce is an ecommerce plugin that's just as good as many dedicated ecommerce website builders.
Squarespace Is Not Open Source
Instead Squarespace has a curated, closed approach.
All themes are provided by Squarespace (there are about 70).
And developers can't simply create a plugin for Squarespace. Instead, Squarespace curates a selection of integrations and extensions (there are about 100).
…. But Everything Just Works With Squarespace
The upside with Squarespace is that everything just works.
You don't have to troubleshoot incompatibilities or worry that your theme doesn't support a plugin. If Squarespace supports an integration, you can be confident that it was integrated thoroughly.
Difference #3: Themes
There are roughly 70 Squarespace themes and over 11,000+ WordPress themes.
Wordpress has better selection while Squarespace is best if you just want a beautiful theme that works out of the box.
Squarespace Has Outstanding Themes
Themes have always been a strength for Squarespace.
They have a definite look and feel: they're clean and sophisticated with bold typography and plenty of space for photography.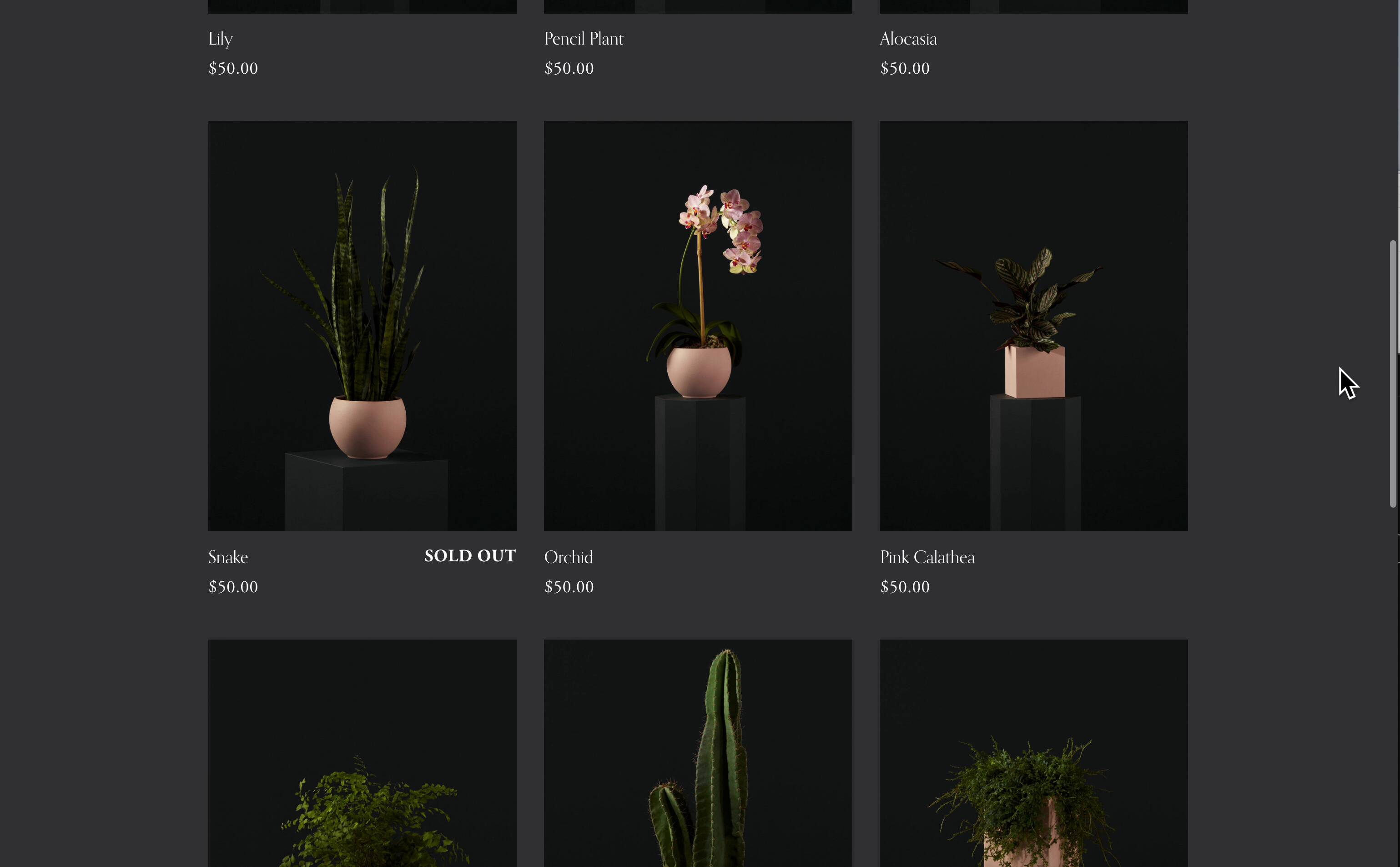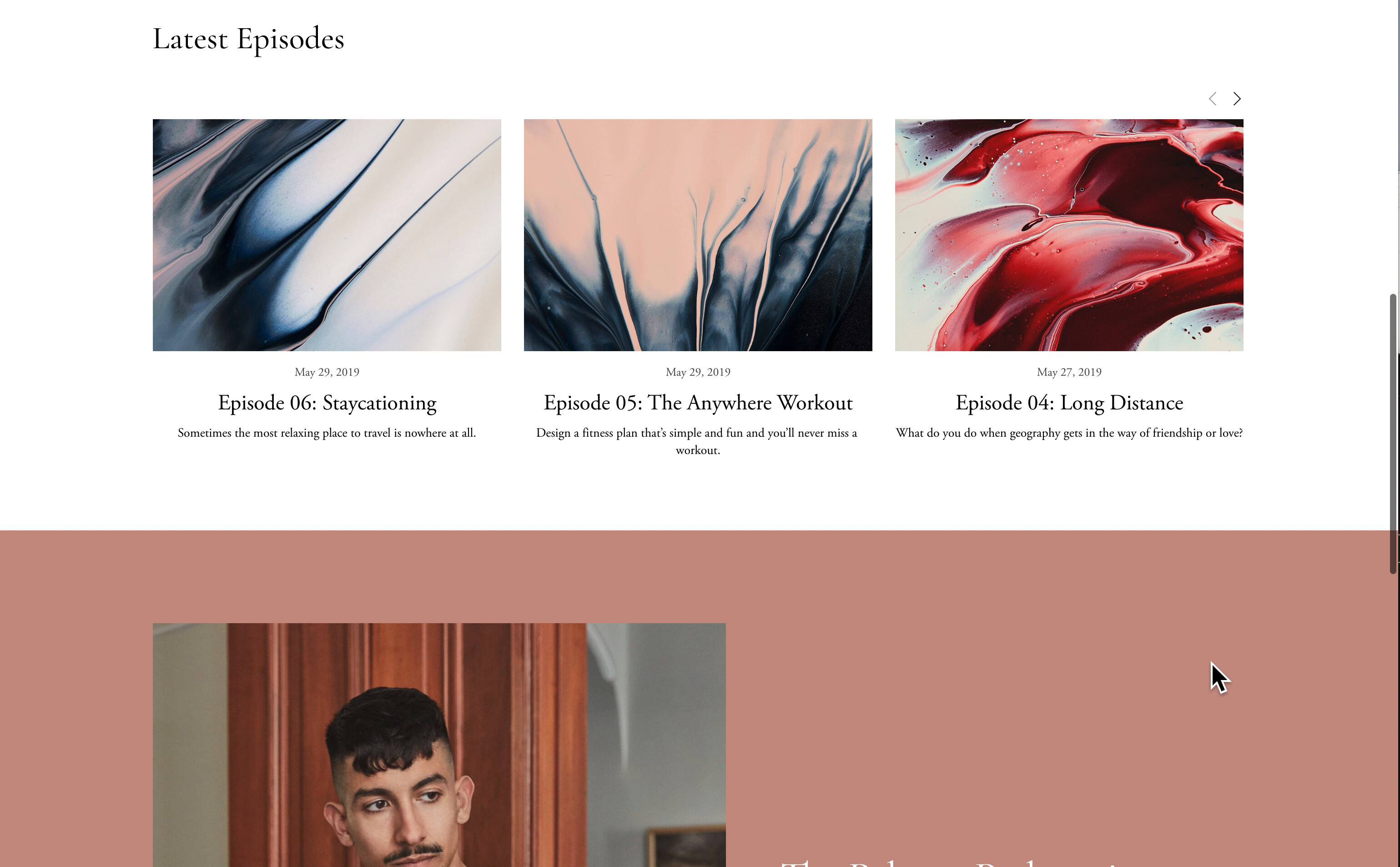 Wordpress Also Has Outstanding Themes
Wordpress has 11,000+ themes available— and some are great and some are outdated.
You'll also occasionally run into WordPress theme compatibility issues which can only be fixed by messing with CSS code.
Squarespace Has Easy Theme Customization
It's really easy to customize Squarespace templates. For example, to change your website colors you just edit this Color Palette:
This color palette automatically applies across your entire website.
So what happens if you don't like how the color is applied? While Squarespace lets make you those specific changes too— if you want to:
Wordpress Can Require Code Tweaking
The WordPress style editor is called Customizer and it can inconsistent from theme to theme— and some themes come with no meaningful style options.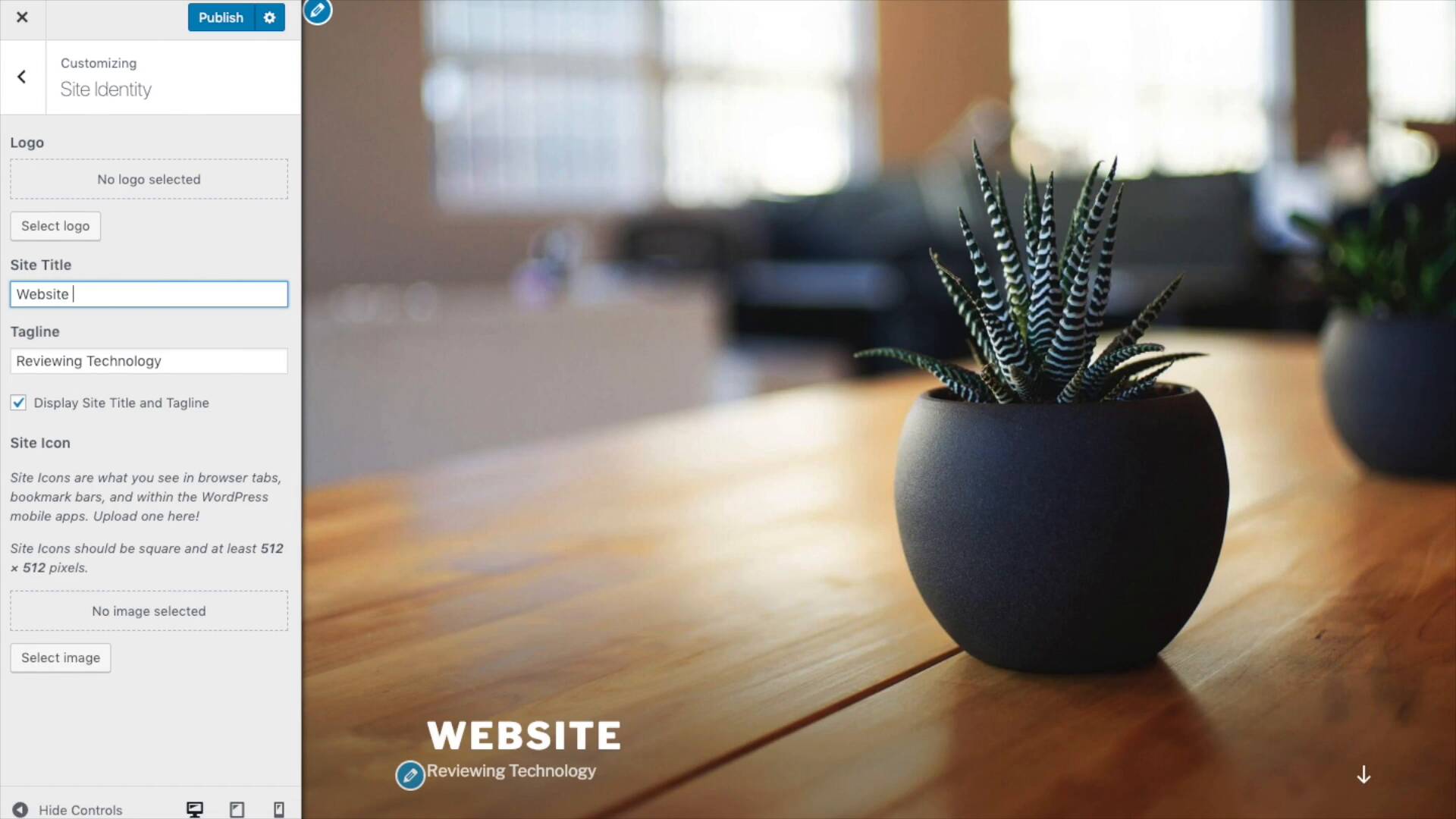 Unlike Squarespace, Wordpress themes can be totally customized if you're willing to code or hire a developer.
Note: There are lots of different plugins (for example Elementor) that make it easier to customize your Wordpress theme— but I'm not reviewing those here. That's a whole other article in of itself.
How Squarespace And Wordpress Differ On Pricing
You are going to have to pay for both Squarespace and Wordpress— but you'll pay in vastly different ways. (If you're looking for something free, check out my free website builders roundup.)
In the end, whether Wordpress or Squarespace is more expensive will really depend on the the individual configuration of a website.
Squarespace Pricing
Squarespace offers four all-inclusive plans which range from $12 - $40 per month.
Each plan includes hosting, templates and domain registration (when purchased annually). The more expensive plans also include ecommerce.
Wordpress Pricing
Wordpress is free to use but you have to host it somewhere— and a decent host will cost around the same as a Squarespace website plan.
There are free Wordpress themes available but the best themes are for sale. You can expect to pay around $39 - $120 for a premium Wordpress theme— but you get the rights to that theme for life.
There are also many free Wordpress plugins, but the best plugins are often for sale. For example WooCommerce (an ecommerce WordPress plugin) sells extensions for up to $299. Other WordPress plugins are billed on a recurring basis like WPForms, which costs $40 per year.
How Squarespace & Wordpress Differ On Customer Support
A quick note about the differences in customer support:
Squarespace provides 24/7 email support and a live chat service during EST working hours.
Because WordPress is an open source platform, it doesn't come with any customer support— though some paid themes and plugins include some customer support from the creator. Also, some specialized web hosts will help you install and set up a WordPress site.
Difference #6: Blogging
Squarespace has excellent blogging— the best among website builders. There's a long list of features:
Markdown support
Podcast support
RSS feeds
Google Amp
Multiple contributors
… And more
Of course, Wordpress covers all these features— and much more.
In the end, Squarespace is good if you're looking an easy to setup, all-in-one solution. Wordpress is better if you'd like to get serious with blogging and be able to customize everything.
What about SEO?
Squarespace includes a good all-in-one package of SEO features: AMP support, meta title and description customization, custom URLs, 301 redirects, SSL and much more.
But Squarespace will never be able to match how customizable Wordpress is for SEO— especially with tools like Yoast SEO Plugin.
So Wordpress is best if you really want to get serious about SEO. Squarespace is best if you're looking for something that just works with minimal headaches.
Final Verdict: Should You Use Wordpress Or Squarespace?
When choosing between Squarespace and Wordpress I have a simple rule.
I choose:
Squarespace for conventional websites
Wordpress for unconventional websites
…. This begs the question:
When Is a Website Conventional?
Here are some examples of conventional websites:
Portfolios
Blogs
Small business websites
Restaurant websites
etc.
These websites are conventional because they only need conventional features— like photo galleries, forms and maps— all of which Squarespace does an excellent job of supporting.
Why I Don't Recommend Wordpress For Conventional Websites
Let's say you want to add a photo gallery to your WordPress site. Photo galleries are a conventional feature— most websites will need one.
Unfortunately searching "photo gallery plugins" on Wordpress will swamp you with hundreds (yes, hundreds) of results. Figuring out which is the best for your site can take hours— one plugin might be incompatible with you theme while another won't have the exact features you need.
On the other hand, Squarespace has one very excellent photo gallery Content Block. It's reliable, easy to use and it looks great with any theme. It's also flexible and covers what 99% of photo galleries will need.
If I'm just building a conventional website I'd rather go with something that just works— like Squarespace.
When Is A Website Unconventional?
Here is where Wordpress shines.
A website is unconventional if it needs a feature you would not imagine a typical small business website to need.
For example, what if you wanted to have a social network on your website? Well, Wordpress actually has BuddyPress, a plugin designed to do just that.
Wordpress has thousands of unique plugins like this.
It's actually difficult to demonstrate just how many unconventional and unique Wordpress plugins can be added to your site— but to give a sense, here are some of the more unusual ones :
Squarespace is a closed and curated platform. Because of this, Squarespace will never match the amount of Wordpress plugins.
Wordpress on the other hand is open source— and so there is a long tail of features available. This is great for unconventional websites.
Key Takeaway
Both WordPress and Squarespace have strengths and weaknesses.
The key is to know those strengths and weaknesses so that you choose the right tool for your website.
Squarespace is a complete package that is intuitive and thoughtful. Everything just works.
Wordpress has way more features and flexibility— but isn't as easy to use.
For that reason, I recommend Squarespace for conventional websites and Wordpress for websites that need unconventional features.
Frequently Asked Questions
Is Wordpress better than Squarespace?
It totally depends on what kind of website you are building. I'd suggest Squarespace if you are building a typical website. I'd suggest Wordpress if you are building a website that needs unconventional features.
Is WordPress cheaper than Squarespace?
Squarespace and Wordpress are priced differently. Squarespace includes everything in one package while themes, plugins and hosting are each paid for separately with Wordpress. Read more on this.
Do professionals use Squarespace?
Yes. Squarespace Circle is a community of web designers using Squarespace.
Does Squarespace own my domain?
No. Squarespace just helps you register your domain name. The domain name is owned by you.
Is Wordpress still relevant?
Definitely. Wordpress still powers more websites than any CMS or website builder— it's not even close.