WordPress and Wix are both tools for building a website— but they have completely different approaches: Wix is a website builder, and WordPress is a CMS (or Content Management System). Understanding this difference is critical in deciding which to choose.
To generalize, website builders like Wix are easier to use but less customizable. They also include hosting— so you don't have to set up a web host— but that means you can't ever move your website off of Wix and on to a new web host.
Key Takeaways
Website Builders vs CMS

Wix is a website builder while WordPress is a CMS— both come with benefits and trade-offs.

Editor

Wix has a visual, drag-and-drop editor, while WordPress is abstracted away from the page—it doesn't show the full page within the editor. This makes Wix a lot more beginner-friendly option.

Open Source vs Closed

WordPress is open-source with thousands of plugins and themes—but those plugins and themes can be difficult to implement. Nevertheless, your WordPress website can have more features and functionalities than a Wix site, thanks to the plugins.

Maintenance & Security

Wix handles everything, whereas you'd be responsible for maintaining and securing your WordPress site. Plus, WordPress plugins and themes are more prone to security issues.
Toggle Section
Website Builders vs CMS
A CMS like WordPress has a steeper learning curve but is highly customizable. You need to set up WordPress on a web host—though that's less intimidating than it sounds (there are plenty of hosts offering 1-click WordPress installation). WordPress is open-source, which means it's free for anyone to use and modify (though hosting, themes and plugins can all cost money).
I'm just scratching the surface of the differences— as you'll see in the rest of this article, the difference between Wix and WordPress manifests itself in templates, hosting, features, customer support and much more.
Just remember: Wix vs WordPress is not an ideological debate— there is no right or wrong answer. Instead, the tool should match the need— let what you are building guide your decision.
Note: This article is about WordPress.org— not WordPress.com. WordPress.com is a separate service that's more like a website builder and is entirely different.
Toggle Section
The Editor
One of the most obvious differences between Wix and WordPress is the editor.
Wix has a visual, drag-and-drop editor. It's similar to Powerpoint or Keynote in that it allows you to move any element to any place on a page: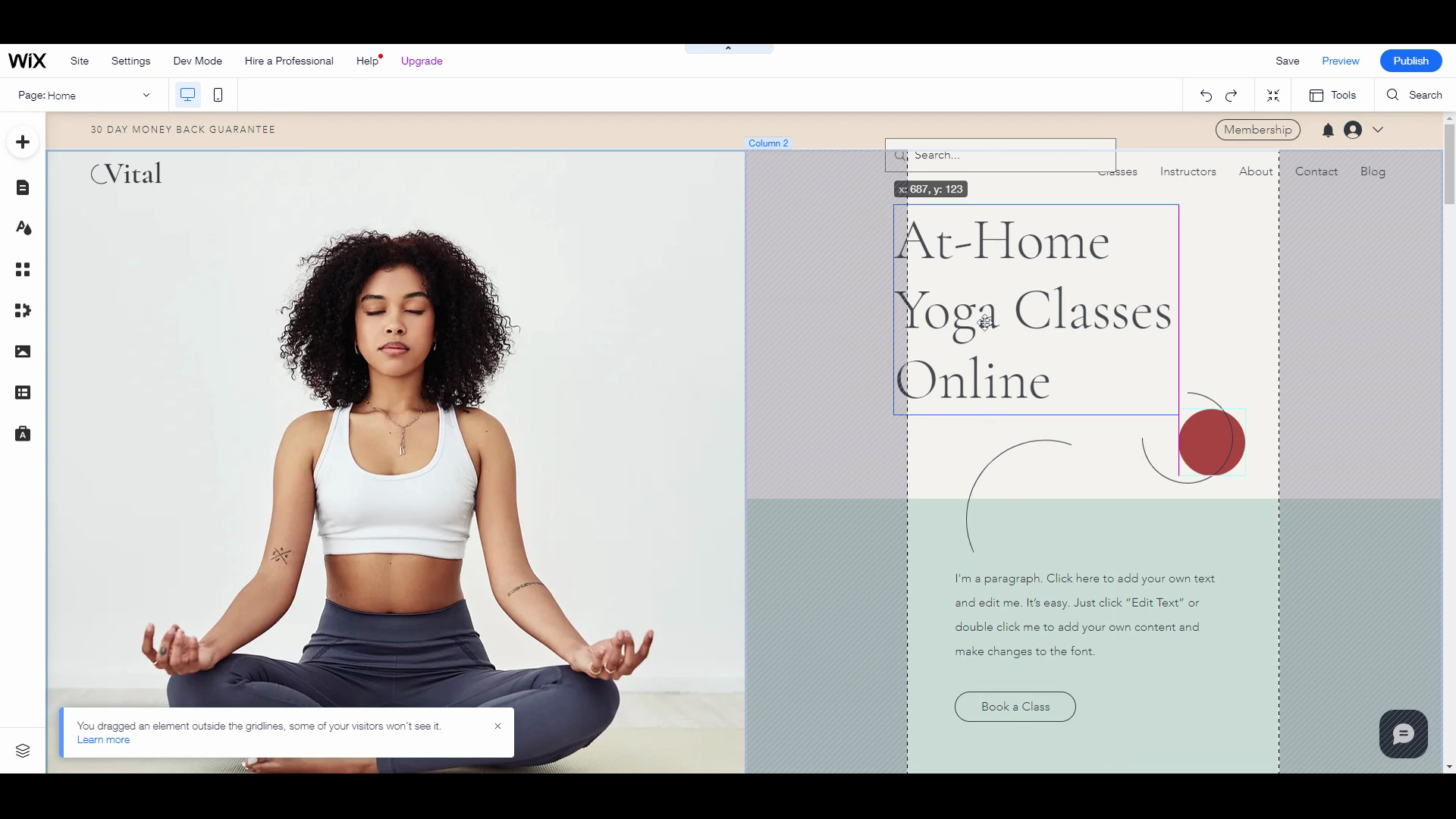 WordPress uses a block-based editor known as Gutenberg: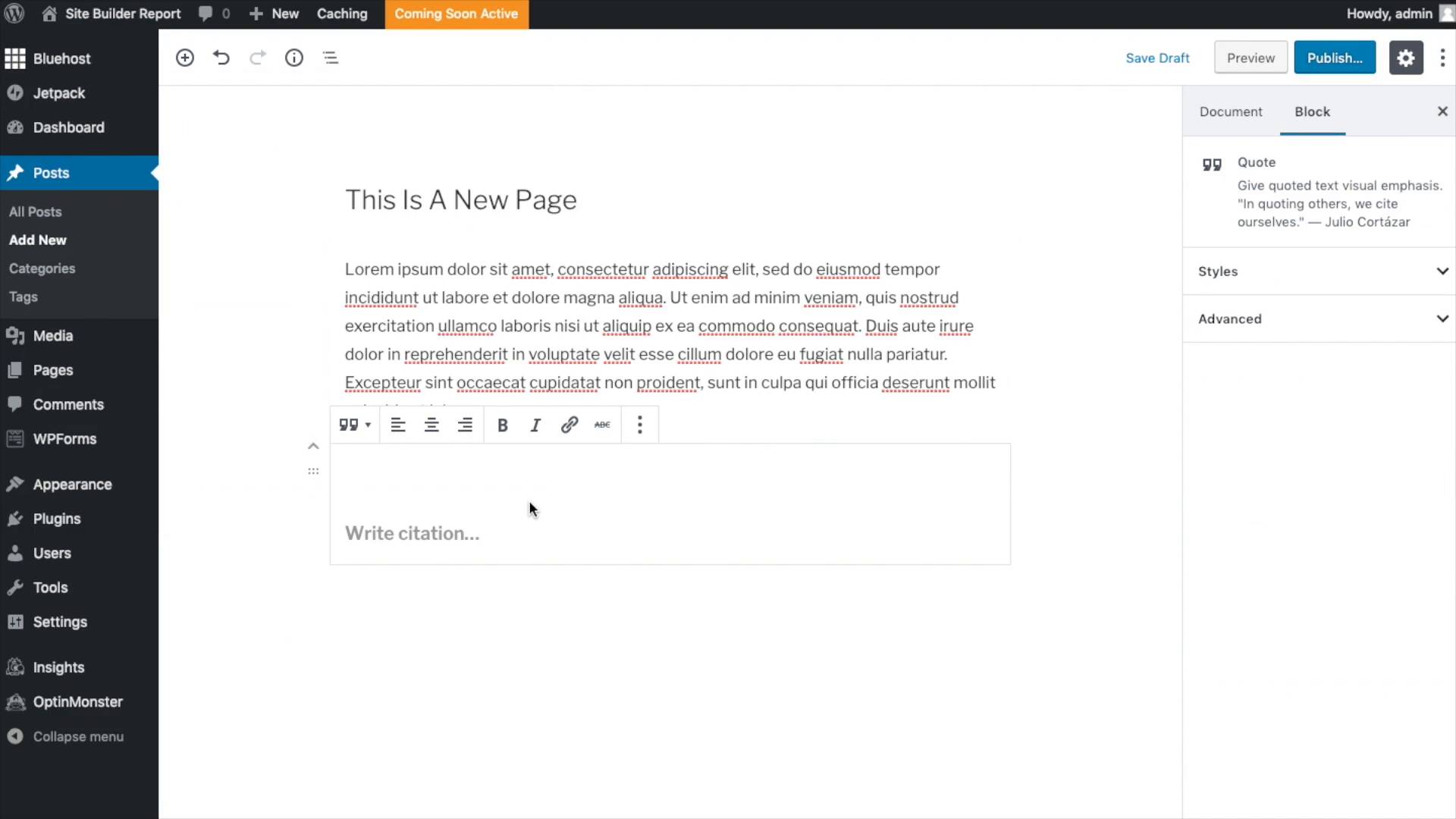 WordPress's Gutenberg editor is abstracted away from the page— it doesn't show the full page within the editor (for example, you don't see the header, sidebar, and footer). Because of this, you'll still find yourself switching between the editor and the published website to see how the published page looks: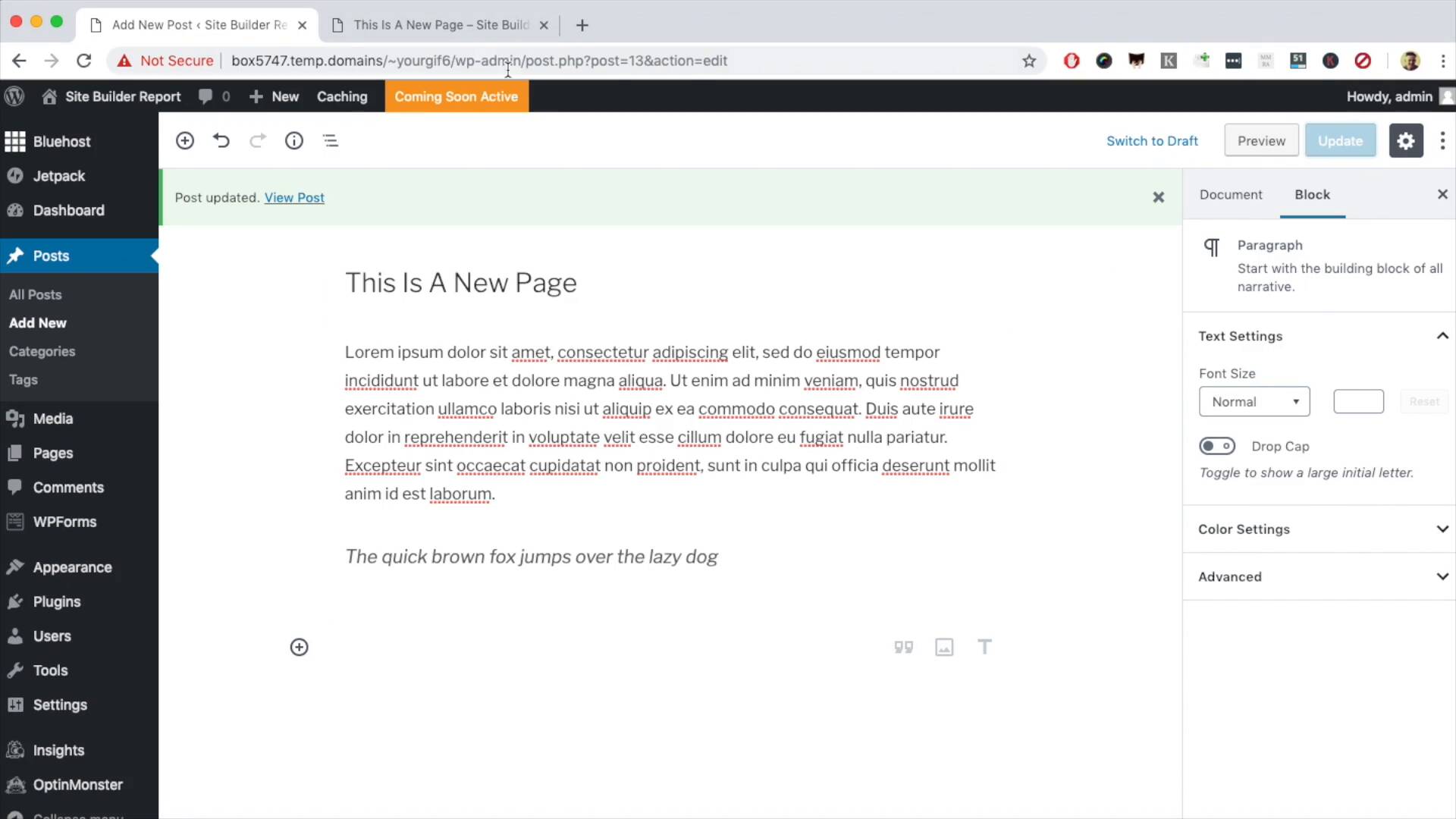 WordPress often abstracts its interface away from the page. For example, forms created with plugins such as WPForms are created in a separate interface and then embedded into pages using a "short code".
By contrast, most things in Wix are edited visually. If you see something, you click it and change it. The website stays within view and changes happen as you make them. For example, creating a form is done within the page editor: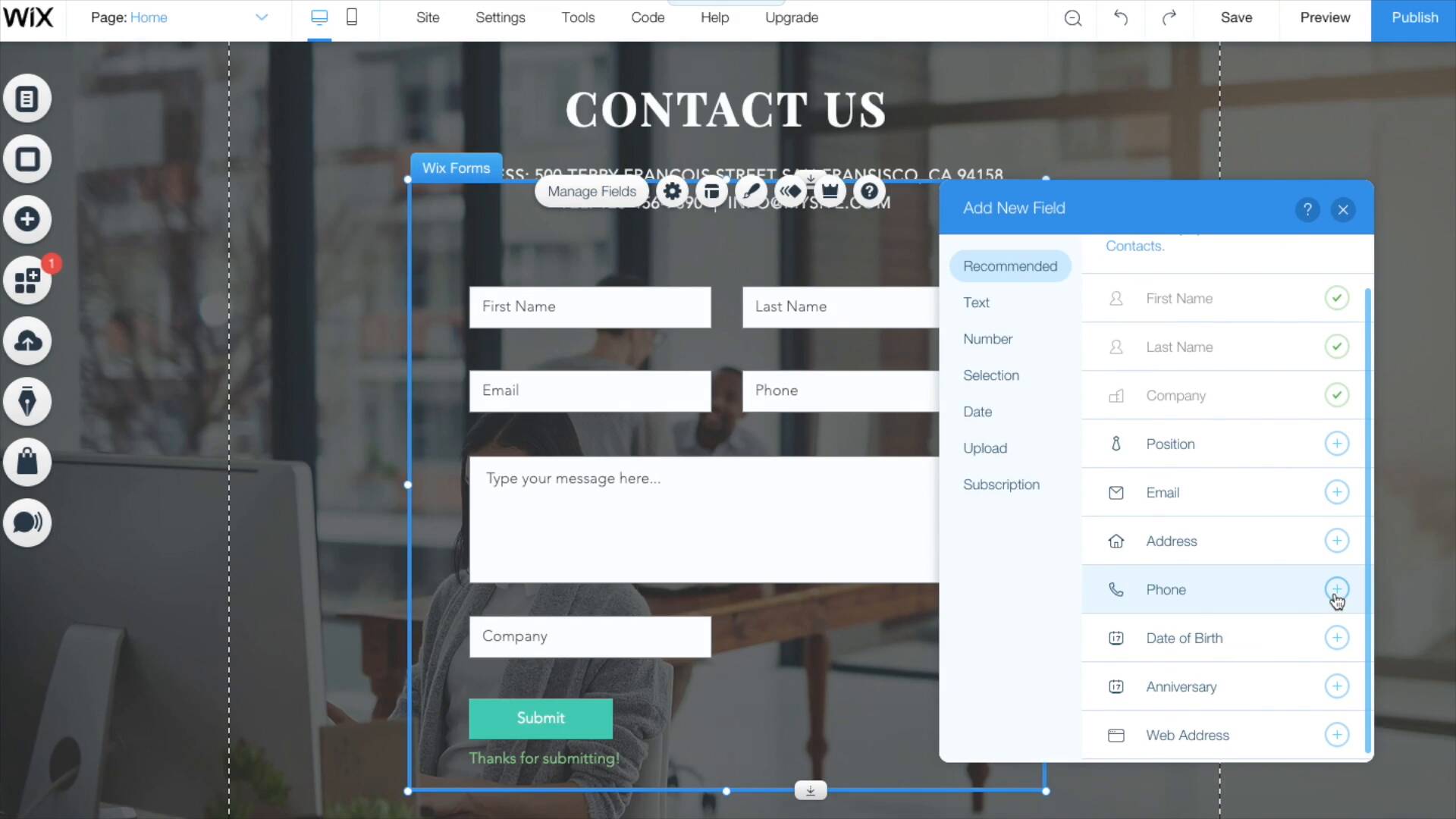 Overall, WordPress's interface is often more cluttered than Wix— but this comes at no surprise. WordPress is more sophisticated than Wix and more sophisticated software needs to be more utilitarian and abstract.
Wix aspires to friendlier pages. As website builders go, Wix is more cluttered than Squarespace or Weebly— but they are definitely more friendly than WordPress.
Toggle Section
Open vs Closed
WordPress is an open-source CMS—which means anyone can contribute to it. This is a major strength but also a weakness.
One advantage is that WordPress has a huge amount of plugins and themes that were created by the open-source community. At the time of writing, there are 60,000+ plugins on WordPress.org and 30,000+ WordPress themes on the internet. That's way, way more than any website builder has.
But the breadth of WordPress is also what can make it a hot mess. WordPress backends can get notoriously confusing. There can be long, technical settings pages and language can often get abstract and jargon-y.
Plus taking advantage of WordPress's many themes and plugins never quite works perfectly. Incompatibilities often arise and getting the fix can require users to make tweaks to code— something not everyone is comfortable doing. All you have to do is browse plugin reviews to get a sense of the frustration:
Wix is completely different. They offer an App Market that seems similar to WordPress's plugins but is really not. It's a small, curated collection of 300ish apps—not even close to matching the huge library of WordPress plugins. But unlike WordPress, Wix checks all apps for compatibility, so you can be confident they'll integrate perfectly (there are rarely any compatibility issues or need to tweak code).
The same thing is true with themes. Wix has over 800 themes, which is less than WordPress… but all the themes work out of the box— there's no need to tweak code. (Plus, Wix's visual theme editor is so customizable that you could design your own theme from scratch.)
With Wix, you shouldn't need to hire outside help unless you're doing something really unusual— it's designed to be amateur-friendly. With WordPress, you may end up hiring a WordPress professional to help you build your website if you get frustrated trying to integrate themes and plugins.
Overall, Wix is designed to be user-friendly, while WordPress is designed to be customizable. It's not that WordPress doesn't care about being user-friendly — actually, the WordPress team works hard to make WordPress user-friendly. Equally, it's not that Wix doesn't care about being customizable — the Wix team actually really cares about making a customizable website builder.
Instead, these differences are just fundamental to the nature of website builders and CMSs. That's why you should think hard about what your website needs and use that to guide your decision. There is no universal right or wrong decision.
Toggle Section
Themes
Wix offers 880+ themes—a good amount for a website builder, but it's nowhere near WordPress's 30,000+ themes. One thing Wix has going: All Wix themes are free-to-use; WordPress has both free and paid themes.
Like plugins, WordPress has a wider selection, but you'll occasionally run into compatibility issues that will require you to debug with code. Wix has a smaller selection, but you'll never find a theme that requires messing with code to be compatible with Wix features.
And, as the saying goes, one good theme is better than a thousand bad ones (okay, I made that up.).
Theme Customization
Theme customization in WordPress is done through Customizer, a nice tool that lets you click elements to reveal style options or browse along and make style customizations.
Wix has a completely different approach. Wix elements can be grabbed and moved. Elements can be selected, and you can make customizations on the fly.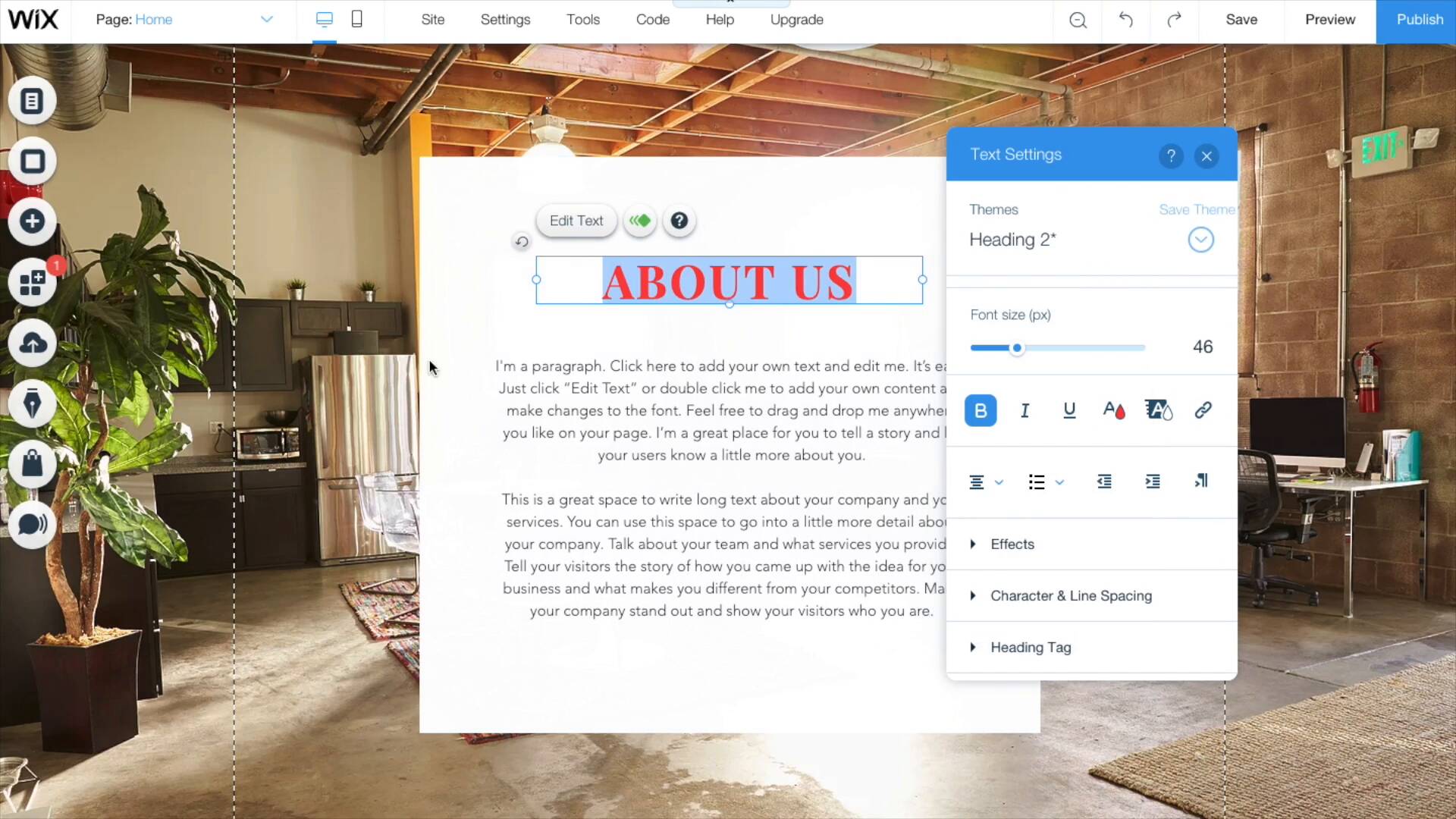 Toggle Section
Features
If you're building a website with conventional features, you'll probably find Wix offers everything you need. If you need unconventional features, you'll probably be able to find a WordPress theme or plugin that supports it.
Which begs the question: what's a conventional feature, and what's unconventional? Well, a photo gallery is a conventional feature. Wix has plenty of photo gallery options. But if you want a photo gallery that scrolls horizontally (left to right), then you wouldn't be able to do it on Wix. That's too unconventional. But you could find a WordPress plugin to do it.
The strength of WordPress is the diversity of its ecosystem: 60,000+ plugins and 30,000+ themes. This means that if you have a specific feature or look in mind, WordPress can probably accommodate it. Here are a few examples:
My point is that you can find WordPress plugins for all sorts of features. Wix will never be able to support as many features.
But if you just need conventional features, I'd recommend Wix.
Conventional websites aren't trying to reinvent the wheel. They're the typical websites for restaurants, non-profits, photographers, or any small business. They need photo galleries, contact forms, Google Maps—but nothing too unusual. In fact, trying to be unusual in most scenarios backfires—a horizontally scrolling photo gallery may look unique, but people want the obvious, i.e., scroll vertically and see the photos like they always do.
Wix covers all these features— and they often make it easier than WordPress. For example, if you search for "photo gallery plugins", WordPress literally has hundreds of results. How are you supposed to know which one is right? With Wix, there's none of that searching. Wix includes one excellent photo gallery, so you can just get up and running quickly.
And even though Wix doesn't offer as many features as WordPress, the features they do offer just work. You won't lose afternoons trying different plugins to see which one is compatible with your theme.
Toggle Section
Blogging
Wix has a great blogging platform for hobbyists and beginners — you can find some awesome Wix blog examples here. But I'd recommend WordPress to professional bloggers for the same reasons we discussed above: more templates, more features & functionalities, and a like-minded community.
Wix has beautiful blog templates, an easy-to-use blog editor, and all the conventional blog features. You can format your blog however you like - add different types of media, text blocks, tables, etc; add tags and categories for each blog post; put the posts behind a paywall; add products from your Wix store to the blog; etc.
On the other hand, WordPress has all these fundamental features and more. I recommend it to professional bloggers because you can access better features through plugins.
Let's understand it with a simple example. Most affiliate blogs use comparison tables like this, and it's easy to make them with a plugin like AAWP for WordPress:
The AAWP plugin also has a lot more time-saving features like geotargeting and automatic link creation for Amazon affiliates. In comparison, managing an Amazon affiliate site on Wix would be a manual & tiresome process.
Also, WordPress started out as a blogging platform, so it's better optimized for blog-first websites.
Toggle Section
SEO
SEO or Search Engine Optimization is the process of making your site better for search engines such as Google.
The internet is divided into two parts when it comes to the WordPress vs. Wix for SEO debate:
Most SEO professionals think WordPress is better for SEO,
While the other side believes SEO results are platform-independent as long as web pages are crawlable and indexable.
I believe both sides are true.
Wix has all the essential website SEO features needed to rank a website. For instance, you can add meta titles and descriptions, alt tags, 301 redirects, structured data, and more with Wix's built-in SEO features.
Moreover, Wix continuously adds new features and updates to Wix SEO Tools.
However, the flexibility of WordPress and the range of plugins available for WordPress SEO make WordPress a better choice for advanced SEO. For example, RankMath ⁠— one of the top WordPress SEO plugins ⁠— includes features for content optimization, rank tracking, internal link building, scanning indexing issues, advanced schema generation, and a lot more.
Toggle Section
Performance
Let's start this section with some objective data:
The obvious conclusion would be that Wix is faster than WordPress…but hold on.
There are a lot of ways to interpret this data. One is: Both Wix and WordPress are capable of making websites that load fast. It's just that there are many WordPress websites hosted on cheap shared servers and using unoptimized free themes or plugins that bring the average down. And this interpretation gives a more accurate answer to "Which one performs better/loads faster, a Wix website or a WordPress website?"
You can choose either Wix or WordPress to build a fast-loading, well-performing website. The website speed depends on how you optimize it. So keep the "Performance" factor the last priority when deciding between the two—other things matter more.
However, if I had to choose between the two just based on the performance data, I'd go with Wix. Wix gives all the speed optimization features, like a globally-distributed CDN, file compressor, etc., out of the box. Plus, Wix sites are increasingly passing the CWV test, which means Wix is optimizing its platform continuously.
Also, those websites that do fail the CWV test aren't necessarily slow — for example, Seasons In Color is a Wix website that fails the CVW Mobile test miserably:
Yet, it loads perfectly fine in real life: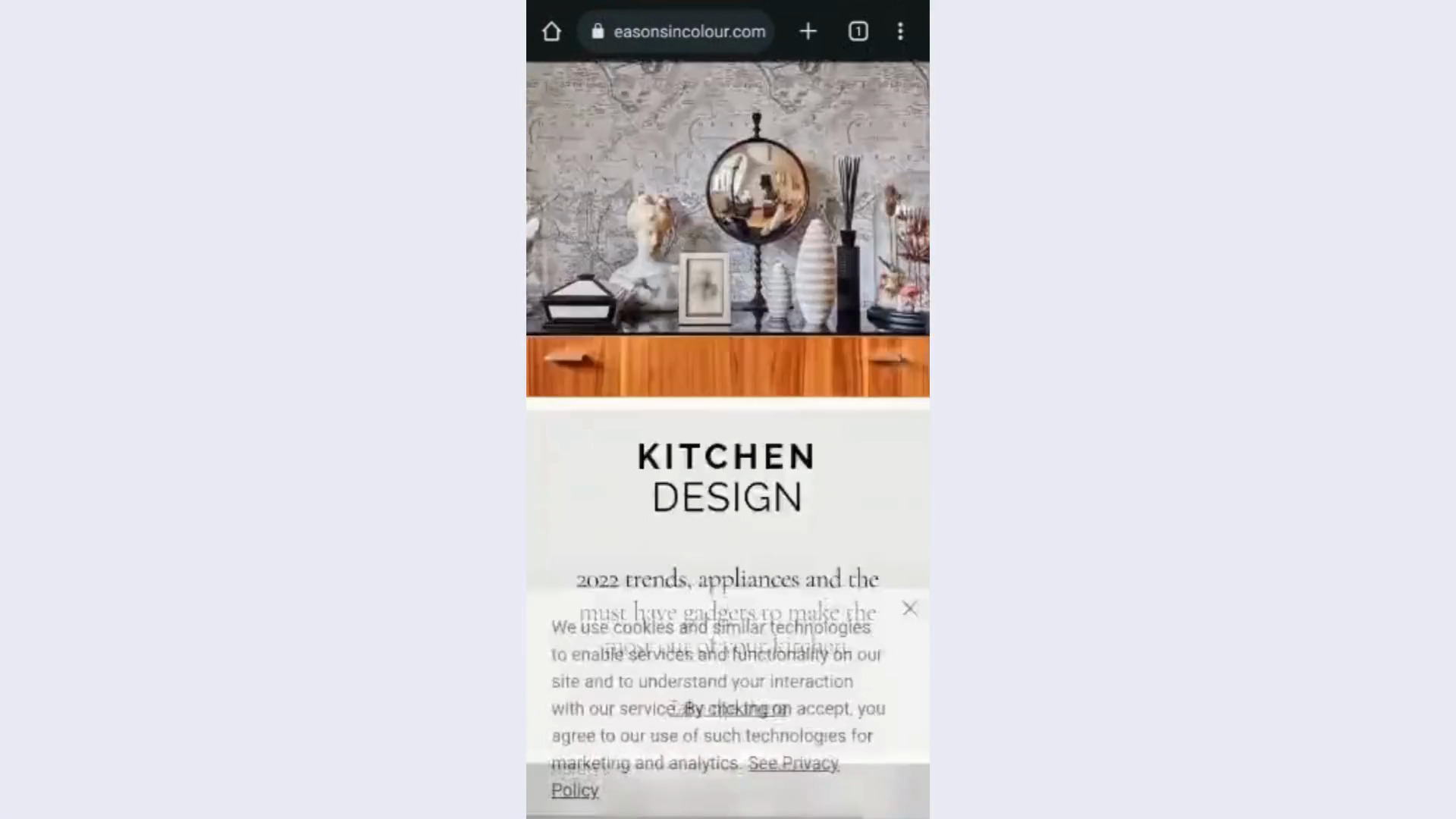 Toggle Section
Customer Support
Wix includes phone, chat and email customer support in all of their packages—and in the more expensive plans, you can get VIP Support which lets you skip the line. We tested the support response time of Wix, and they replied faster than the average SaaS company.
Because WordPress is free and open source, they don't include customer support— though oftentimes, if you pay for a theme or plugin, the creators will include support as part of the cost (support is limited to their theme or plugin, of course). Other times, you can find YouTube tutorials or community posts for common problems.
Toggle Section
Security
The importance of website security cannot be overstated! Cybercrime costs businesses nearly $6 trillion per year ⁠— and even worse are the damages in the form of data loss and reputation & customer confidence loss.
Between Wix and WordPress, there's one clear winner when it comes to "website security": Wix. Why so? To understand, you first must know why websites get hacked.
Here are some of the common reasons that result in website hacks:
The website server is poorly maintained,
The website uses an insecure theme or plugin(s),
The website runs outdated scripts,
There are security policy holes. For example, the admin uses a weak password or gives unnecessary permissions to others.
Because Wix is a closed system and Wix's able team manages everything from server maintenance to script updates, it is highly secure. Moreover, Wix is very selective in allowing third-party apps on the Wix App Market ⁠— all third-party developers have to follow strict security guidelines.
In contrast, anyone can develop a plugin or theme for WordPress and publish it on the internet. And if those plugins or themes are poorly coded, users' sites will be prone to hackers. On top of that, if you decide to use WordPress, you'll be responsible for updating everything that concerns website security and performance, including PHP, WordPress core, plugins, theme, SSL certificate, and more.
Overall, all the relying on you and third-party developers (who can be incompetent) makes average WordPress-made sites slightly less secure than typical Wix-made sites.
For proof, here are some statistics:
WordPress sites are 3x as likely to have malware than non-CMS websites
18% of WordPress sites have at least one vulnerability.
You almost double the risk of compromise for every five plugins you add to your WordPress site.
Learn More
: PatchStack's
State Of WordPress Security Report
goes into detail about many core WordPress vulnerabilities, theme vulnerabilities, vulnerabilities in popular WordPress plugins, and more.
Now, of course, it doesn't mean you can't have a secure WordPress site ⁠— after all, WordPress powers 40% of the web. You just need to put in the effort and/or money to make it as secure as an out-of-the-box Wix site. For example, your WordPress website will be secure if you update everything timely, only use plugins or themes from trusted developers, and add a security plugin like Wordfence or Sucuri, etc.
Toggle Section
Ecommerce
Wix has had ecommerce for quite some time, but it launched a separate ecommerce entity, Wix eCommerce, a couple of years ago.
Like with most features for WordPress, you'll need to install an ecommerce plugin, WooCommerce, to get ecommerce.
So this section is a Wix eCommerce vs WooCommerce comparison.
Most of the things that apply to the Wix vs WordPress conversation stand true for the Wix eCommerce vs WooCommerce comparison.
First of all, both are fundamentally different. Wix eCommerce is what I'd label "a website builder that supports ecommerce", whereas WooCommerce is an "ecommerce website builder". Learn more about the difference.
Wix eCommerce is easy to use and has conventional ecommerce features for small stores: basic shipping & fulfillment options, tax settings, a good inventory management dashboard, etc. On the other hand, WooCommerce can have all the features needed to make scalable big stores, but it's overwhelming and less beginner-friendly.
Wix eCommerce's editor is beginner friendly — anyone can make a store with Wix. You may need to hire a developer/designer for a WooCommerce store.
Most things you need to start an ecommerce business come out-of-the-box with Wix: templates, SSL certificate, scalable & secure server, payment processors, etc. You'll need to find most of these things separately for WooCommerce—the only things you'll get on installing WooCommerce are WooCommerce payments, a product editor, and order management features.
Since Wix eCommerce is a closed system and everything you add to Wix is first tested by Wix, Wix eCommerce is highly secure. Your WooCommerce site's security depends on how you maintain the site and your choices (of server, theme, plugins, SSL certificate, etc.).
Wix eCommerce offers customer support if you need any help. In comparison, there's no official WooCommerce support; You'll have to rely on the WooCommerce community or the particular product's developer if you need help.
All in all:
Use Wix eCommerce for its ease of use but only use it for small online stores. We discussed this in the Shopify vs. Wix comparison: Wix eCommerce has many limitations (including template feature limitations, product attribute limitations, etc.) that make it a bad solution for big stores.
Use WooCommerce for online stores of any size, but remember, it's hard to use. We recommend Shopify over WooCommerce as it has everything needed for large stores yet is easier to use and manage.
Toggle Section
Pricing
It's hard to compare Wix and WordPress pricing because they are priced completely differently.
Wix includes everything in one package: hosting, ecommerce, themes, apps, domain name, and customer support— these are all included in every Wix package. (Some apps on the Wix App Store do cost money—but almost all are free.)
Wix's plans are divided into three parts: Website Plans, Business and eCommerce Plans, and Enterprise Plans.
The Wix Website Plans' annual cost starts from $16/month to $45/month. These are all for non-ecommerce websites.
If you want to build an online store and/or accept online payments, you'll need one of the Business and eCommerce Plans. They cost between $27/month and $59/month.
Wix also has a free plan, but it has limitations like you can't use a custom domain name, your website will show a big ad, the bandwidth and storage are limited to 500MB, etc.
Learn more about Wix Pricing here.
WordPress is different in that the WordPress core is free. But you could end up paying for themes, plugins, and hosting.
For example, an affordable web host like Bluehost starts at $5/month for WordPress hosting; but depending on your needs, you may need a better-quality host like Kinsta (starts at $35/month) or WPEngine (starts at $20/month). A premium theme from ThemeForest could cost $39 (though you get it for life, and there are also free WordPress themes available).
Then there are premium WordPress plugins. WooCommerce is an ecommerce plugin, but it sells extensions (costing between $0 - $299) that add specific features (for example, a UPS Shipping Method extension costs $79 and lets you get UPS shipping rates). WPForms is a drag-and-drop WordPress form builder that starts at $40/year.
Having said all that, you can make a WordPress website for really cheap. I remember my first WordPress site cost under $20 for the whole year — I got a domain name for $8-$10/year, Namecheap hosting for $8/year during BFCM, and used free themes and plugins. But it's all bottom-of-the-barrel stuff — something you likely don't want. Plus, I spent countless hours setting all things up.
Development costs
Wix is one of the easiest website builders. Give it some time, and you can make a website on your own.
In comparison, a WordPress or WooCommerce website will require time commitment + may need knowledge of HTML, CSS, and JS to make the website of your dream. Alternatively, you'll need to hire a professional developer.
WordPress and WooCommerce developer fees can go as high as $100/hour and even more.
You can also find developers from marketplaces like Upwork. Developer fees here depend on expertise, experience, and location.
Frequently Asked Questions
Is Wix or WordPress better?
There's no one correct answer. Wix is better if you want to quickly make a website and never worry about maintaining it; WordPress is better if you want flexibility.
Is Wix easier to use than WordPress?
Wix is easier to use than WordPress. Wix comes with an easy-to-use drag-and-drop editor, web hosting, SSL, themes, and everything needed to get a site up and running. On the other hand, you'll need to buy web hosting, SSL, themes, etc., for WordPress. Plus, you'll need to spend time or money maintaining it and sometimes even need coding know-how to make a WordPress site work.
What about WordPress page editors?
WordPress has drag-and-drop page editor plugins like Elementor and WpBakery. But they aren't as customizable as Wix, plus you'll need to pay for their premium plans to access advanced features.
Is Wix cheaper than WordPress?
It's hard to say because both are priced differently. Wix is an all-in-one package that includes everything essential you'd need to build a website. WordPress is free, but you need to buy everything besides the open-source CMS platform. And the costs for that "everything" varies depending on your needs. For example, a premium managed WordPress hosting plan from Kinsta, Cloudways, WpEngine, etc., alone will cost more than a Wix plan. On the cheaper end, you'll find shared hosting for as little as $1/month.
How is WordPress.com different than WordPress.org?
WordPress.org is an open-source content management system (CMS) that anyone can use for free. In simpler terms, it's a software solution you can download and host on a webserver to create, manage, and modify content on a website. The CMS is just the base of the website, though ⁠— the creating, managing, and maintaining part of the website is on you. WordPress.com is a website-building and publishing service owned by a company called Automattic. It's a managed hosting platform built specifically for WordPress(.org) sites.
Can I switch from Wix to WordPress?
Wix is a closed platform, so there's no direct way to migrate from Wix to WordPress. However, there are some complicated and time-consuming ways to migrate you can find on the internet.