Shopify and WooCommerce are both great ecommerce site builders, but for very different users.
The major difference between them is that Shopify is SaaS and WooCommerce is Open Source.
This results in Shopify being easier to use and harder to break, while WooCommerce offers more freedom at the expense of simplicity and peace of mind.
We still think Shopify is the best ecommerce site builder for the majority of users, but there are some users who should at least try out WooCommerce first.
Key Takeaways
Shopify is More Intuitive

Compared to WooCommerce, Shopify's interface is intuitive: designed for anybody to use right out of the box.

Apps and Extensions (and Plugins)

Shopify has almost ten times as many apps available than WooCommerce has extensions, but WordPress plugins dominate the numbers game. Shopify's SaaS model gives quantity a run for its money with top quality apps that are tested and safe to use.

Integrating Content

One good reason not to use Shopify is that it doesn't play nicely with other kinds of content. Shopify doesn't support things like video or photo galleries as well as WooCommerce (powered by WordPress) which has better features for content-focused websites.There are workarounds for this, but content-focused sites might look to WooCommerce to add store functionality.

Shopify Wins Out Overall

For the majority of users, Shopify is recommended over WooCommerce (and just about any other ecommerce site builder out there).
Toggle Section
SaaS vs Open Source
Most of the differences between Shopify and WooCommerce boil down to the fact that Shopify is licensed through a Software as a Service (SaaS) model, while WooCommerce is an open source plugin that provides ecommerce features for WordPress sites.
SaaS Works Right Out of The Box
SaaS platforms like Shopify come with an intuitive interface that simplifies everything about site building. It's easy to start adding products, tinkering with design and customizing automatic messages right out of the box.
If you've never built a website before, you will have a fairly steep learning curve to tackle when you start using WooCommerce. You'll either need to be able to build a site from scratch inside WordPress, or use the relatively cumbersome site builders at WordPress.com or with the Gutenberg plugin.
You could also pay a developer to build a WordPress site for you. This has its drawbacks. For example, you'll have to either skill up or fork out for more developer time whenever you want to update or amend your website. But if you think WooCommerce is right for you, it's definitely worth enquiring.
Updates
A drawback of open source sites is having to keep on top of updates.
All of the plugins need to be regularly updated, and often new updates can be incompatible with certain themes or plugins you have installed.
With Shopify, updates have all been tested to work with all of the authorised apps you can access – as well the core parts of the software. And you only need to remember to update Shopify, you don't need to worry about keeping all of the elements within it up to date.
Simple and Limited, Or Complicated and Unlimited?
If you go with Shopify, you'll have plenty of options to customize your site. But if you want it to do something different to what most ecommerce sites are doing, then you'll run into problems.
With thousands of plugins and the option to write and use your own code, you're free to customize almost anything you want about your WooCommerce site. That's because it runs on WordPress – which is open source and taps into a huge ecosystem of plugins which add features to websites.
But unlimited customization definitely has drawbacks. You can spend hours tinkering with code, searching for plugins and compatibility issues, testing new features or updates – but your business probably needs your attention elsewhere! SaaS software takes time-sinks like these off your plate.
You also can't break your Shopify store by adding apps that don't work well with other parts of the site – everything you can add is guaranteed to work. With WooCommerce, updating or adding features to your site can unexpectedly break other parts of the site. 
This is because WordPress plugins are developed independently in an open source platform. They don't come with guarantees and aren't always tested by WordPress, so even WordPress's own updates can make them stop working. And for sites with an important business function – like ecommerce – breaking down isn't really an option.
There are definitely cases out there where Shopify's limitations could pose problems, but these are edge cases. If you want your ecommerce site to do something that most other sites do, then Shopify (and some apps) will be able to do it for you. 
We've also covered a lot of the differences between SaaS and Open Source in our Squarespace vs WordPress comparison, so have a look there for more insights into this.
Toggle Section
Shopify App Store vs WooCommerce Extensions (and WordPress Plugins)
COVID-19 has brought a lot of changes to ecommerce – with more people shopping online and unique features like curbside pickup and contactless delivery becoming mainstream.
Fortunately, both WooCommerce and Shopify are designed with extensions or apps in mind, and third party developers are quick to make software to fit market gaps.
Shopify's App Store – where you can get third party apps to add features to your ecommerce site – is second-to-none in SaaS ecommerce site builders. In fact, it's an important part of the company's DNA, according to CEO Tobias Lütke:
"In 2008 we launched the API platform that led to the Shopify app store which completes the full strategy and philosophy of our vision: Do what most people need most of the time in the core product. For everything else there are apps."
The App Store opens up in a separate window while you're editing.
WooCommerce offers extensions, which you can access within the website builder.
Shopify's offering is by far the largest in the ecommerce market today – it has over 2,500 apps compared to WooCommerce's 286 extensions.
This is partly down to Shopify being the first ecommerce site builder to launch an app store, giving developers a lot more time to work with the API. It's also because of Shopify's market lead: developers prioritise an app for the millions of Shopify users over smaller ecommerce site builders.
A simple numerical comparison isn't really fair on WooCommerce, however. With WooCommerce, you'll also be able to install any of the thousands of plugins available for WordPress.
Extensions offer a lot of the same ecommerce features you'll find in Shopify's Apps Store – like abandoned cart messages and automated email marketing. But plugins give WooCommerce sites lots more options for custom features – from minigame builders to sports team widgets.
But you might find yourself snowblinded when you're looking for plugins to use. Just searching for "contact" in the plugins menu in WordPress returns hundreds of pages of results: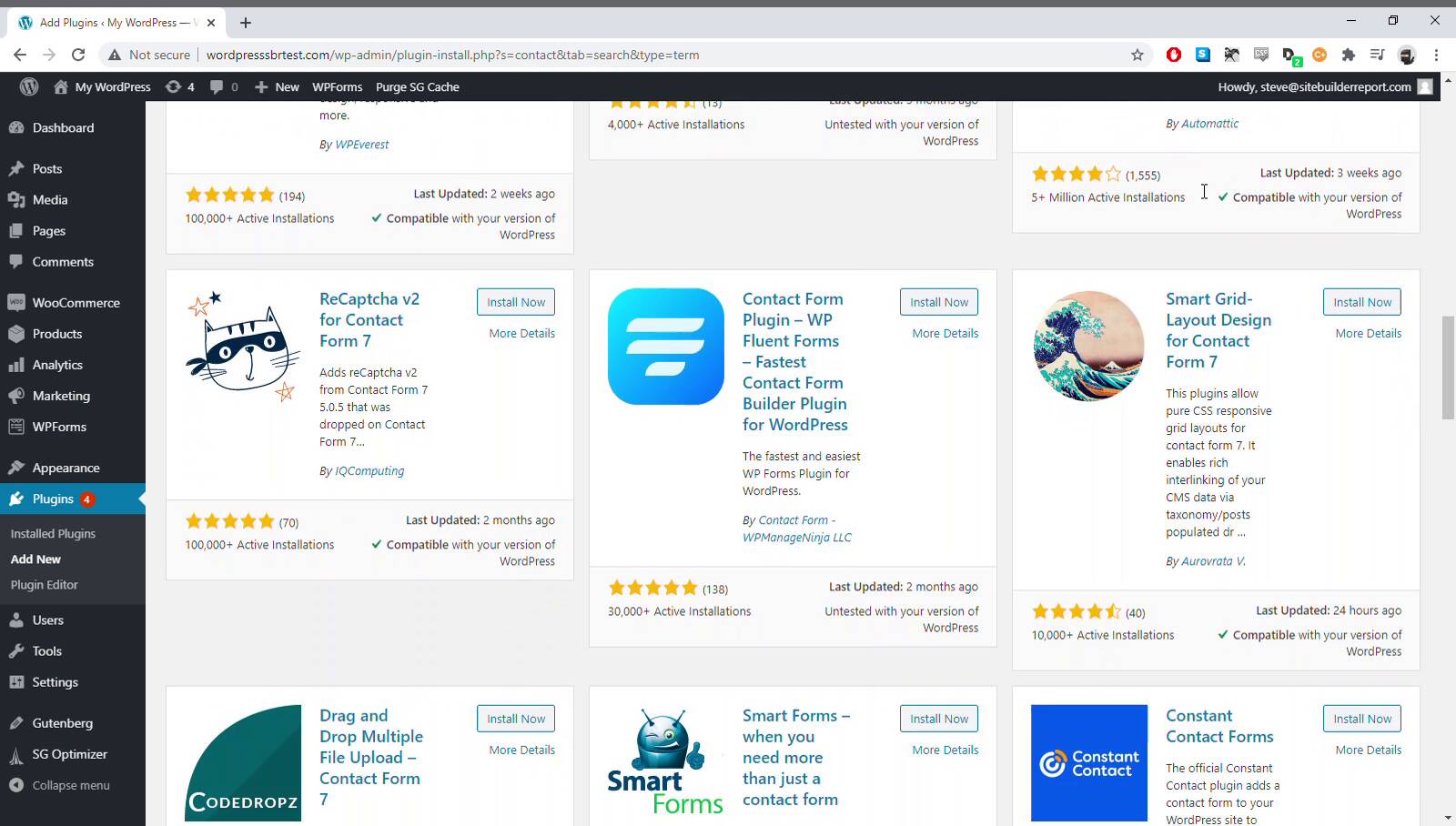 You can spend hours trawling through hundreds of varieties of the same plugin, and finding the one that works with your theme and other plugins may well not be worth your time.
Compared to WooCommerce extensions and WordPress plugins, Shopify apps are easy to search for in the simple App Store, and you can install them with complete peace of mind.
Toggle Section
The Editors
Shopify's backend editor has a clean layout that isn't visually stressful. It's also a really smoothly designed user experience that's intuitive even for site building novices.
There's no clutter here, you only see what you need to see. Shopify is a good choice for any novice site builder.
WordPress with WooCommerce, on the other hand, is a little bit cumbersome and can be intimidating for people who haven't used WordPress before.
In your WooCommerce site, you'll also get a built-in WYSIWYG page editor.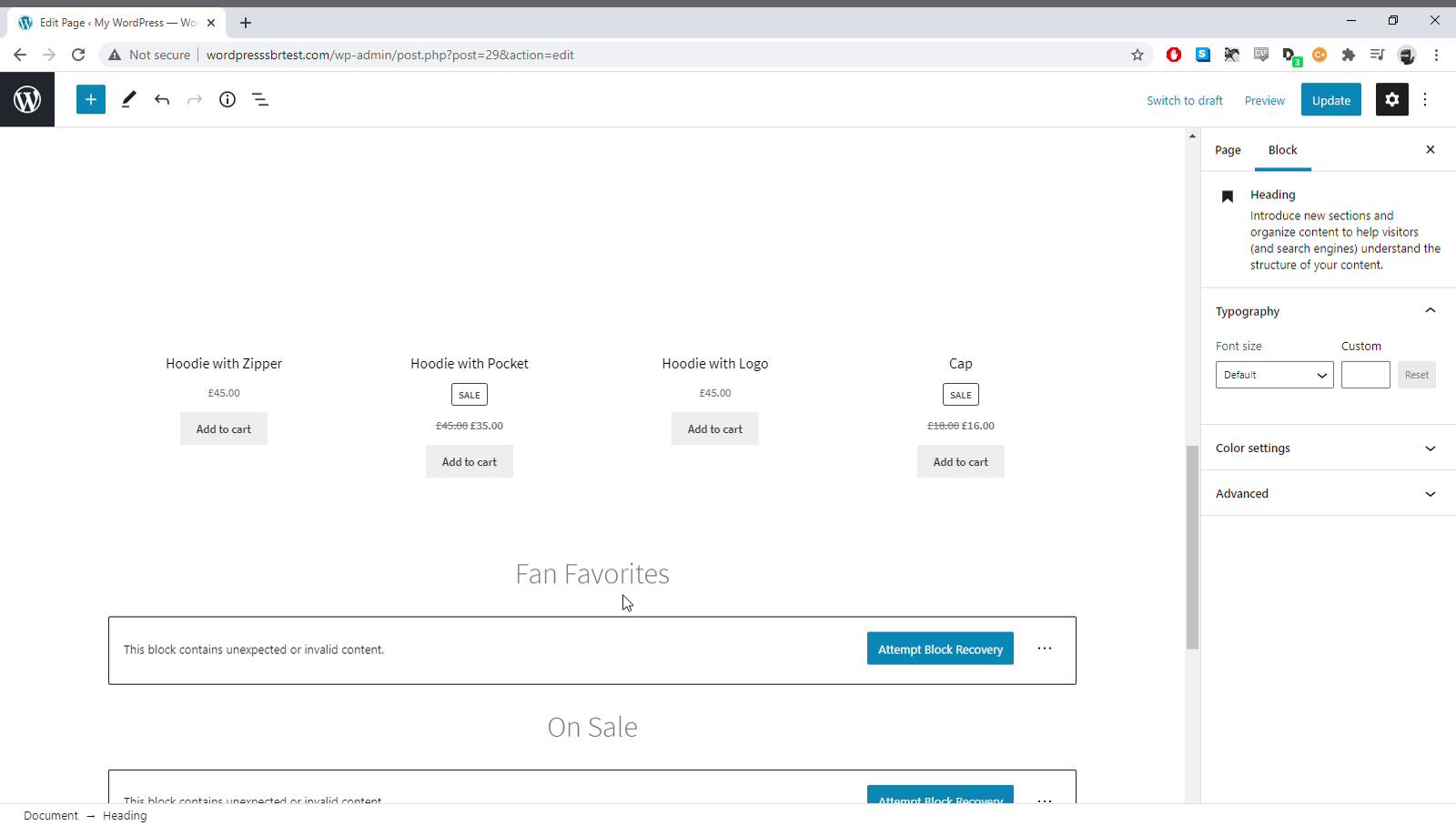 Both editors work well, and WooCommerce is better than many other ecommerce site builders out there in terms of interface and functionality. 
However, I think that Shopify's editor is marginally better in terms of look, feel and function. Of course this is subjective, and spending time with trial versions of both options is recommended.
A great example of the Shopify editor's thoughtful design is the way the toolbar changes color when you have unsaved changes. It's a small touch, but a really useful and intuitive way to make the whole editing experience as painless as possible.
Again, Shopify is more intuitive, simpler and cleaner than WooCommerce – although this is also subjective.
Users who are already familiar with WordPress won't have any trouble using WooCommerce to build an ecommerce site. But new users who just want to get a working website that looks good should go with Shopify.
Toggle Section
Hosting
Domain hosting brings us back to SaaS vs Open Source.
With Shopify, domain hosting is included in the service package, so your domain is tied to your Shopify account. It's simple and quick to find and register a domain: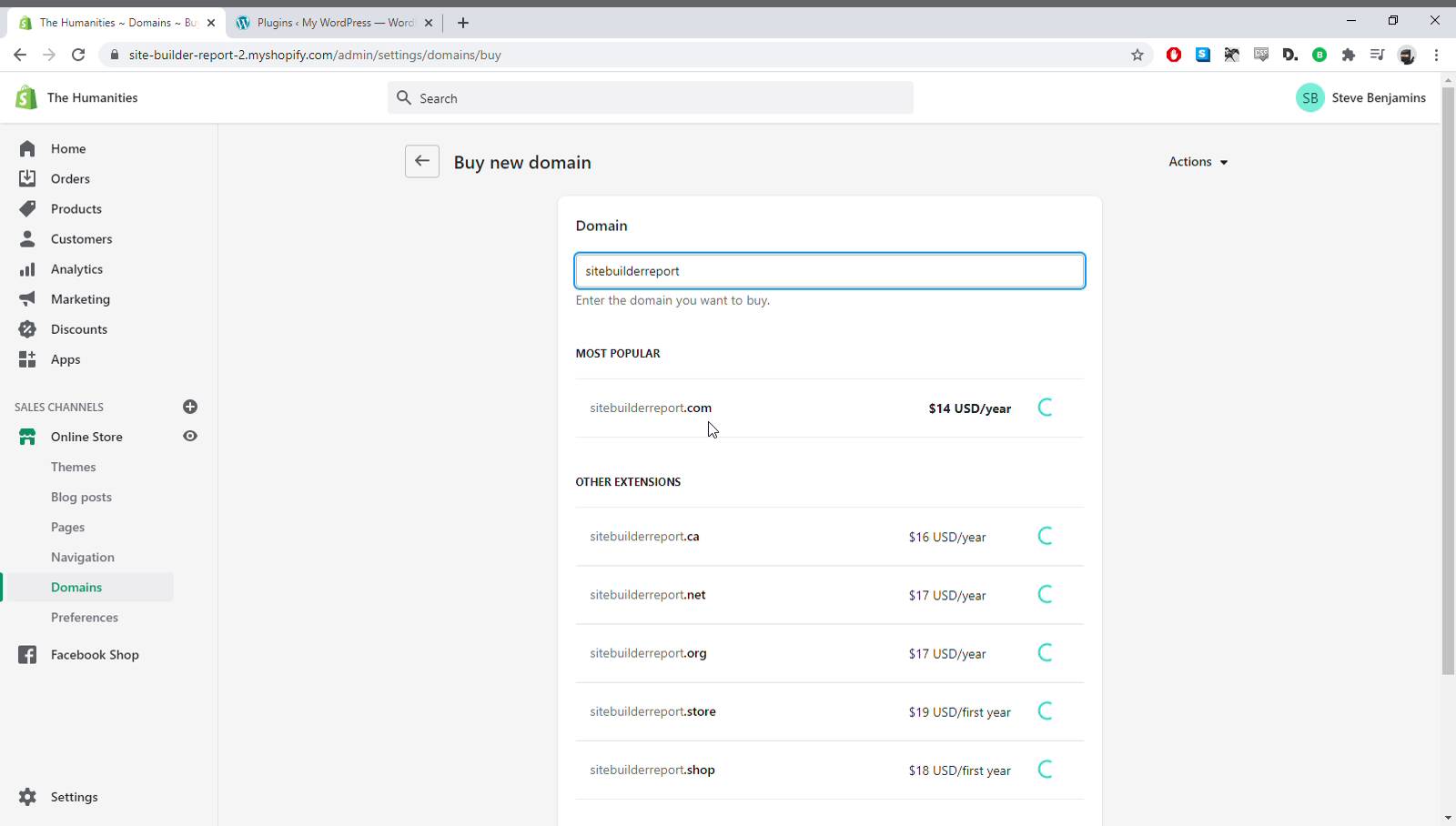 In a WordPress site, you need to arrange your own domain hosting, use DNS to connect the domain name, and set up SSL. For a lot of people, this is too intimidating.
It's important to mention for hosting, that if you build your site in Shopify, you won't be able to migrate it to another domain or host. If you delete your Shopify account, your website will also be deleted.
Security
Businesses looking to build an ecommerce site have to be especially careful with site security. Obviously, losing customer information or payment details can have really harmful consequences for businesses and their customers and suppliers.
Shopify will look after server security for you as your host. With WooCommerce, the responsibility is on you to make sure your website is secure.
WordPress sites are also more often attacked than SaaS-based sites – this is because of the huge number of WordPress plugins, some of which will always have security weaknesses that can be exploited.
That's not to say that a Shopify store is impervious. Shopify recently had to report a severe data breach affecting 200 stores, the work of two rogue employees.
Toggle Section
Pricing
Shopify's Basic plan is $29 per month, this is recommended for most users. It's always possible to upgrade to another plan if you find the Basic doesn't give you what you need.
WooCommerce is technically free, but there are some external costs you'll need to cover.
First, you'll need to find a domain host. This could range from $12 per month for SiteGround (recommended for smaller sites) to $25 per month for Kinsta (recommended for sites with more than 10,000 monthly visitors).
Then, you need to work out if you need developer support to build, amend or update your website. Or, alternatively, factor in the time cost of you learning how to do this yourself – are there more important things you can be doing for your business?
Then there are apps, plugins and extensions. Lots of these are free for Shopify and WooCommerce alike – Facebook, Google and Amazon, for example, won't charge you to use their apps and extensions.
And lots more will cost you, either as a subscription or one-off payment. With this cost comes various levels of customer support, and of course the feature you're looking for.
To add to this complexity, many costs for apps, plugins and extensions are scaled to the size of the website you're running – and may increase as your website grows.
WooCommerce with no features and basic hosting is definitely cheaper than Basic Shopify, but then it also doesn't compare with Shopify as a piece of software.
In short, there's no simple way of comparing Shopify and WooCommerce pricing for average users because, in terms of pricing options, average users don't really exist.
Toggle Section
Integrating Content
In general, I'd recommend most users to go with Shopify. It's easy to use right out of the box, offers good security and support, and it can do practically anything an ecommerce website needs.
There is one group that this might not apply to. Shopify isn't great for websites that are a mix of content – like galleries, video, blogging and so on – and ecommerce. 
There are ways around this. Shopify users can create a "Buy Button" for individual products or entire catalogues. You get a piece of code that you can insert into the HTML editor in another site builder.
This way, you can set up your content-based website in another site builder – or manually – and still use the backend features that make Shopify stand out.
Toggle Section
Conclusion
I've recommended Shopify for good reason. It works well for the vast majority of ecommerce sites, is easy to use out of the box, won't break, and has more apps than any other ecommerce site builder.
WooCommerce is a good option for a minority of users. Integrated ecommerce and content sites could be built better on WooCommerce, although there are workarounds to this if Shopify's backend features and simplicity are important.
If you're not sure, go with Shopify.