I'm a professional web developer but I rarely code websites from scratch anymore. These days it's just easier and faster for me to use a website builder for most websites.
Website builders are drag and drop tools that include everything in one package: hosting, domains and templates. You don't have to touch code— everything just works.
This is my guide to choosing the best website builder.
Note: My work is supported by affiliate commissions. Read more »
1. Squarespace

Try Squarespace →

I highly recommend Squarespace. It's the best all around website builder and the one I most often choose for my personal projects.

Pros

Templates — Squarespace is known for it's excellent templates. It's subjective (to a degree) but I believe Squarespace has the best templates of any website builder.
Best In Class Features — Features are thoughtful. Squarespace consistently goes beyond competitors in features like: template customization, blogging, scheduling software, photo galleries and even more unusual features like podcast hosting and donations.
The Apple Of Website Builders - Squarespace is like the Apple of website builders. It's intuitive, curated and thoughtfully designed.

Cons

Can Have A Learning Curve — Relative to other website builders, Squarespace can have a learning curve.

Video

2. Shopify

Try Shopify →

Shopify is the best ecommerce builder— in part because it's only for ecommerce websites. My other recommended website builders offer ecommerce features but Shopify only offers ecommerce features.

Pros

App Store — Online stores often need features that are unusual— for example, a painter may want to offer a gift wrap upsell. Rather than put all these features into the Shopify core, Shopify lets you add these features individual as apps. This is hugely important. It keeps the Shopify core clean and empowers 3rd party developers to build on Shopify. Shopify has significantly more apps than any other ecommerce website builder.
Innovative Features — Shopify continually launches innovative features. For example, Shopify Payments, Shopify Augmented Reality and Shopify Fulfillment. Competitors rarely keep up with the pace.
Intuitive — Shopify's interface is clear and intuitive— especially in comparison to other ecommerce website builders which are often bloated and overwhelming.

Cons

Learning Curve — Shopify is powerful but learning it takes time. Check out Square or Squarespace if you want a simpler ecommerce website builder.

Video

3. Webflow

Try Webflow →

Webflow has a learning curve but it's powerful. It gives the flexibility of front-end coding without requiring you to code.

Pros

Custom Design Tool — Webflow is an outstanding custom design tool. You can design your own themes from scratch with no constraints.
CMS — Webflow is one of the only website builders to include a full CMS that lets you define custom collections with fields like rich text, photos, files and more.
Freelancer & Team Support — Webflow includes a separate, friendlier interface (called Editor) that you can hand off to clients and teams. They also include white-label client billing feature.

Cons

Learning Curve — Webflow does not shy away from complexity. You will need to understand the fundamentals of web design. Fortunately their Youtube channel is a great place to learn.

Video Overview

4. Square Online

Try Square Online →

After acquiring Weebly in 2018, Square Online is what I recommend for anyone looking for an easy to use website builder.

Pros

Easy To Use — Square Online is what I recommend to anyone who doesn't feel tech savvy.
Excellent Ecommerce — While not as powerful as Shopify, Square Online still offers an impressive suite of ecommerce features and is also easier to use.
Generous Free Plan — Square Online has the best free plan of any website builder. It includes plenty of features and even free phone support.

Cons

Limited Customization — The most notable limitation is that you can only add sections to a page— you can't just add individual elements. Because of that, Square Online can feel cookie-cutter.

Video

5. Wix

Try Wix →

The most important thing to understand about Wix is that it has an unstructured editor that is different from competitors.

Pros

Unstructured Editor — Wix's unstructured editor lets you drag and drop elements anywhere you want on a page— without constraint.
Plenty Of Features — The widest feature set of any website builder. Includes: restaurant ordering, music distribution, appointment scheduling and more.
500+ Themes — Though the quality is inconsistent, Wix offers more themes than most website builders.

Cons

Unstructured Editor — Wait. Isn't this also in the What To Like category? Yup! While the unstructured editor is flexible it also introduces bugs and workarounds that other website builder do not. See my Wix review for more.

Video

6. Carrd

Try Carrd →

Carrd is for simple, one-page websites— that's it. It works well for personal websites and landing pages.

Pros

Purposeful Design — Themes and features are all centered around creating one page websites.
Low Price — Carrd is way, way cheaper than competitors. It starts at $19 per yearfor a plan with support for custom domain names and no ads.
Customizable — There's a wide variety of style customizations that you can make— people have even re-created Amazon pages with Carrd.

Cons

Learning Curve — You'll need to wrap your head around concepts like containers and CSS classes. Check out Strikingly If you're looking for an easier to use one-page website builder.

Video
Honorable Mentions
GoDaddy

Try GoDaddy →

GoDaddy's website builder has dramatically improved over the last few years— overall it's easy to use but limited.

Pros

Easy To Use — GoDaddy is really easy to use. I recommend it to anyone who doesn't feel tech-savvy.
Additional Tools — Included with the website builder are several business tools: appointment scheduling, email marketing, social media management, a graphic design tool and a simple CRM.

Cons

Limited — There are some major limitations you should understand before choosing GoDaddy. For example, you can't add individual elements to a website and you're often not able to make simple style customizations.
Poor Ecommerce — GoDaddy is missing major ecommerce features. It's the weak point in GoDaddy's website builder. See my review for more.

Video

Wordpress.com

Try Wordpress.com →

Wordpress.com is not Wordpress— or at least, it's not what most people think of as Wordpress. Most people know Wordpress as Wordpress.org, the popular open-source content management system (CMS).

Pros

Wordpress Ecosystem — Wordpress.com lets you install any Wordpress theme or plugin if you are on one of their more expensive plans.
Blogging — Wordpress began as a blogging platform and Wordpress.com inherits the fantastic blogging features.

Cons

Stuck In Between — You'll find yourself switching between the Wordpress.com editor and the WP-Admin editor. Having two seperate editors with overlapping responsibilities gets confusing— especially for users new to Wordpress.
No Live Preview — Wordpress.com is not a drag-and-drop, visual editor. Instead, it's a form-based editor that separates the content of pages from the design.

Video

Webnode

Try Webnode →

Webnode has stylish themes and a simple website builder. Unfortunately it's too simple at times.

Pros

Themes — Strong collection of fresh, modern themes.
Easy To Use — The interface is often clear and straightforward.

Cons

Customization — There's no way to set a custom color for your theme. Instead you choose from preset colors… This means you can't use your own brands colors unless you can edit CSS code— not ideal!

Video
Lowest Rated
Google Sites

Try Google Sites →

Google Sites is free— there are no paid plans. Even still, Google Sites doesn't top my list of free website builders.

Pros

Free — Google Sites is completely free. You can even add a custom domain name— though it requires some technical understanding.
Integrates With Google Products — For example: you can restrict website access to members of your Google Apps organization and embed Google Calendars, Maps, Docs, Slides, Sheets and Forms.

Cons

Themes — Every Google Sites theme has the same layout with limited customization options. You can choose an accent color for your theme but not where to apply the accent color. No font choices.
Missing Features — Features that would be standard on other website builders (example: blogging, ecommerce) are often not included with Google Sites.

Video

Site123

Try Site123 →

Unlike the other website builders on this list, Site123 doesn't have a visual, drag-and-drop editor. Instead you edit your website by filling out forms.

Cons

Editor — Instead of a visual editor, you edit elements with a lightbox form— so you have to switch between the editor and the website preview in order to get things looking how you want. Frustrating. 
Unusual Limitations — For example, the page title has to be the same in the navigation as it is in your actual page title. What?!

Video

Yola

Try Yola →

Clumsy and outdated, Yola's website editor has hardly changed over the last few years— so there are few signs that this will improve.

Cons

Confusing Interface — Inexplicable icons and buttons throughout the interface. Often unnecessarily confusing.
Lightbox Editor — Making edits is done in a lightbox that also obscures your website— so you can't see your changes as they're being made.

Video

Adobe Muse

Try Adobe Muse →

Adobe announced they will no longer develop new features for Muse and have ended technical support for it.

I would strongly recommend you use something else. You can find a list of Adobe Muse alternatives here.

Webs

Try Webs →

Webs was acquired by Vistaprint in 2011. Since then it's basically been abandoned.

So why did Vistaprint abandon Webs? Well since 2011, Vistaprint has launched their own website builder. I guess they decided it wasn't worth it to run two website builders.

Acquiring products and abandoning them is common in website builders. The unfortunate thing is that companies like Vistaprint never communicate this to customers— which sucks.

Homestead

Try Homestead →

Don't bother with Homestead. Their best days are long gone.

Homestead was acquired by Intuit in 2007 before being sold to Endurance International Group (EIG) in 2012. EIG has a reputation of bad customer support and poor server uptime.

In 2017 Homestead began licensing it's software from SiteBuilder.com— another EIG company— but oddly Homestead is actually more expensive than SiteBuilder.com.

So if you really, really want to use Homestead just save yourself some money and use SiteBuilder.com instead— it's the same software!

1&1

Try 1&1 →

I have had two separate incidents of 1&1's billing system having "bugs."

That's a bad track record.

2014

After reviewing 1&1 (and signing up with my own credit card), they invoiced me several weeks after I had cancelled.

Customer support told me sometimes the system generates "crazy invoices."

Billing systems should NOT generate "crazy" invoices.

2018

I signed up again to test 1&1's billing system. When it came time to try cancelling, the billing system wouldn't allow me to cancel. It kept giving me a bug that said "no cancelable single items present!"

So I bought another product with 1&1 (rankingCoach Pro) and tried cancelling it. It also gave me the same error when trying to cancel.

So I called customer support and they explained that they send error messages if a customer tries cancelling in the first 30 days in case the customer accidentally cancels the product.

Gah!!

SiteBuilder.com

Try SiteBuilder.com →

SiteBuilder.com is owned by EIG— a conglomerate that owns multiple website builders: Homestead, WebsiteBuilder.com and Sitey.

All these website builders run the same software— but some are priced differently than others. For example, Homestead.com is significantly more expensive.

What really bothers me is that WebsiteBuilder.com has automatically added items to customer shopping carts in the past without telling the customer.

This was happening as recent as 2018. Basically WebsiteBuilder.com would add a "SiteLock" upgrade to your shopping cart without telling you. You had to notice it and de-select it:

No company should ever slip something into their customers shopping cart. That's extremely customer hostile!!

I've asked WebsiteBuilder.com to acknowledge that they did this in this past and they never do:

I just can't in good conscience recommend a company that has been this hostile to their customers. Maybe in a few years I'll take another look but not anytime soon.

Web.com

Try Web.com →

Web.com's website editor is super frustrating— the sidebars cover large chunks of website, which means I couldn't even see my full website on a normal-sized laptop! But that's far from the worst:

What Not To Like:

13 Months In A Year — If you read the Web.com's fine print you'll notice their "monthly" plans are technically 28 days long— which means users end up paying for 13 months in a year. Wow.
Poor Cancellation Policy — You need to phone support in order to cancel Web.com. When I called in they transferred me twice before I ended up in tier 2 support. Tier 2 support repeatedly asked why I was cancelling / how they could get me to stay / blah, blah, blah. I just kept repeating, please cancel my account.
Terrible Password Security — In order to cancel an account Web.com requires users to give their password over the phone to customer support. This is VERY DANGEROUS. Databases are designed to encrypt passwords so that not even a developer can ever see it. Many people use the same password for multiple services so keeping passwords private is CRITICAL.

The Editor
Common Questions
What about Wordpress?
Wordpress is not a website builder— it's a CMS. There are important differences:
Hosting Setup — You need to install Wordpress on a web host. Website builders include hosting.
Editor — Website builders are typically a visual, drag and drop editor. Wordpress default editor is Gutenberg which is a WYSIWYG form editor that doesn't show you a live preview of your page.
Open Source — Wordpress is free and open source while website builders are a paid product from a company.
What's the best free website builder?
Here's the honest truth: most companies don't want to give you something for free. Instead they'll put limitations on your website that are designed to get you to upgrade.
Here are two example limitations:
No Domain Names — Most free website builders don't allow you to add a custom domain name.
Advertisements — Most free website builders include an advertisement on free websites:
For more on this, see my roundup of the best free website builders.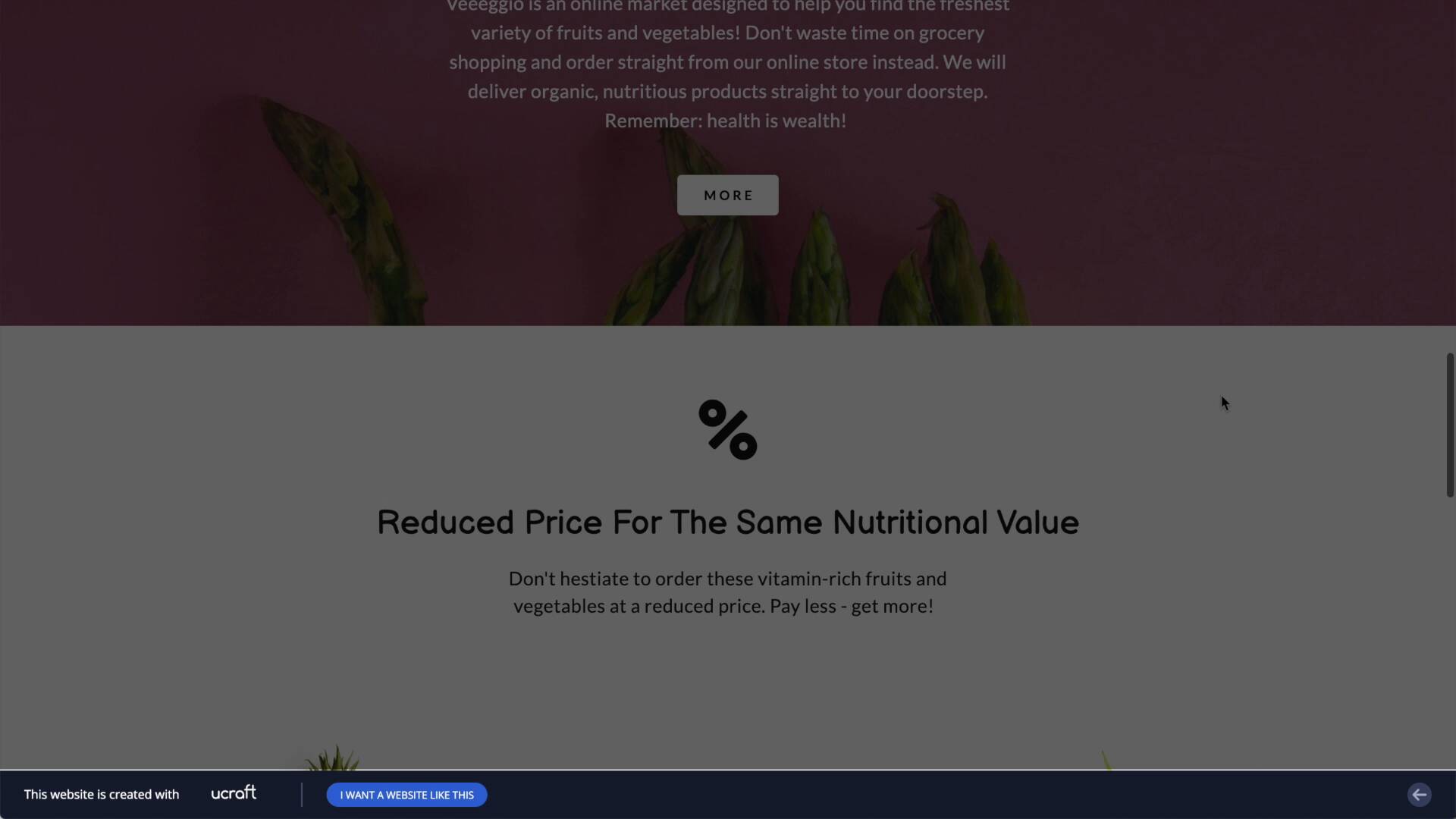 Can you move your website away from a website builder?
No unfortunately you can't.
It's really difficult to move an existing website to another website builder without just manually copying text and images.
You might be wondering: Do website builders do this just to keep customers with them?
Not necessarily. There are good technical reasons why a website builder website can't be moved:
Modern websites aren't documents — Modern website are not files that you can simply move from server to server. Modern websites built with website builders rely on a constellation of technologies (example: content delivery networks). It's unrealistic to imagine disentangling from them… In fact, part of what you are buying when you buy a website builder is the freedom from worrying about these underlying technologies.
Most features require server side processing — Website builders aren't just creating static HTML, CSS and Javascript assets that are delivered by a server. Any dynamic feature (ecommerce, forms) requires some level of server-side processing.
Should I register my domain name with my website builder?
I do. It's just easier.
But it's also a question of tradeoffs.
You could also register your domain name with a third party provider such as Namecheap and connect it to your website builder. This would keep you in control of your domain name no matter what.
The downside is you will need to work with DNS to get everything setup. That can be challenging if you're not familiar with DNS.
Personally I most often use Squarespace for my websites and I'm comfortable registering my domain name through them.
How should I host email?
Most website builders provide an integration with Gmail that costs around $5 / user / month. (Google sets this price.)
It's not cheap but it works— and so I typically do it that way!