Truthfully, there isn't much difference between these two questions:
What is the best website builder?
What is the best small business website builder?
Website builders are designed for small businesses— that's their most lucrative customer. So the best website builder is also typically best website builder for a small business.
Best All-Around
Wix and Squarespace are the two best all around website builders.
Both cover a wide base of features: appointment scheduling, restaurant menu builders, email marketing, portfolios, takeout orders, events and ticketing— all features that a small business might need.
I typically recommend Squarespace over Wix but you can read my in-depth Wix vs Squarespace comparison for a deeper look.
Wix and Squarespace also the two most widely used website builders. They are the top two in total websites powered:
Best Templates
It's a bit subjective but Squarespace has modern, clean templates. They all share a similiar look and feel: big photos, clean design and bold typography.
Here are two examples: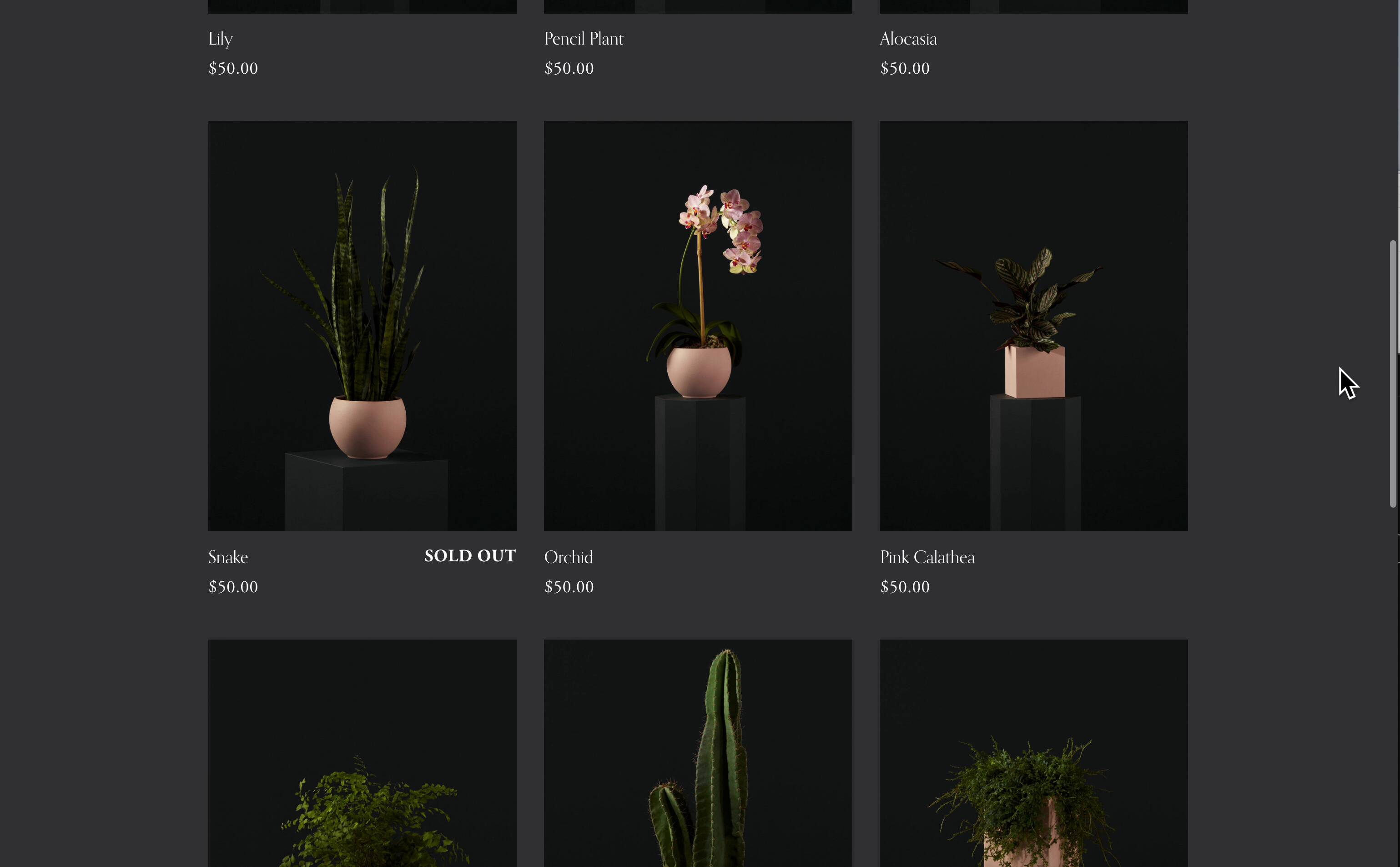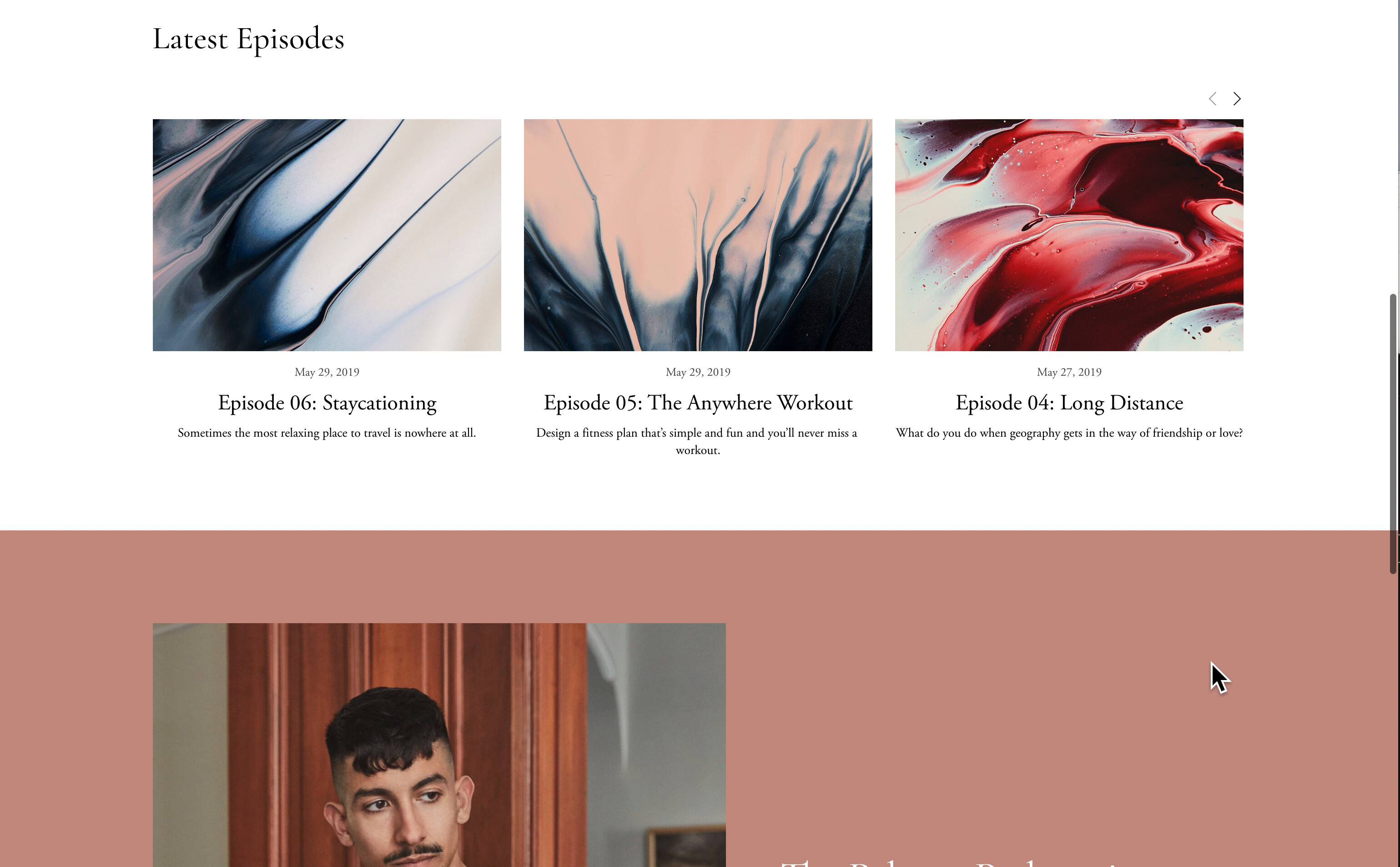 You can also browse live Squarespace websites here.
Squarespace also has excellent theme customization. It's strikes a nice balance between ease of use and flexibility. Read more on this in my Squarespace review.
Note: It's not that Weebly, Wix, Carrd, Webflow and Shopify have bad templates. In fact, their templates are quite good! Instead this is more about how excellent Squarespace's templates are.
Best SEO
None.
Don't believe anyone who tells you otherwise.
Choosing between any of the website builders on this list will not rank your small business any differently in Google. You can read more about this here
There are important technical SEO requirements that a website builder must have— but every website builder on this list covers these. Some go a little further than others (for example: Squarespace supports Google AMP pages) but in practice choosing a different website builder will have no meaningful impact on SEO.
Learning SEO can feel overwhelming but a good place to start learning is Moz's Beginners Guide to SEO.
Most small businesses will want to learn about Local SEO — Local SEO is any Google Search result that returns a local result— for example, if you search camera stores near me or if you search in Google Maps. This involves different strategies than general SEO!
Best Free Plan
I actually did an in-depth guide to the best free website builders. You can find my recommendation there.
Here's the short story: website builders aren't going out of their way to give great free plans. Most free plans are designed to push you to upgrade.
Almost every website builder includes ads on free websites— for example, this is the ad on free Wix websites: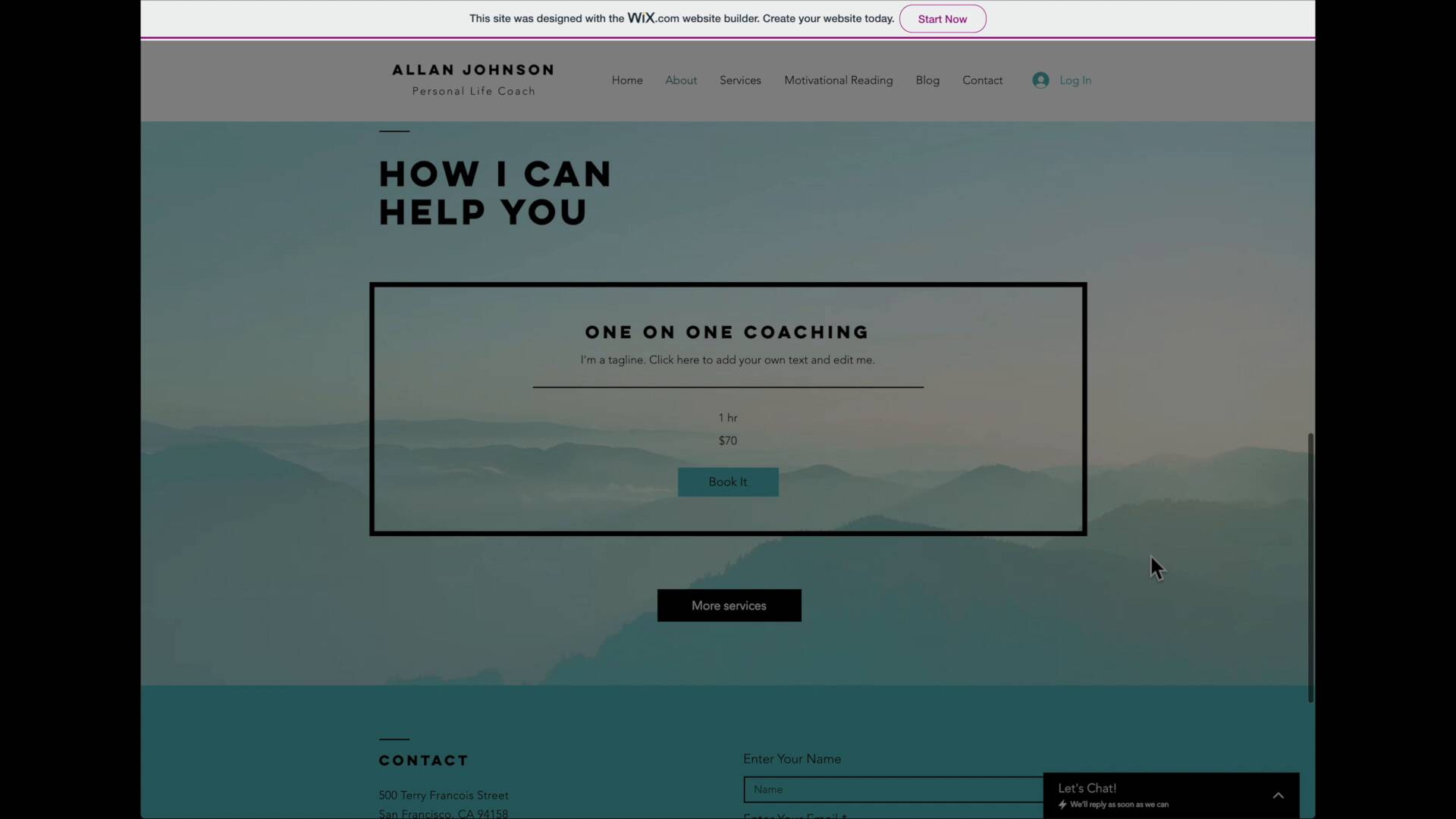 If your budget is really low, you may want to check out Carrd— which is far cheaper than most website builders:
Best Ecommerce
And honestly, it's not even close.
In the last ten years, Shopify has become the industry leader for ecommerce builders:
Shopify CEO Tobi Lutke has said that before Shopify the ecommerce industry was like "what MP3 players were like before the iPod". For Lutke, competitors had tons of "advanced" features but were "bulky, hard to use and looked horrible." He's not wrong. It's an accurate analogy.
For example, consider the Shopify App Store. The App Store lets users add features when they need them— and empowers third party app developers to develop for Shopify. It's lead to a powerful ecosystem that no other ecommerce builder matches:
Beyond that, Shopify has repeatedly pulled the ecommerce industry forward with innovations like Shopify Payments and channels.
Best For Restaurants
Squarespace. In fact, I did a long-form tutorial on How To Make A Restaurant Website with Squarespace.
Squarespace has excellent restaurant templates and they've got great features for restaurants.
For example, Squarespace invented a simple markup langauge for writing menus— it's an elegant solution to a tricky problem:
Plus, Squarespace offers online ordering— obviously important in these Covid-19 times— and they can take reservations through Opentable.
Best For Ease of Use
GoDaddy is what I'd recommend to anyone who doesn't feel tech savvy. Everything is simple and straightfoward.
Now the one thing to know is that GoDaddy can also be quite limited— for example pages are built by adding sections. These sections are made up of individual elements that you can toggle on and off but you're not able to add additional elements.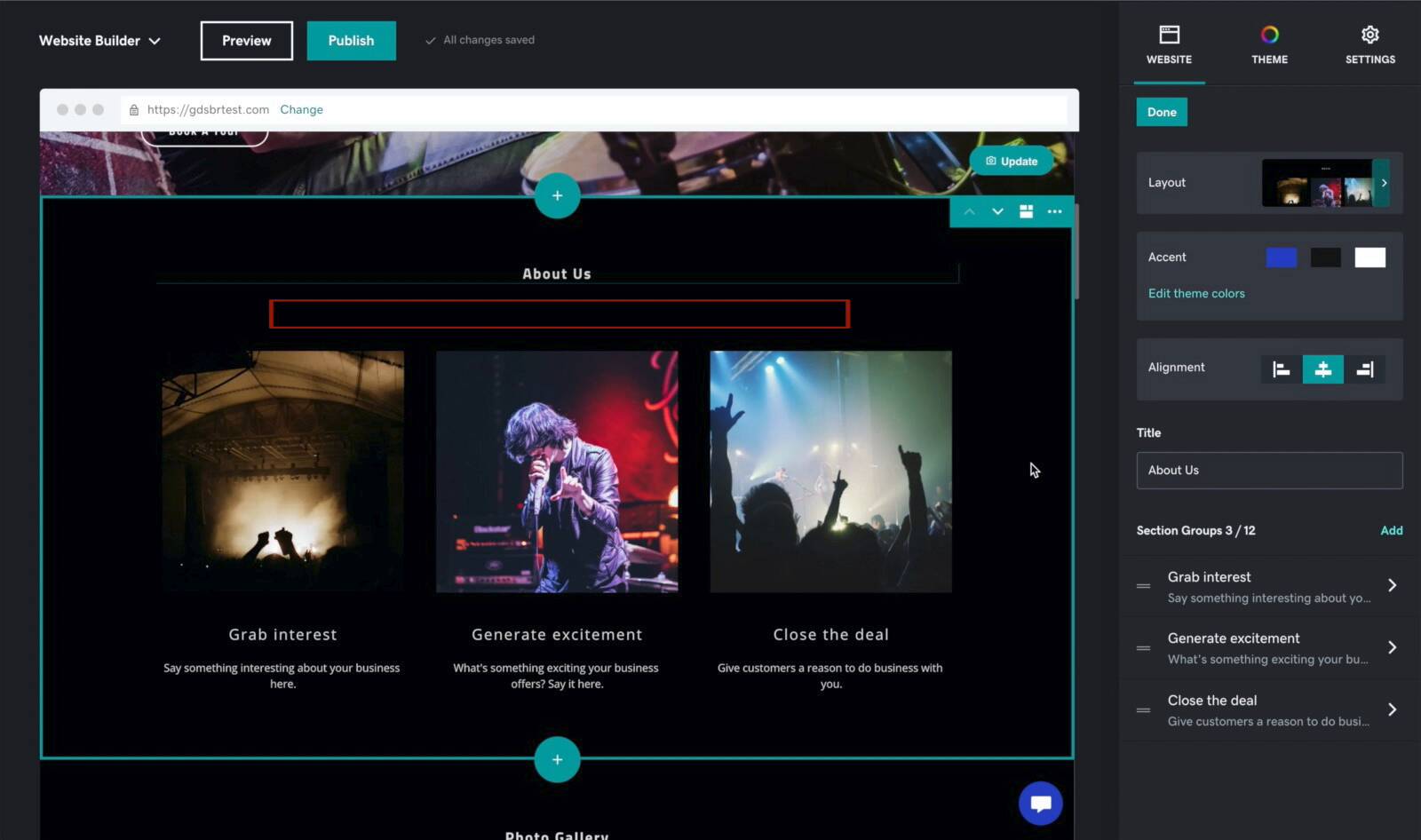 But overall GoDaddy's sidebar editor is never overwhelming. It's always clear and easy to follow:
Plus the iPhone app is outstanding. It's really easy to use for on-the-go editing.
Read more in my GoDaddy review.
Cheapest
Carrd is by far the cheapest among my 6 recommended small business website builders. It's actually not even close:
Carrd is only for one page websites. So you'll only want to use Carrd if it makes sense for your website to be one page. If you're not sure if one page works for you, I'd suggest just trying Carrd for 15 minutes— you might surprise yourself with how much you can fit into one page!
Otherwise the other website builders on this list are all roughly the same price— as you can see in the above graph. The only exception is Shopify but that's because it's an ecommerce website builder. Ecommerce plans for the other website builders on this list are about the same price is Shopify.
Looking for more cheap options? Read my deep dive on the cheapest website builders.
Design From Scratch
What if you want to design your own website from scratch?
Try Webflow.
Webflow is the most customizable website builder. It has a bit of a learning curve but if you spend a few hours learning it, you'll be able to code your own website from scratch.
What About Wordpress?
Wordpress is a content management system (CMS)— not a website builder. A CMS like Wordpress is flexible but has a learning curve. Website builders like Wix and Squarespace are less flexible but easier to use.
Here's an overview of the differences:
Hosting — Hosting is included with website builders. You need install Wordpress on a 3rd party host.
The Editor — Website builders are visual editors, which means your page looks like your page when editing it. Wordpress's editor abstracts you away so the page doesn't look like the final page when designing it.
Ease of Use — Wordpress will likely occasionally require you to tweak code. Website builders do not.
Flexibility — Wordpress is much more flexible— in large part because of their plugin library. You could build a small social network with Wordpress— not with a website builder.
For more on this, read my guide: Wordpress vs Website Builders.