I'm a web developer but I don't code most websites anymore— instead I just use Squarespace.
I've tried other website builders but I find myself continually returning to Squarespace.
One reason is that Squarespace websites look good— their templates are outstanding.
The other, more subtle reason is that Squarespace has excellent features. For example blogs, ecommerce and photo galleries are all excellent.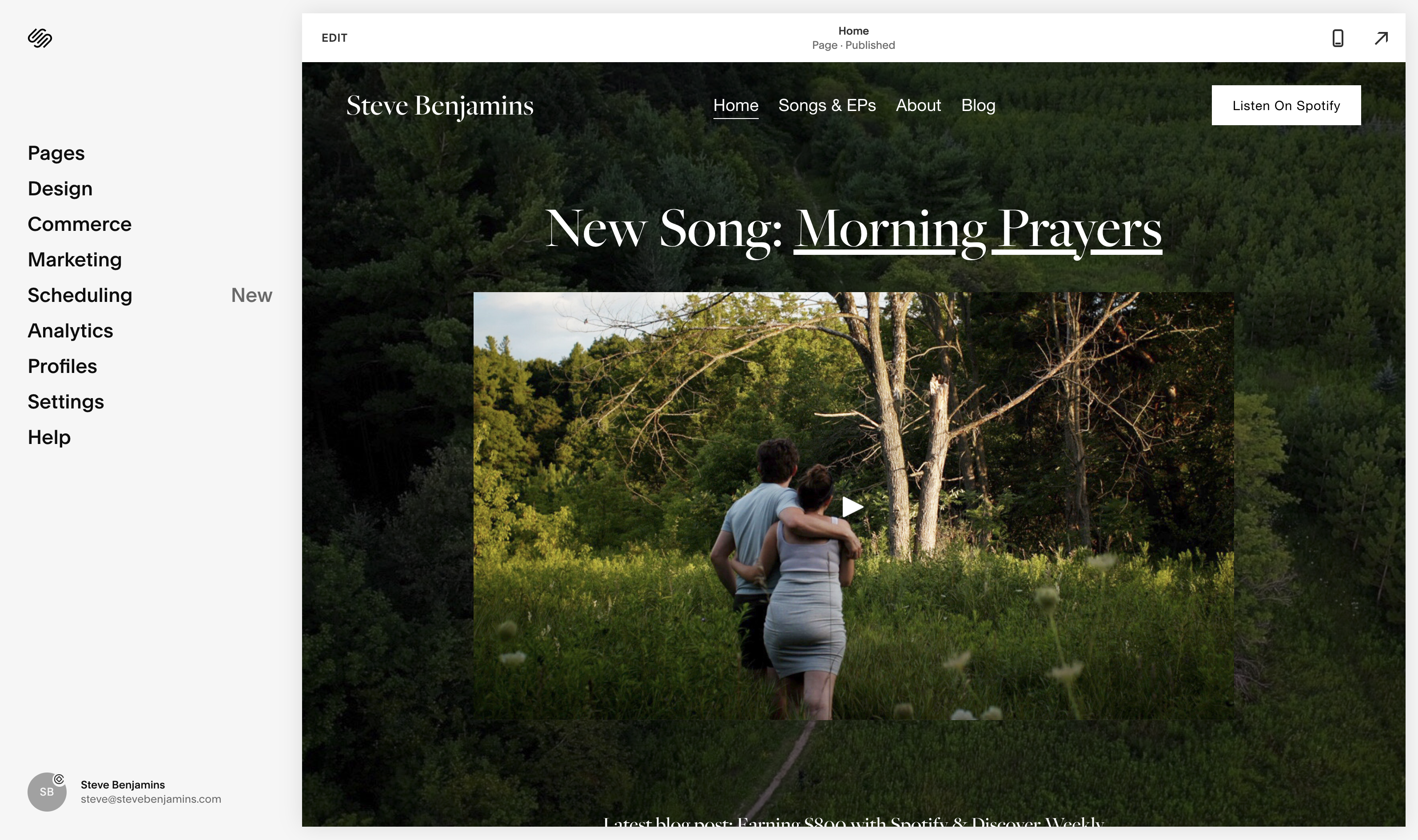 Note: My work is supported by affiliate commissions. Read more »
Squarespace At A Glance
Outstanding Templates

No other website builder matches Squarespace's clean, modern templates.

Best In Class Features

Some website builders promote features that they only "sort of" provide. Not Squarespace. They have best in class blogging, ecommerce, donation, podcasting and more.

The Apple Of Website Builders

Squarespace is intuitive, curated and thoughtfully designed. It's a reasonable analogy to think of Wix as Google's Android and Squarespace as Apple's iPhone.
What Is Squarespace?
Squarespace is a drag and drop website builder that includes everything for a website in one package— including hosting.
Including hosting makes website builders like Squarespace different from a content management system (CMS) like Wordpress (which need to be installed on a host).
While Squarespace has a free trial, there is no free plan. Annual plans start at $12 / month.
Templates
Squarespace has outstanding templates.
Beauty is subjective but in my opinion no other website builder matches Squarespace's clean, modern templates:
Example Templates
What To Know About Squarespace Templates
A few important notes:
Templates are responsive — Which means they fit the size of the browser: so they are desktop, mobile and tablet friendly.
Templates have a recognizable look and feel — Squarespace templates have a look: bold typography, white space and plenty of room to showcase photography.
Photos will elevate your template — Squarespace templates are designed to showcase photography. Even basic stock photos will enhance the look of a Squarespace website.
You can't switch templates — Templates are starting points in Squarespace as of 7.1. Every template is part of the same family and has the same features and style options.
Template Customization: Fonts
Squarespace provides two levels of font customization.
Level one is simple. You select the fonts you'd like used in for headings, paragraphs and buttons:
Level two goes deeper. You can customize fonts down to every individual element— from headings to newsletter blocks:
Template Customization: Colors
Just like with fonts, Squarespace provides two levels of color customization.
Level one is a choosing a color palette that applies across your website:
This color palette is important because it creates Section Themes— which allow you to choose color palettes individually for sections (necessary because you may need a darker color palette if the background is light, and a lighter color palette if the background is dark).
Level two of color customization let's you specify exactly where a color is applied:
The Editor
Squarespace pages are made up of sections and content blocks.
Content Blocks
Content blocks are the individual elements that make up your website: text, buttons, images, maps, forms and more.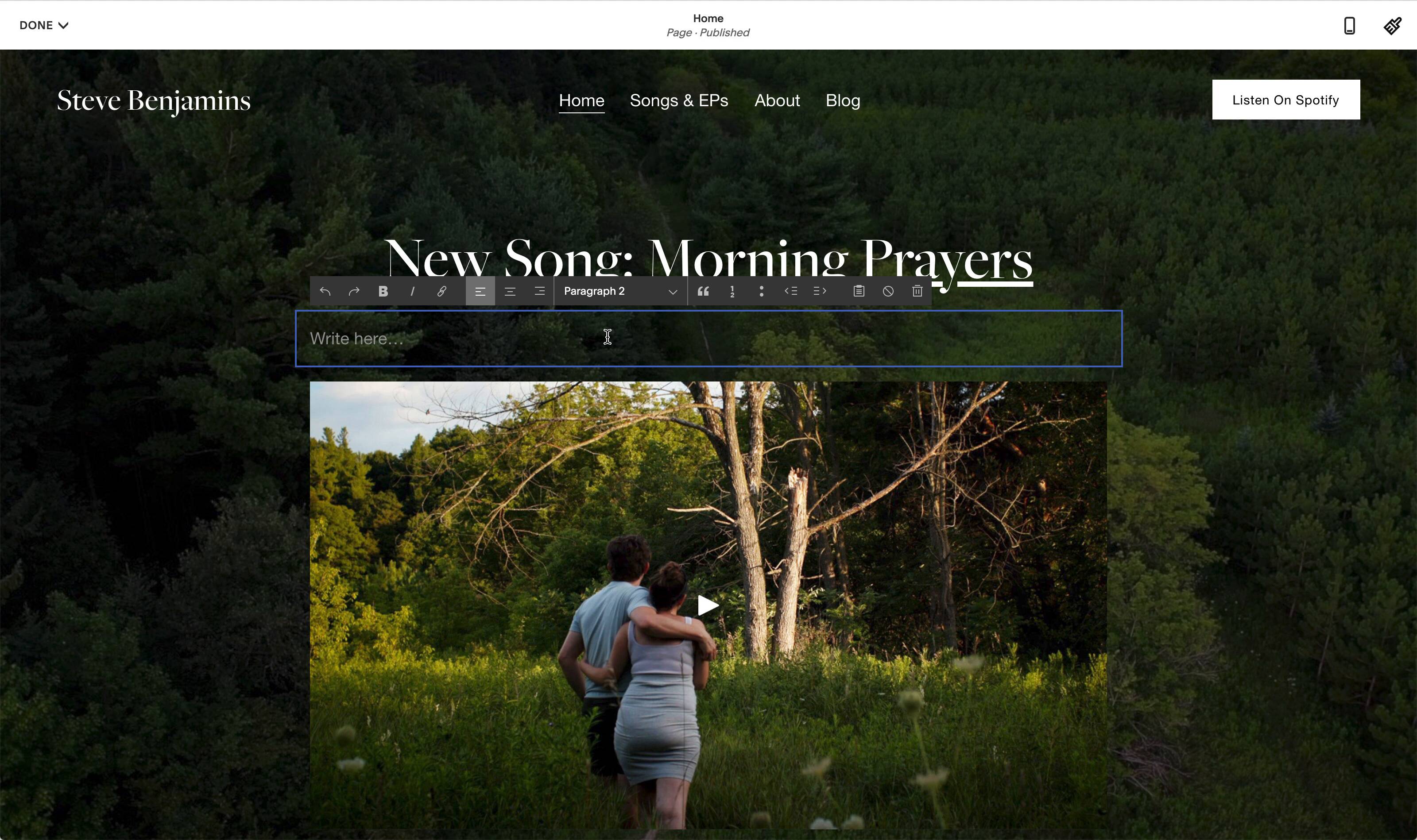 Sections
Sections stack vertically on your website and contain content blocks.
While you can create a section from scratch, you can also choose from a library of pre-designed sections:
Section Backgrounds
Sections can have background images— which is key to nailing that modern, full-bleed image feel:
You can customize the height, width, alignment and colors of a section— but you can't stray too far from this basic layout.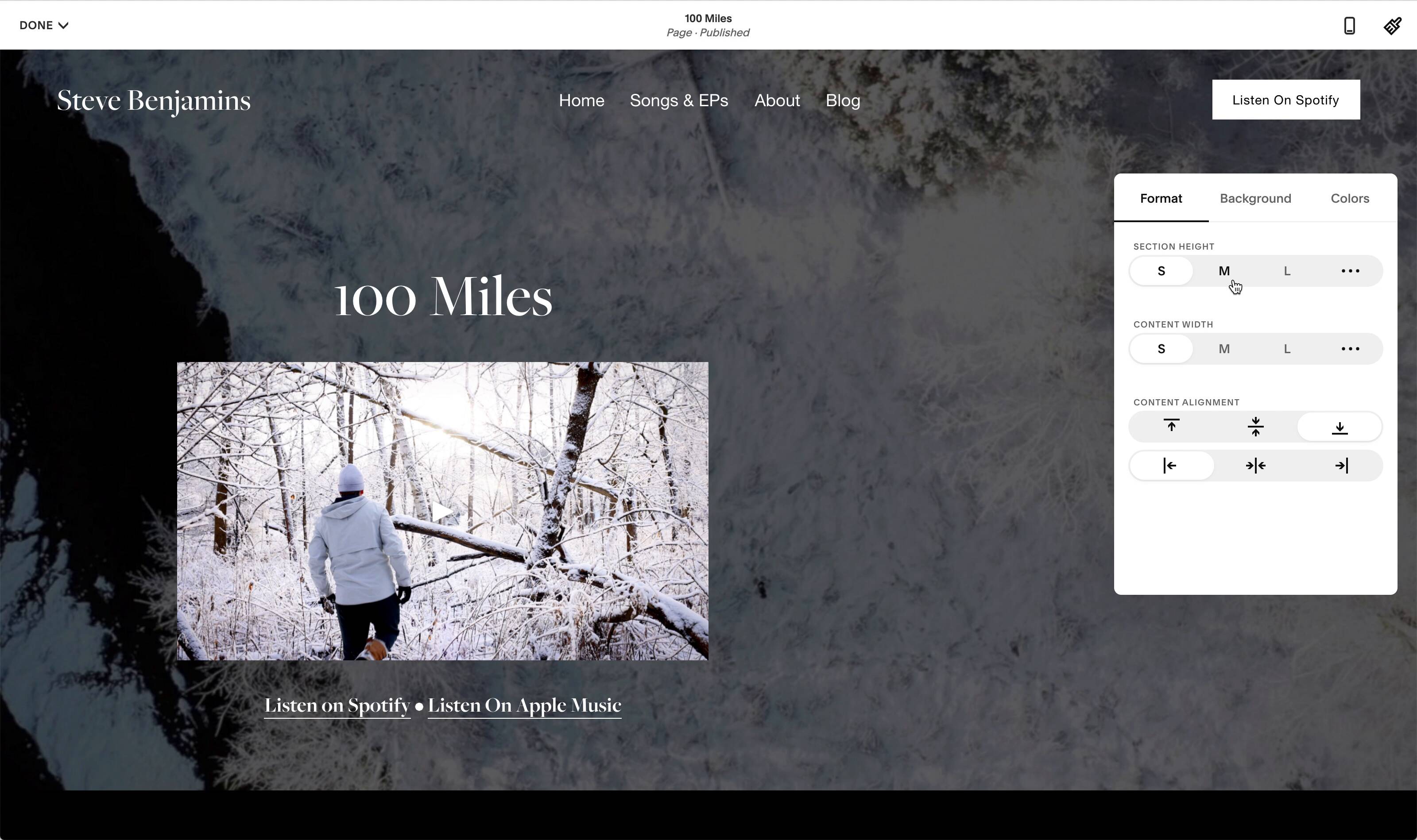 Ease of Use
You'll be fine with Squarespace if you're comfortable in Microsoft Word or Google Docs.
The best word to describe Squarespace is intuitive. Everything is thoughtful and clear. The interface is never overwhelming.
A good way to demonstrate that is to compare the Squarespace editor…
… with Squarespace's biggest competitor, Wix. Notice how much more is going on in Wix?
Ecommerce
Should you use Squarespace for ecommerce?
I use Squarespace ecommerce for small stores but I'll often use Shopify if I'm building a larger store.
Let me explain.
Is Squarespace or Shopify Better For Ecommerce?
There are two types of website builders:
Website Builders — For any type of website: blogs, ecommerce, small business, non-profits and more. Examples: Squarespace, Wix.
Ecommerce Website Builders — Just for ecommerce websites. Examples: Shopify, WooCommerce.
Because ecommerce website builders are purely focussed on ecommerce they usually have more sophisticated features.
That being said there are still times to use a website builder like Squarespace for ecommerce.
In my opinion the best website builder is Squarespace and the best ecommerce website builder is Shopify.
So when is the right time to use Shopify or Squarespace?
Reasons To Use Squarespace:
Easier To Use — For example: customizing your theme with Shopify will likely require you to edit CSS code— Squarespace does not.
Drag and Drop — Squarespace has a drag-and-drop page editor. Shopify does not.
Reasons To Use Shopify:
For more, read my in-depth Squarespace vs Shopify comparison.
Squarespace Ecommerce Features
Here are some of the more sophisticated ecommerce features Squarespace offers:
Subscriptions — You can sell subscription products that charge on a recurring basis. Ecommerce website builders are able to do this but I don't know of a single website builder that does.
Customizable Email Receipts — This is a feature way too most website builders ignore. Squarespace lets you customize the email receipts sent to customers following a purchase. Email receipts are a great opportunity to thank or upsell customers.
Excellent Product Variations — You can create multiple product variations with unique pricing.
Digital Products and Services — You don't have to use Squarespace for just physical products. You can also sell digital products or let customers pay you for services.
Apple Pay Integration — Squarespace lets you use Stripe as a payment provider— which allows customers to pay you with Apple Pay. Apple Pay has been shown to increase successful checkouts on mobile (it lets customer authorize payments with only Touch ID).
Point of Sale — In November 2019, Squarespace launched a Point of Sale system that integrates with Square's credit card reader and Squarespace's Commerce app.
Features
Squarespace has lots of features. The only website builder with a comparable amount of features is Wix.
Blogging
Excellent. Squarespace is the only website builder that competes with Wordpress on blogging.
There's a long list of features:
Markdown support
Podcast support
RSS feeds
Google Amp
Mulitple contributors
… And more
Form Builder
My one complaint? Squarespace doesn't store your submissions by default— you have to connect it to a source. Why can't they just store submissions by default?
Otherwise they support a wide range of features:
Google Docs and Mailchimp integrations
19 different form field options
Custom post-submit HTML and lightbox mode
Photo Galleries
Squarespace has always been popular with artists and photographers— in part because of their beautiful photo galleries.
Masonry galleries
Easy focal point editing
Click-through URLs on images
Lightboxes
Appointment Scheduling
Appointment Scheduling lets visitors book and pay for appointments. It has an additional monthly fee and plans start at $14 / month.
Multiple calendars and teammates
Calendar syncing
Automatic SMS and email reminders
Gift certificates
Mobile Apps
There are 5 mobile apps for managing your website:
Commerce — Manages your online store.
Analytics — Website analytics.
Squarespace - Edit pages and blog posts.
Scheduling Admin — View and manage appointments.
Scheduling Clients — Clients can book appointments.
Analytics
While you can always add Google Analytics, Squarespace also includes their own Analytics which automatically plugs into existing Squarespace features for tracking:
Sales by product
Purchase funnels & abanadoned carts
Form and button conversions
Members Area
In 2020 Squarespace announced Members Area which allows you to create and manage paid content for registered users.
It does cost extra (plans start at $9 / month) and there is a transaction fee but it let's you:
Create classes and training packages
Charge recurring or one-time fees (or free)
Lock content
Integrates with Squarespace email marketing
Donation System
Squarespace has the best donation system of any website builder and it's not even close.
Other website builders say they have a donation but it's often just a crummy Paypal button or a donation product within an online store (which never works right).
Squarespace actually did the work to create a donation system that covers the fundamentals:
Custom email receipts
Suggested contributions
Custom checkout for non-profits
Podcast Hosting
Squarespace lets you syndicate a podcast. Syndicating is required to submit your podcast to Spotify and Apple Podcasts which is critical.
Be aware: other website builders say they host podcasts but often that only means you can embed your podcast in an audio player. Make sure that they let you syndicate like Squarespace does.
Email Campaigns
Squarespace also let's you create email campaigns. This costs an additional fee but you'd be paying an additional fee anyways if you used a 3rd party provider like Mailchimp or Constant Contact.
With Squarespace you can send one-time email campaigns or automated email campaigns.
The biggest reason to use Squarespace for your email is that integrates with Squarespace features like ecommerce and membership areas.
Pricing: Is Squarespace Expensive?
Squarespace offers four plans— two for general websites and two for ecommerce:
Squarespace is priced equally to many of it's competitors. For example I checked the price for one year on the cheapest no-ad plan of the top 7 website builders and Squarespace, Webflow, Weebly and Format all come to $144. Wix and Shopify are more expensive:
Plus Squarespace is honest and transparent with pricing. I bought and cancelled it with my own credit card and it was very easy to do.
I've written a more in-depth look at Squarespace pricing here.
SEO: Is Squarespace Good For SEO?
Here's some advice: website builders are all roughly equal when it comes to SEO. There are definitely some technical SEO features that you need in a website builder— it's just that most website builders support them.
Unlike other website builders, Squarespace doesn't try to upsell customers on crappy, nonsense SEO upgrades. (Don't use any SEO tool that's bundled with your website builder— instead just go straight to the industry standard tools: SEMRush or Whitespark.)
Squarespace provides tools to execute most of what's necessary for SEO:
AMP Support — AMP (Accelerated Mobile Pages) is a Google initiative that creates lightweight versions of websites that load quickly on mobile devices. Using AMP doesn't directly influence your rankings— but it certainly can indirectly help. Squarespace is one of the only website builders to support AMP pages— you just have to enable it.
Meta Titles And Descriptions — Squarespace let's you customize meta titles and descriptions for pages and blog posts. These are what are displayed in the search engine results. Having your target keyword in the title tag is important for ranking while meta descriptions don't effect your ranking (so you don't need to customize it).
Custom URLs — Squarespace let's you customize URLs. This is important— simple urls with target keywords are good for SEO (notice the URL for this page? It's simply /squarespace-review).
Mobile Friendly — In 2018 Google announced that their index was going 'Mobile First'— making a mobile friendly website critical for SEO. All of Squarespace's themes are responsive— which means they are mobile-friendly.
SSL — All Squarespace domains have SSL— which Google has said is a ranking signal.
Sitemap — All Squarespace websites have a /sitemap.xml that can be submitted to Google Webmaster Tools.
Alt Tags — Squarespace lets you set alt tags on images.
More advanced SEO techniques such as hiding pages from Google is possible with Squarespace— though they require you to add code snippets.
Domains & Emails
Like most website builders, Squarespace provides a free custom domain name on annual plans for one year. Following that, it costs $20 / year.
At $20 / year, Squarespace domains are on the expensive side— you could always find a cheaper domain name at Namecheap ($14.27) and set it to point to your Squarespace website.
Squarespace does include free whois privacy with your domain name. This basically anonymizes the personal information of whoever is registering the domain name. I appreciate this, as website builders such as Weebly charge you for whois privacy.
You can setup email addresses for your domain names (example: yourname@yourwebsite.com) using Google's G Suite integration on all the plans except for Personal. I highly recommend G Suite, it basically provides the Gmail interface for your custom domain name email address.
Squarespace offers the standard G Suite pricing, which is based on the number of email addresses:
| TERM | PRICE PER EMAIL ADDRESS |
| --- | --- |
| Annual Billing | $50 / €40 / £40 / A$66 |
| Monthly Billing | $5 / €4 / £4 / A$7 |
Squarespace Website Examples
Below are a few real-life examples of Squarespace websites— though you can find more in my Squarespace Examples article.
EST Creative is a strategy and copywriting firm:
Steve Benjamins is my personal music website:
Knapsack Creative is a web design company: