I'm a professional web developer but I don't code most of my websites anymore. It's stupid. It's overkill. In 2020, it's easier and faster for most people to just use a website builder.
My job is to try every website builder so you don't have to. This is a roundup of my thoughts on the most popular website builders. Hope it's helpful!
Note: My work is supported by affiliate commissions. Read more »
Recommended

Best overall website builder.
Excellent templates.
Excellent features.
Intuitive and thoughtful design.

Try Squarespace → Read More

Best website builder for ecommerce websites.
App Store makes it powerful— without being overwhelming.
Innovative features that the competition hasn't matched.

Try Shopify → Read More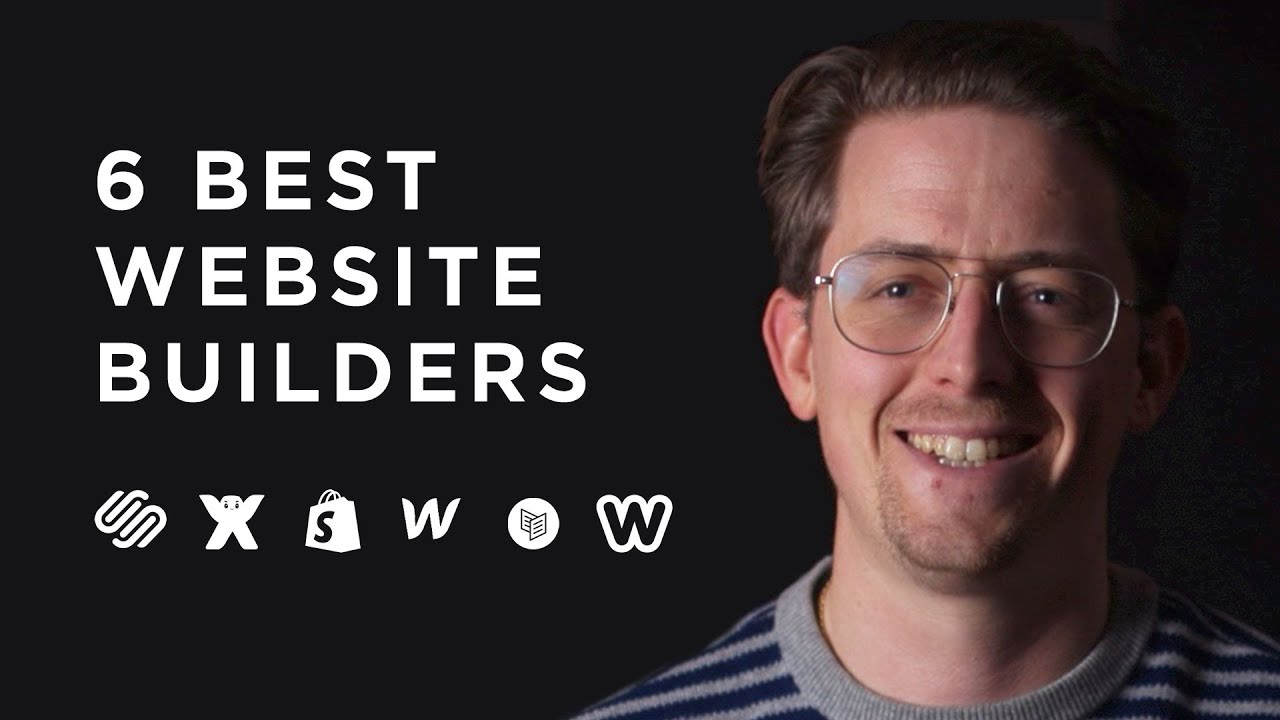 The 6 Best Website Builders
I try every website builder— so you don't have to. Here's what I recommend in 2020. youtube.com
1. Squarespace

Try Squarespace →

Squarespace is like the Apple of website builders. It's intuitive, curated and thoughtfully designed. I highly recommend it.

Squarespace templates are fresh, sophisticated and share a similar look and feel: lots of whitespace, bold typography and room to showcase photography.

It's of course a bit subjective, but in my opinion Squarespace has the best templates of any website builder:

Squarespace also has excellent features. They have the best blogging, podcasting, audio players and photo galleries of any website builder. Plus, their ecommerce is a viable alternative to pure ecommerce website builders such as Shopify.

To top it all off, Squarespace has honest, up-front pricing. You won't be nickle-and-dimed further down the road— an unfortunate problem with many other website builders.

2. Shopify

Try Shopify →

Shopify is the best ecommerce builder. If you're building a pure ecommerce website, I highly recommend Shopify.

Shopify has come to dominate ecommerce software by constantly innovating and improving— while always remaining clear and easy of use. It's a magical balancing act that's unusual in the world of software.

The App Store is it's biggest differentiator. The Shopify core covers what 80% of online stores will need and the app store covers the other 20%— that way the core doesn't get bloated with features most stores don't need. Shopify is not the only ecommerce website builder to offer an app stores but they have significantly more apps than any competitor:

Besides the app store, Shopify has continually launched innovative features like Shopify Payments, Shopify POS and Shopify Augmented Reality that push the industry forward— at a pace competitors rarely keep up with.

Beyond features, the thing I most often hear from users is that they love that Shopify is so easy to use. It's clear, simple and intuitive.

3. Webflow

Try Webflow →

Outstanding Custom Design Design — Webflow feels magical. Go ahead, roll your eyes. I get it. I just called software magical. But let me explain.

The big innovation with Webflow is their Designer tool. It's the first tool to provide the flexibility of front-end coding without requiring you to actually code.

It does this by not shying away from the complexity of code— to use Webflow, you need to understand the fundamentals of web design. This includes concepts like style hierarchy, box model, floating, absolute and relative positions.

This makes it a categorically different tool than website builders like Squarespace or Wix. Squarespace and Wix aren't designed for you to have complete freedom. They provide templates and smart defaults— they abstract you away from the complexity of code and they're much easier to use.

On it's own, Webflow's Designer is excellent but what takes Webflow to the next level is that you can integrate Webflow's CMS into the Designer— allowing you to create custom, repeatable content types, something you can't do in any other website builder!

4. Carrd

Try Carrd →

Carrd is for simple, one-page websites— that's it. All it's themes are designed for one page websites:

Because Carrd is only for one page websites, they can do things differently.

For example, Carrd is way, (way) cheaper than competitors. Below is Carrd's cheapest plan compared to the cost of the other 7 recommended website builders cheapest plans:

Plus Carrd has the best editor and themes for one-page websites. You can technically make one-page websites with other website builders but their interace can feel hacked together. Carrd is exclusively for one-page websites so the interface is designed for that.

You'll only want to use Carrd if it makes sense for your website to be one page. If you're not sure if one page works for you, I'd suggest just trying Carrd for 15 minutes— you might surprise yourself with how much you can fit into one page!

5. Wix

Try Wix →

For those who want precise control — The most important difference between Wix and other website builders is that Wix is an unstructured editor.

Most website builders limit you to dragging and dropping within a pre-designed grid. Wix is different. Wix's unstructured editor lets you drag and drop elements anywhere you want on a page. No constraints.

The upside to Wix's unstructured editor is clear: freedom. But I've also found the unstructured editor can result in tedious work and challenges— and it's the reason I only give Wix a 4-star rating. (For more on this, see my complete review of Wix.)

Wix provides you with a lot of options for your website. There are 500+ themes, plenty of features and an App Market for even more features and integrations.

I recommend Wix to a certain type of user: those who don't want to feel constrained. If Squarespace is like Apple, Wix is like Google or Microsoft— you're more free to do what you'd like.

6. Weebly

Try Weebly →

Easy To Use But Going Through A Transition — Weebly is an excellent, easy to use website builder— but it's also going through a transition to a new editor called the Square editor.

The Square editor is significantly less customizable than the old Weebly editor. For example, you can't add individual elements. Instead you add sections.

So you can toggle individual elements on and off within a section but you can't actually add additional elements:

This is a major step backwards in flexibility. The old Weebly editor let you add sections but also allowed you to add individual elements. With the Square editor you can only add sections. It's unusual to see a website builder purposefully remove options.

The new Square editor is also short of several features that the old Weebly editor covered: no blog, no app store, no video backgrounds and no membership system.

You can still use the old Weebly editor but Weebly has told me that they are shifting users towards the new Square editor. And while the new Square editor is easy to use (especially for ecommerce) it's too limited for me to give Weebly a perfect 5 star rating as I have in the past.
Honourable Mentions
Website builders that I'm keeping an eye on:
Format
Format is an easy to use website builder focussed on a specific type of website: portfolios.
It's loved by it's users. A few years ago I surveyed 1,630 photographers who were using a dedicated portfolio builder for their website to see which had the highest customer satisfaction— and Format scored a whopping 97%.
Format is especially great for photographers— they include proofing features, watermarking and integrations with Adobe Lightroom and Capture One.
GoDaddy
GoDaddy's website builder is best for anyone who wants to build their website fast. It's not for power users who want to tweak the details of their website.
Overall it's easy to use but limited. For example, here are two pretty major limitations:
Can't Add Individual Elements to Pages — You build pages by adding pre-designed sections. You can toggle elements on and off within these sections but you can't actually add individual elements.
Very Little Style Customization — You're often not able to change individual font sizes or colors.
The upside is that GoDaddy's website builder is really easy to use. I would recommend it to anyone who doesn't feel tech savvy.
You can read more in my GoDaddy review.
Ucraft
Websites in Ucraft are made up of vertical stacking blocks. There's a bunch of preset blocks you can choose from or you can create your own from scratch.
Block-based website builders are common— for example Jimdo, GoDaddy are also block-based website builders. Ucraft is one of the more customizable block-based website builders— you're not locked into cookie-cutter preset blocks. Instead you can customize blocks and even create them from scratch. There's also plenty of control over grids, padding and even animations.
But with more power comes also more confusion: Ucraft is not always intuitive. The interface can be confusing. (For example, moving your mouse through the page reveals all kinds of small icons and it's not obvious what each icon means.)
Wordpress.com
Wordpress.com is not Wordpress— or at least, it's not what most people think of as Wordpress. Most people know Wordpress as Wordpress.org, the popular open-source content management system (CMS). Even though Wordpress.com is built using Wordpress.org, it's not the same thing.
The most obvious signal that Wordpress.com is different from Wordpress is that it has a different user interface— it's a streamlined and simplified interface. More in line with what you might expect to find in a website builder.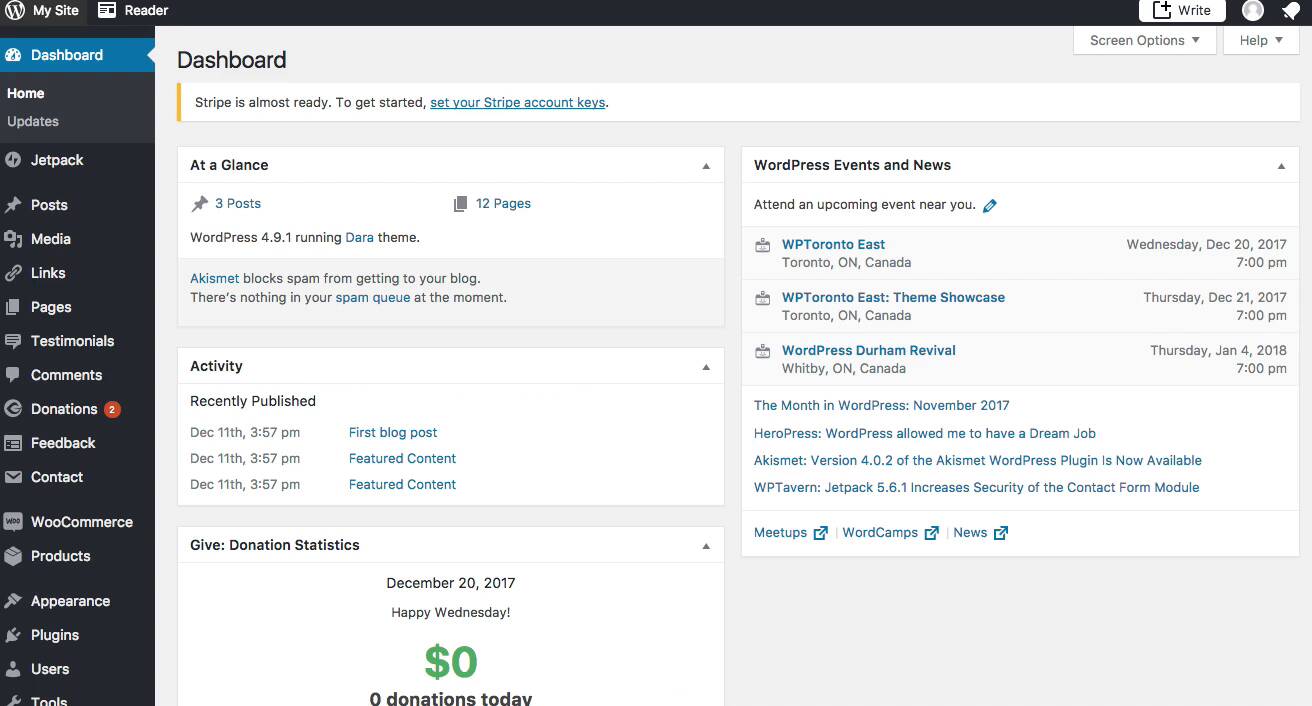 Unlike most website builders, Wordpress.com is not a drag-and-drop, visual editor. Instead, it's a form-based editor that separates the content of pages from the design. The downside of a form-based editor is that pages aren't design within context. For example, when you choose a page template, you simply choose from a drop-down box. There is no preview— you just sort of guess and test.
Wordpress began as a blogging platform and Wordpress.com inherits the fantastic blogging features. They really have the best blog features of any website builder. (The only real competitor in blogging is Squarespace.)
Over the last decade, Wordpress has cultivated an ecosystem of third-party plugin creators. Wordpress.com lets you install any of those plugins (if you're on the most expensive plan). These plugins extend functionality dramatically— there are plugins for everything: podcasts, membership systems, maps and more.
But here's the thing: in order to configure almost every plugin, you have to leave behind the friendly Wordpress.com interface and enter WP-Admin. WP-Admin is the interface for Wordpress— it's the unfriendlier interface, and avoiding it was the reason Wordpress.com was designed with a different interface from the start. Even common elements— such as forms— have to be configured in WP-Admin.
In the end Wordpress.com tries to do two things: it tries to simplify Wordpress and let users leverage the awesome power of Wordpress plugins. The result is a product that's built on compromises— which I think will make it worth it for for two types of users: bloggers and people who are already familiar with Wordpress (because they won't mind using WP-Admin).
Not Recommended
Website builders that I've tried but that I don't recommend:
Jimdo
Jimdo is easy to use but too simple.
Websites are made up of Blocks— which are pre-designed collections of elements. Adding and editing blocks is easy— the problem is you're really limited in customizing these blocks. For example, you can hide elements within a block but you can't add new elements to the block. This is really cookie cutter! You're stuck with whatever Jimdo has preset for you.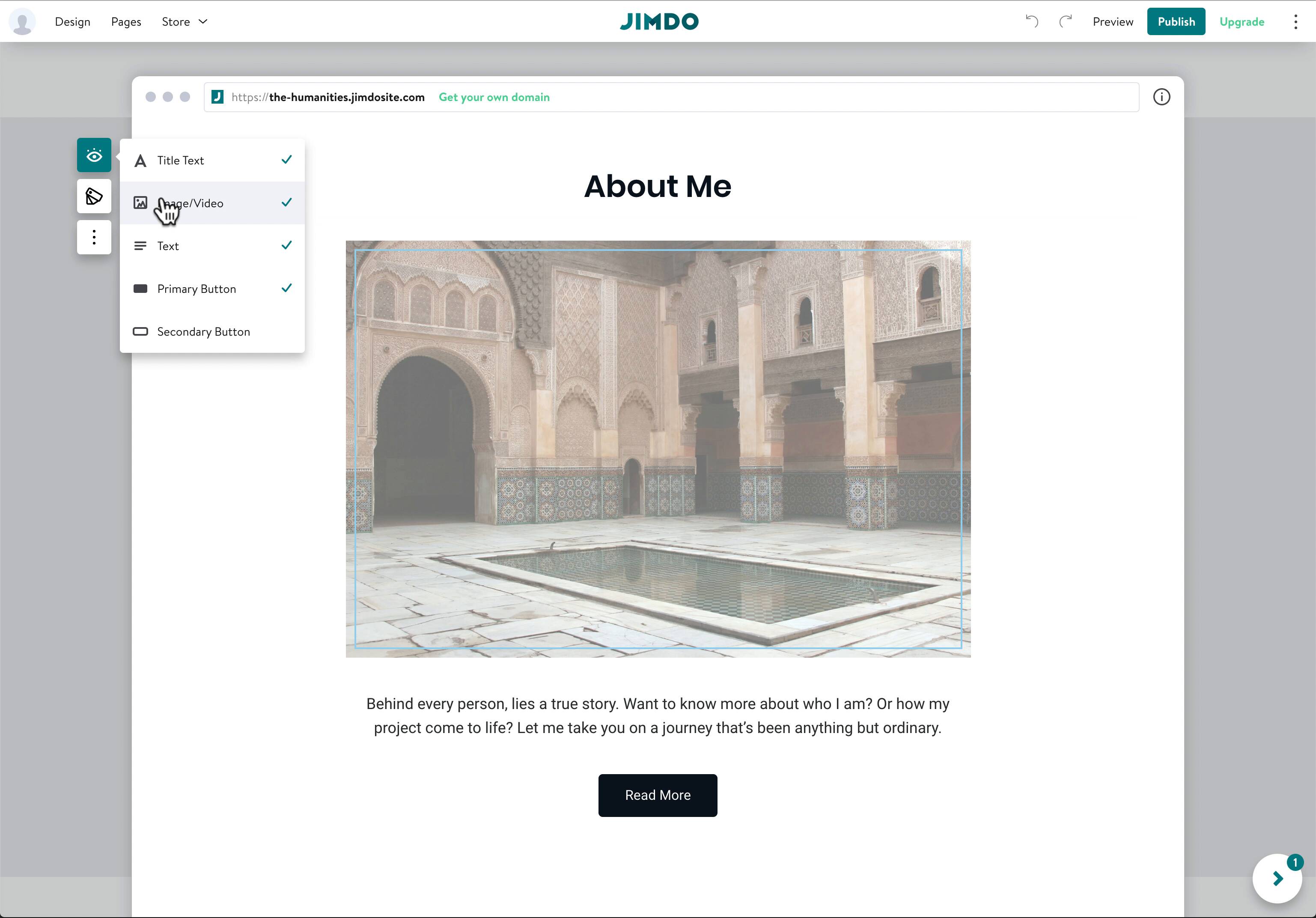 Theme customization has the same problem: it's too simple. You can only choose one color and it's then applied scattershot throughout your website— you don't get to choose where exactly it is applied!
Jimdo has taken a similiar approach to many other website builders— in effort to be easy to use, they've designed a simple, cookie cutter website builder. For most users, this will be frustrating.
Duda
The thing to know with Duda is that it's primarily sold through web design agencies and hosting companies who resell it. You'll find some of these companies (1&1 for example) on this list. Curiously even though they all sell the same software, they all price it differently!
The Duda editor throws the kitchen sink at you. It can feel disorganized and overwhelming— there are many tiny, hidden menus and it can be hard to keep track of where-you-go-to-do-that-specific-task.
The upside to Duda is that it's customizable. There's plenty of widgets and style options— though customizing styles isn't as intuitive as a website builder like Squarespace.
Two interesting features: They've recently launched an app store (though it only has 5 apps right now) and there are personalization features— for example, you can display a map if the person is from a specific city or show a happy hour sale if it's a certain time of day.
Google Sites
Google Sites is free— you can't pay for it even if you wanted to. Even still, I doesn't top my list of free website builders.
Google Sites isn't really for small business websites. Instead, it's best thought of as a tool to connect Google Services. For example, the elements you use to build your website are almost all Google products:
There's only one template— which is why Google Sites tend to all look the same. You can't making meaningful style customizations to the theme either (for example choosing a font). Instead you're limited to choosing between 6 preset styles.
Consider Google Sites if you are building an intranet or you just need a way to connect Google products— otherwise I'd suggest trying something else.
DudaOne
The thing to know with Duda is that it's primarily sold through web design agencies and hosting companies who resell it. You'll find some of these companies (1&1 for example) on this list. Curiously even though they all sell the same software, they all price it differently!
The Duda editor throws the kitchen sink at you. It can feel disorganized and overwhelming— there are many tiny, hidden menus and it can be hard to keep track of where-you-go-to-do-that-specific-task.
The upside to Duda is that it's customizable. There's plenty of widgets and style options— though customizing styles isn't as intuitive as a website builder like Squarespace.
Two interesting features: They've recently launched an app store (though it only has 5 apps right now) and there are personalization features— for example, you can display a map if the person is from a specific city or show a happy hour sale if it's a certain time of day.
Webnode
Webnode is a simple website builder. At times, it's too simple.
For example, there's a good selection of responsive themes but there's no way to customize the themes. Want to change the pink color (below) to your own brand color? Well you can choose from a few presets but you can't actually set a custom color. Instead Webnode suggests editting CSS code if you want to set a custom color but… the point of website builders is that you shouldn't have to code!
Otherwise Webnode actually has a nice interface and some solid features (examples: a good form builder and multi-lingual support). There are a few things that could be improved: Editing columns has no snap-to-grid so it's very difficult to find the center if you accidently move it. There are no social media buttons you can add to websites. Some sections allow new elements while others do not— why not? Finally plans are only available annually— even though they are advertised as a monthly rate (which feels misleading).
Site123
Unlike the other website builders on this list, Site123 doesn't have a visual, drag-and-drop editor. Instead you edit your website by filling out forms.
For example, you don't edit these elements visually:
Instead you edit them through a form in a lightbox window:
This is not ideal. It creates too much friction. You'll be constantly switching between the editor and the website preview in order to get things looking how you want— which is frustrating. It turns out, there's a reason most website builders are visual, drag-and-drop editors.
Plus there are just odd limitations— for example, your page header has to have the same as the navigation name. Why?
Yola
Yola is clumsy and outdated.
For starters, editting is done in a lightbox— which is very frustrating. The lightbox covers your website— so you can't see your changes as they're being made. Instead you have to guess at the changes you want, save and reload the website.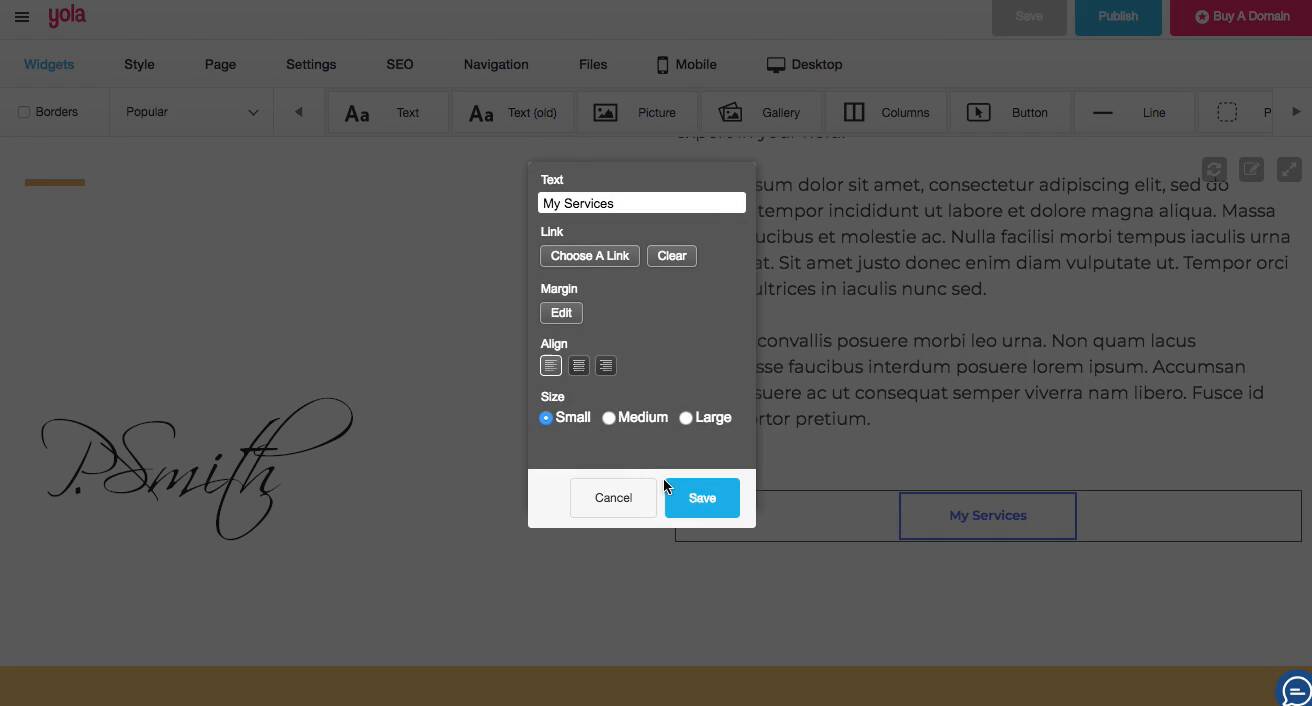 The website editor has hardly changed over the last few years. For example, even though Yola suggests starting a blog— they stil have not launched a blog in their new editor (even though the "new" editor launched several years ago).
The interface is often confusing. For example, when managing pages there are inexplicable icons that you have to guess at in order to use: would you guess that the checkmark (below) will hide your page?
Adobe Muse
Adobe has announced that they are no longer developing new features for Muse and have ended technical support for it in 2020. I would strongly recommend you use something else.
You can find a list of Adobe Muse alternatives here.
Webs
Webs was acquired by Vistaprint in 2011. Since then it's basically been abandoned.
In 2018 I noticed the Webs Announcements blog newest post was from 2015. Today, in 2020 the entire blog is just a 404— despite being prominently linked to on the homepage.
So why did Vistaprint abandon Webs? Well since 2011, Vistaprint have launched their own website builder. I guess they decided it wasn't worth it to run two website builders.
Acquiring products and abandoning them is common in website builders. The unfortunate thing is that companies like Vistaprint never communicate this to customers— which sucks. I hope they communicate it to Webs customers soon.
Homestead
Don't bother with Homestead, they've given up.
Homestead's best days are long gone. It was acquired by Intuit in 2007 before being sold to Endurance International Group (EIG) in 2012. EIG is where web companies go to die. They have a well-earned reputation of awful customer support and terrible server uptime.
In 2017 Homestead began licensing it's software from WebsiteBuilder.com— another EIG company. So now Homestead is just a front for WebsiteBuilder.com's software— which is odd because Homestead is actually more expensive than WebsiteBuilder.com!
While Homestead still provides support, it's clear they've given up. Their blog hasn't had a new post in almost two years and the © in the homepage footer still says 2018. Yikes!
1&1
In 2014 I wrote a blog post about 1&1's cancellation policy that went viral. The post explained how 1&1 invoiced me weeks after I had cancelled. At the time, I asked 1&1 customer support why this had happened and they told me sometimes the system generates "crazy invoices."
Billing systems should not generate "crazy" invoices.
Then in March 2018 I tested 1&1's billing system again. When it came time to try cancelling, the billing system wouldn't allow me to cancel. It kept giving me a bug that said "no cancelable single items present!"
So I bought another product with 1&1 (rankingCoach Pro) and tried cancelling it. It also gave me the same error when trying to cancel.
So I called customer support and they explained that they send error messages if a customer tries cancelling in the first 30 days in case the customer accidentally cancels the product.
Sigh.
That's two incidents, years apart of 1&1's billing system having "bugs." Yikes.
On top of all that 1&1 doesn't even sell their own website builder— they're actually just reselling Duda's website editor. So I'd suggest skipping over 1&1 and just use Duda.
SiteBuilder.com
WebsiteBuilder.com is owned by EIG— a conglomerate that owns multiple website builders: Homestead, SiteBuilder.com and Sitey.
Curiously, all these website builders run the same software but they have different pricing plans. For example, Homestead.com is significantly more expensive.
EIG started in Wordpress hosts and has a well-earned reputation of being hostile to customers.
For example, WebsiteBuilder.com adds a "SiteLock" upgrade to your shopping cart without telling you. You have to notice it and de-select it. This has been happening FOR YEARS.
It doesn't help that SiteLock is a ridiculous upgrade. It promises to protect your site from "from online security problems". But why should users pay more money for that? That should be included by default in a website builder package.
I've repeatedly asked WebsiteBuilder.com to acknowledge this ridiculous upgrade but they never do:
Notice how they refuse to admit that they do this in writing? They want to get on a call to explain it. All they have to do is try to checkout on their own product— they're just playing dumb!
Web.com
If you read the Web.com's fine print you'll notice their "monthly" plans are technically 28 days long— which means users end up paying for 13 months in a year. INSANE!
Beyond the billing practices, Web's website editor is super frustrating— the sidebars cover large chunks of website, which means I couldn't even see my full website on a normal-sized laptop!
It's also buggy. My entire page vanished after accidentally clicking and moving the background element… Or at least that's what it seemed like. It turned out moving the background shape moved it ahead in the layer order of all other elements, so in order to get my page back I had to change the layer order. How many users are going to be totally confused by this!
You need to phone support in order to cancel Web.com. When I called in they transferred me twice before I ended up in tier 2 support. Tier 2 support repeatedly asked why I was cancelling / how they could get me to stay / blah, blah, blah. I just kept repeating, please cancel my account.
Finally, they said they could cancel my account but I had to tell them my password over the phone. This is VERY DANGEROUS. Databases are designed to encrypt passwords so that not even a developer can ever see it. Many people use the same password for multiple services so keeping passwords private is CRITICAL. But in order to cancel your Web.com account you are highly exposed and vulnerable to a Web.com customer support agent (remember: these agents can also see your email address!). This is insane.
Overall Web.com has a painful, frustrating website editor and terrible, terrible billing practices. Avoid at all costs.
Best For ___
Best Website Builder For Ecommerce
The best ecommerce website builder is Shopify and it's not even close.
I did a survey of 944 real-life users of ecommerce website builders and found that Shopify had the highest customer satisfaction— at 97%.
Why is Shopify loved so much? Well, the important thing to understand about ecommerce websites is that they quickly get complex.
Ecommerce involves logistics, email receipts, taxes, automated shipping labels, integration with point-of-sale systems, refunds, discounts and much, much more. Shopify is loved because they make this complexity seem easy.
A major reason why Shopify is easy to use is it's App Store. There are hundreds of apps that will add specific features to your store. These apps cover shipping, marketing, retention, SEO, customer support and more. The App Store allows Shopify to maintain a simple core, while still allowing you to add sophisticated features when you need them.
Other than Shopify, I would also recommend looking at Squarespace for ecommerce— especially if you're looking for non-ecommerce features in addition to the ecommerce.
I'd also suggest trying WooCommerce if you're familiar with Wordpress.
Best Website Builder For SEO
There is no best website builder for SEO.
Choosing between Weebly, Squarespace or Wix will not rank your website any differently in Google. Don't believe anyone who tells you otherwise.
That being said, there are technical SEO features that you need in a website builder— it's just that most website builders include these features.
There are four SEO features in particular that are critical in a website builder. Think of them as the minimum required for Google to notice you. From there you will need links and quality content to outperform your competitors:
1. Mobile-Friendly Themes
For many years Google had two indexes: desktop and mobile. The desktop index was for desktop users and the mobile index was for mobile users.
But that's all changed.
In March 2018, Google announced the beginning of the mobile-first index— basically Google now uses the mobile index for both desktop and mobile users. So the mobile version of your website is more important than the desktop.
This why it's critical that your website builder has mobile-friendly themes. Fortunately most website builders do.
2. Customizable Meta Titles and Descriptions
Every page has a meta title and meta description that Google uses in their results:
Putting your keyword in the meta title will help you rank for that keyword— though putting the keyword in your meta description won't directly help you rank, instead meta description is important because it's an opportunity to entice searchers to click on your webpage.
Almost all website builders let you customize your meta title and description— but because it's so critical, it's worth being sure about.
3. SSL
SSL certificates give websites the "secure" icon in a browser and adds an 's' to the http— making it https:
Google announced SSL as a ranking signal in 2014— and when Google explicitly announces something is a ranking signal, it's usually good to implement it.
Most website builders include SSL in paid plans— but some do not. Check before you buy.
4. Performance
Google has said that site speed is a signal they use to rank pages. Fortunately, website builders tend to have good performance infrastructure— especially the major website builders such as Weebly, Squarespace and Wix which host millions of websites.
The two best tools to check your website performance is Google Page Speed Insights and WebPageTest.org.
If you'd like to learn more, check out my SEO chapter in How To Make A Website.
Best Website Builder For Blogs
The best website builder for blogs is a two horse race between Squarespace and Wordpress.com— no other website builder matches their features.
Both cover all the features you need: tags, categories, comments, moderation and customizable URLs. Both have support for multiple contributors in different roles (editor, moderator, writer etc.) and both have beautiful post editors.
If I had to recommend one over the other I would recommend Squarespace— but only because it is the better over all website builder, not because it has better blogging features.
Best Website Builder For Membership Sites
Membership sites are growing in popularity— and so there are a number of options to consider. For website builders, I suggest Squarespace + Memberspace or Webflow + Memberstack.
Squarespace itself doesn't offer membership features but Memberspace is a 3rd-party software company that adds membership features to Squarespace. It supports tiered plans, coupon codes, forums, member emails and more. I haven't tried it yet— but it seems interesting.
Weebly lets you create private pages that require people to register with your site (this is handy for creating an intranet, or a conference portal for registered members). You can also add apps from Weebly's App Center that allow you to charge members for access.
Besides website builders there are other companies you may want to look at— though I haven't tried these:
Best Free Plan
I've actually done a deep dive on which website builder has the best free plan in my in-depth look at free website builders. So you'll want to read that.
Advertisements are the major limitation of almost all free website builder plans.
These ads range from the obnoxious…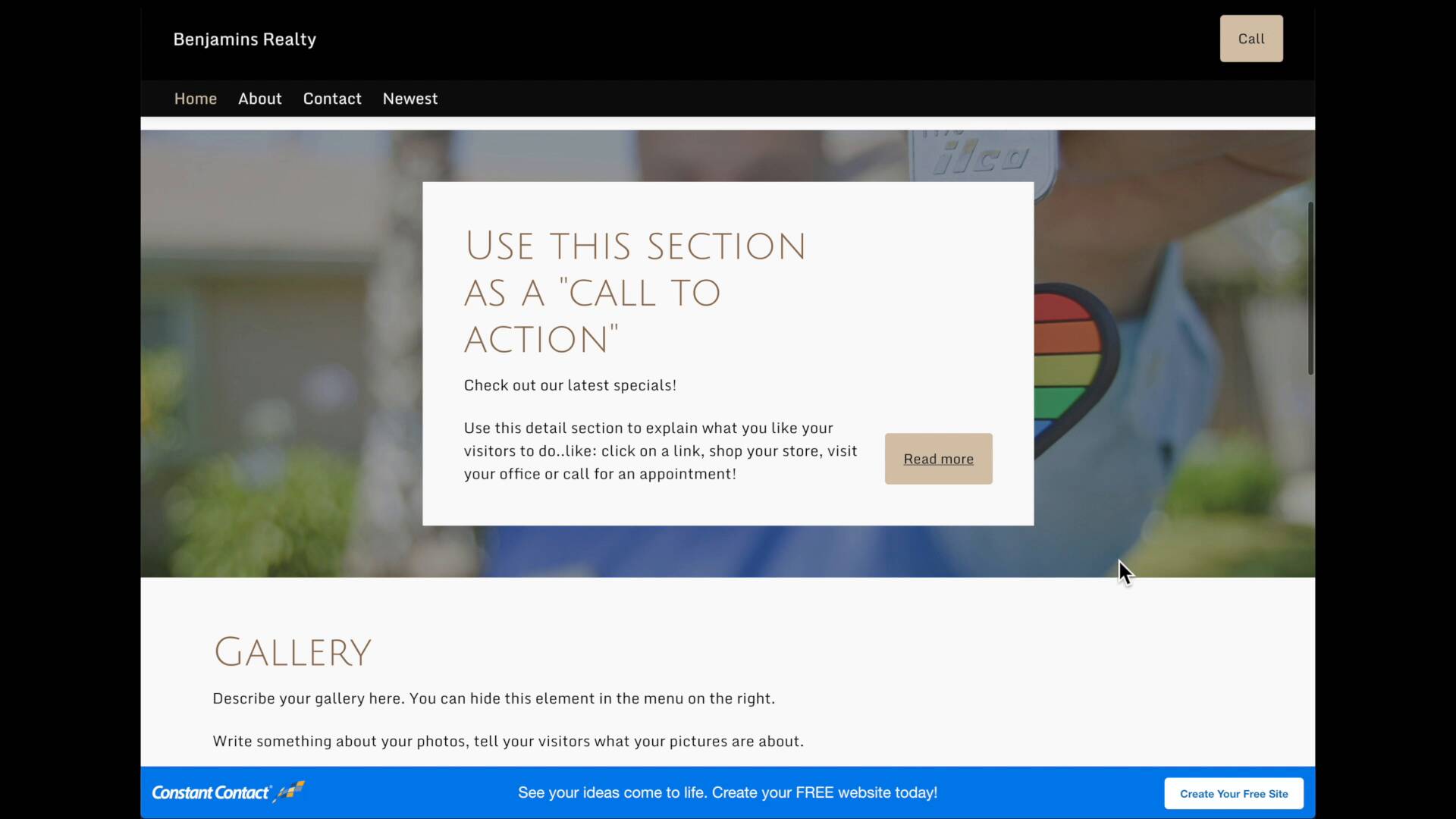 … To the more tolerable: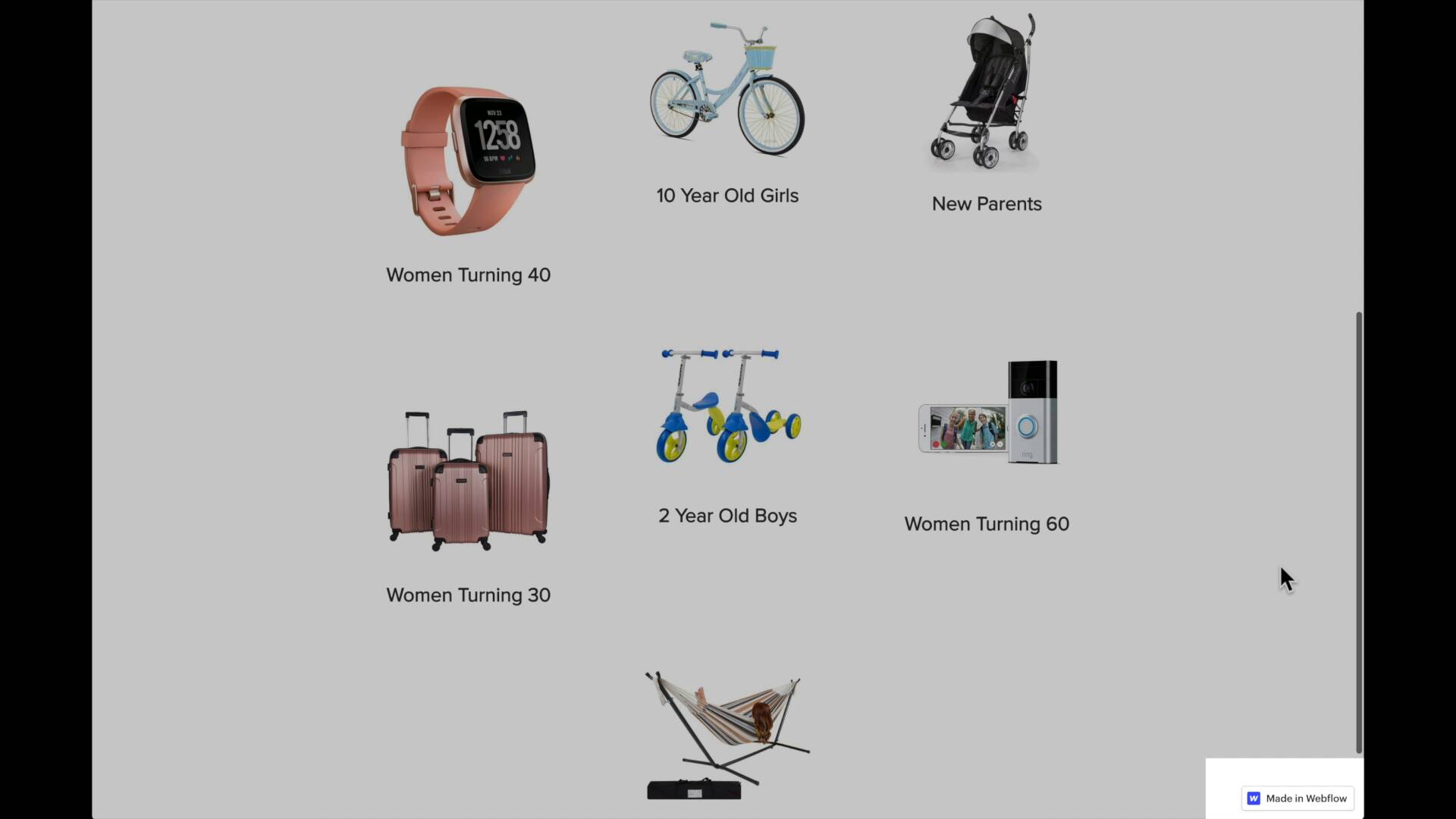 The other big limitation with free website builders is domain names.
Only Ucraft and Google Sites allow you to connect a custom domain name on plans (i.e.: yourdomain.com).
Otherwise you'll have to use a free subdomain. Some website builders like Weebly offer simple, readable free subdomains (yoursite.weebly.com)… While others like Wix are quite clunky (user12.wixsite.com/site).
Further Reading:
Common Questions
Can you move or export your website away from a website builder?
Unfortunately no, you can't. It's also really difficult to move on existing website to another website builder without just manually copying text and images.
This is a common question I get and admittedly, one of the downsides of a website builder.
You might think that website builders don't let customers export or move their website because it's a good way to lock them in, but there are actually some very good technical reasons why website builder websites can't be moved.
Modern website are more complex than websites in the past. They aren't just HTML, CSS and Javascript being passed from a server. Those assets are optimized, cached and accessed through special content delivery networks (among other things) to ensure performance. The reality of disentangling all of this from the website builder and moving into a third party host is messy and would require a level of technical competence that most users of website builders don't have.
Plus, features that require server-side processing (such as forms, ecommerce) would not work.
If this is a problem for you, I'd suggest going to the next level in complexity and checking out a CMS like Wordpress or a front-end design tool such as Webflow. Both are more complex but will let you export and move your website.
Should I register my domain name with my website builder?
You can register a domain name with your website builder but you may want to consider registering it with a third party provider such as Namecheap— that way you are in control of your domain name no matter what.
It's a question of trade-offs. Registering the domain name provider at a 3rd party is a bit of a technical hurdle but it means that you always have control of the domain name. If the domain name is bought through a website builder, you'll have to work through them to move the domain name if you ever decide to change your website provider.
For email, most website builders provide an integration with Google Apps— which basically allows you to setup Gmail for your custom domain name. I highly recommend Gmail— for most users it's the right email solution.